photoDetails
IN PICS: Congress stalwarts vote in Kharge vs Tharoor battle to pick new president
The overall voter turnout in the Congress presidential polls was about 96 per cent and in small states, it was nearly 100 per cent, party's central election authority chairman said after voting ended in the Mallikarjun Kharge versus Shashi Tharoor contest.
About 9,500 Congress delegates voted in party's presidential poll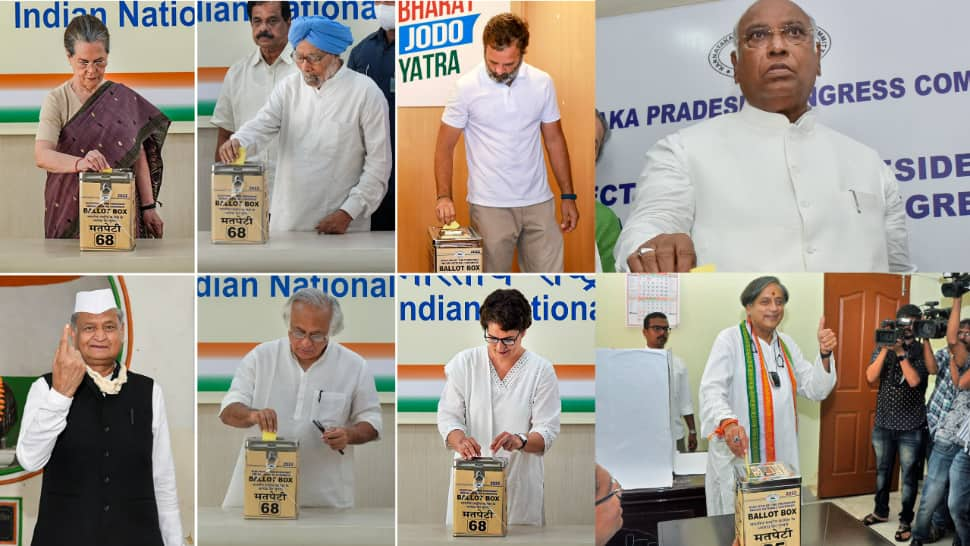 About 9,500 Congress delegates on Monday cast their votes in the party's presidential poll as senior leaders Mallikarjun Kharge and Shashi Tharoor faced off for the post of AICC chief.
The voting started at 10 AM at the AICC headquarters in the national capital and at the party's polling booths in state offices across the country and witnessed a turnout of 96 per cent.
Congress Interim President Sonia Gandhi during the Congress Presidential Election at AICC headquarters in New Delhi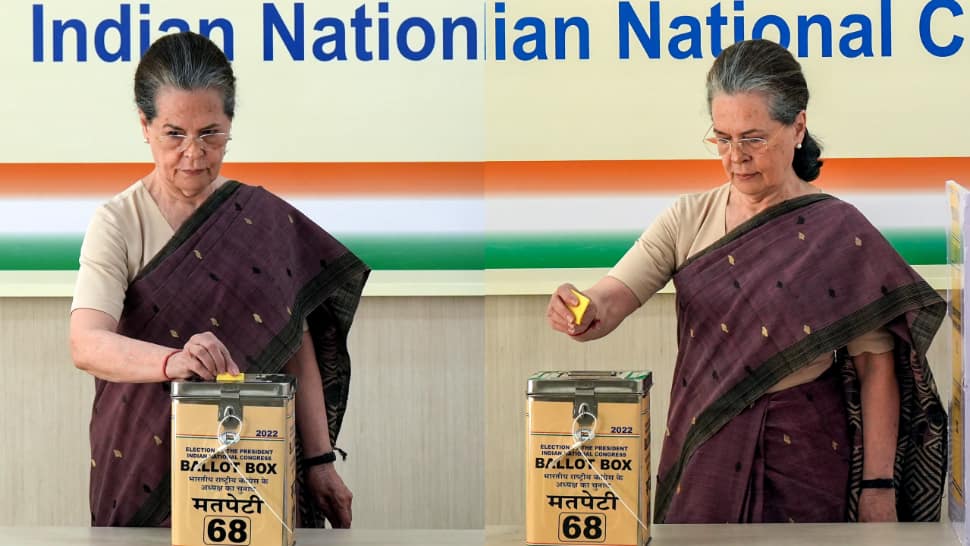 Outgoing party chief Sonia Gandhi cast her vote at the AICC headquarters in Delhi.
Congress presidential candidate Shashi Tharoor casts his vote for the presidential election
Congress presidential candidate Shashi Tharoor casts his vote for the presidential election in the KPCC office in Thiruvananthapuram. (Photo: IANS)
AICC Presidential candidate Mallikarjun Kharge casts his vote in Bengaluru
AICC Presidential candidate Mallikarjun Kharge, who is pitted against Shashi Tharoor, casts his vote at the KPCC office, in Bengaluru. (PTI Photo)
Priyanka Gandhi Vadra cast her vote for Congress Presidential Election at AICC headquarters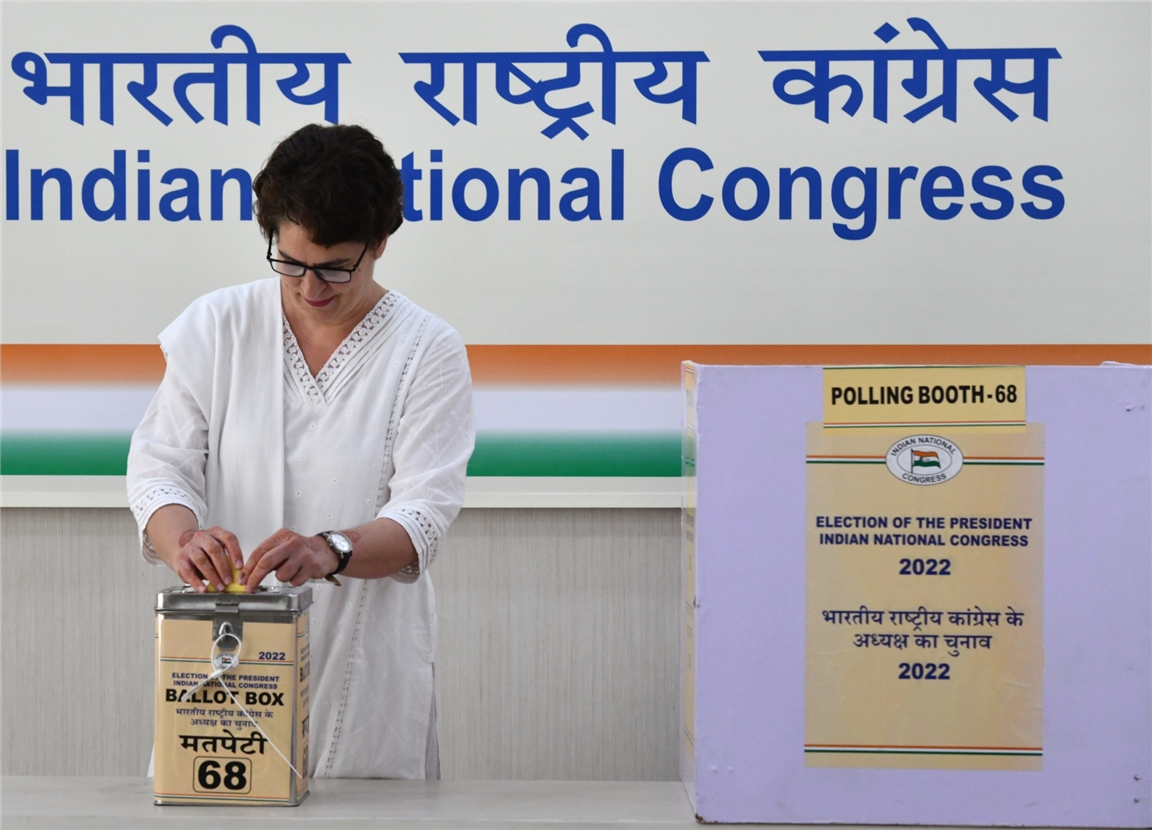 Priyanka Gandhi Vadra accompanied her mother Sonia Gandhi and cast her vote for the Congress Presidential Election at AICC headquarters in New Delhi. (Photo: IANS)
Congress leader Rahul Gandhi casts his vote for the party's Presidential polls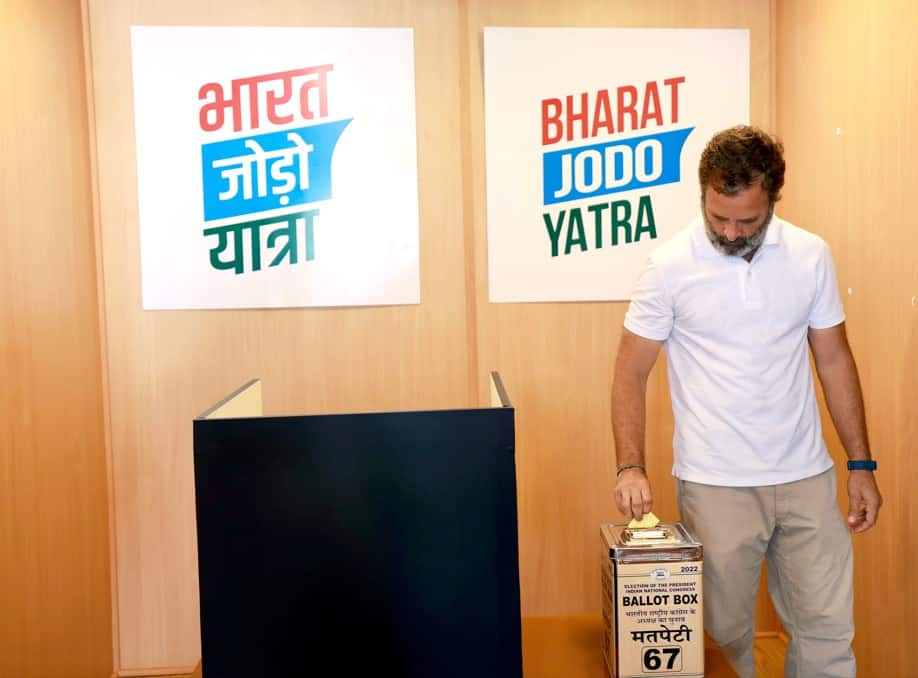 Congress leader Rahul Gandhi casts his vote for the party's Presidential elections. He voted during the party's Bharat Jodo Yatra in Karnataka's Ballari. (ANI Photo)
Former PM Manmohan Singh casts his vote for the Congress Presidential Election at AICC headquarters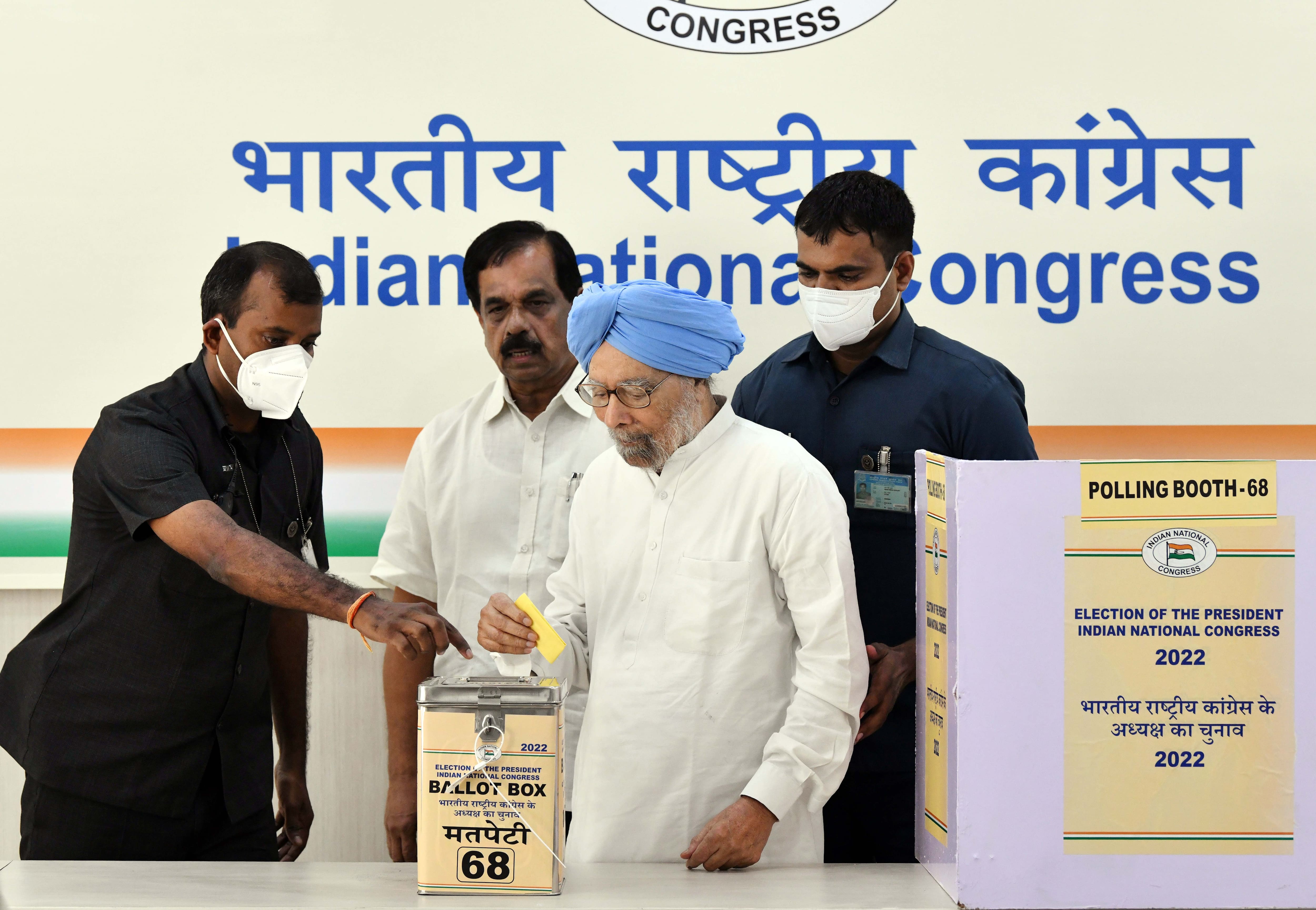 Former prime minister Manmohan Singh also cast his ballot in the Congress poll at the party headquarters where the 68th polling booth for the AICC presidential election was set up. (Photo: IANS)
Kamal Nath casts his vote for Congress Presidential Election in Bhopal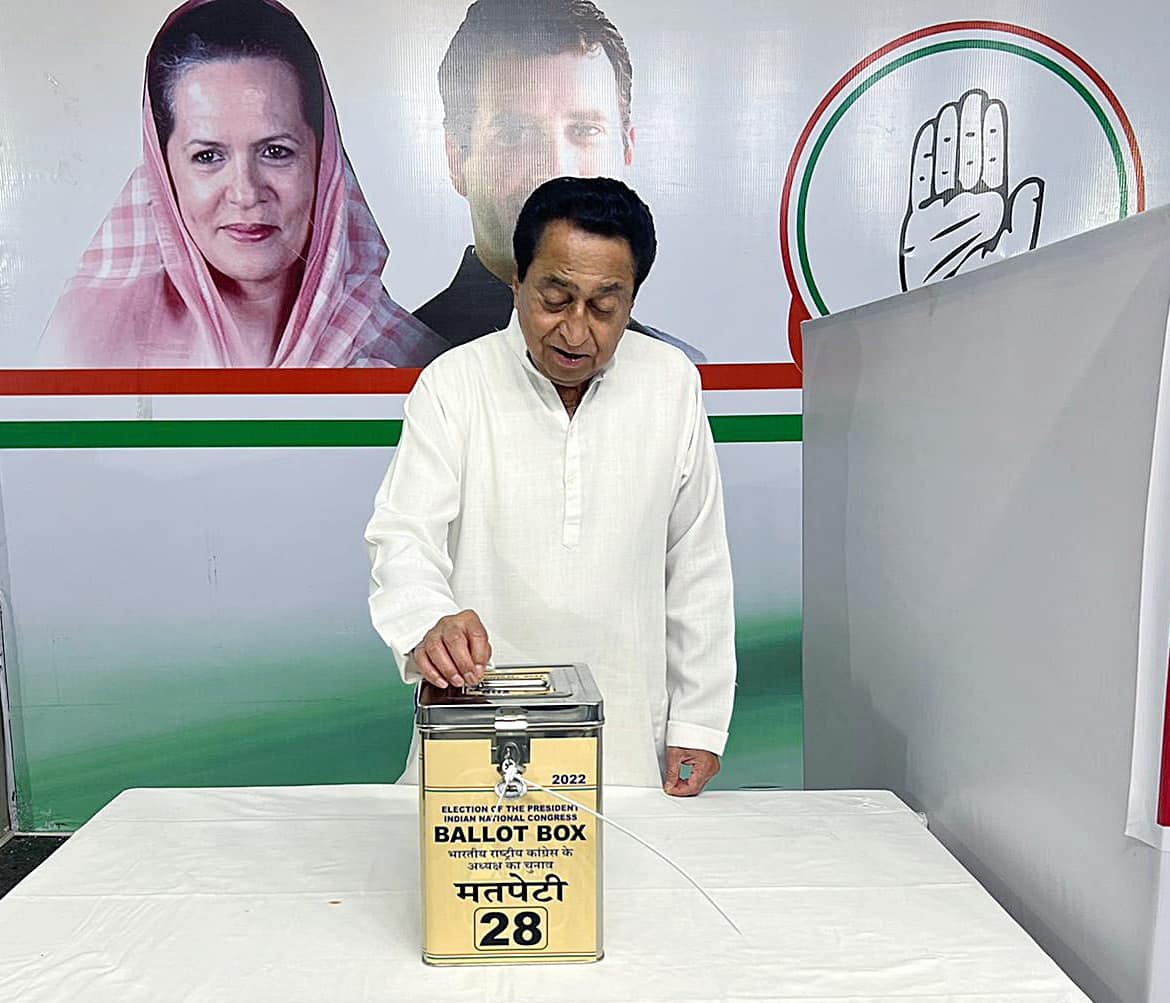 Madhya Pradesh Congress president Kamal Nath cast his vote for Congress Presidential Election in Bhopal. (Photo: IANS)
Ashok Gehlot shows his inked finger after casting vote for the Congress Party's presidential election in Jaipur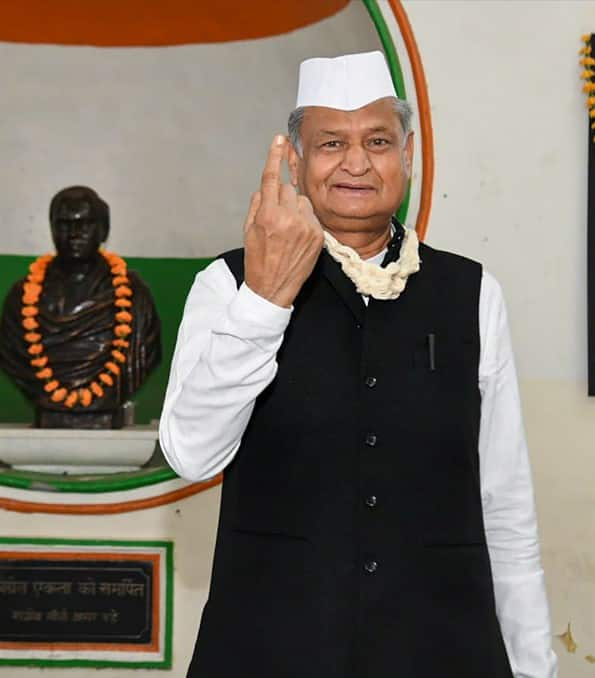 Rajasthan Chief Minister Ashok Gehlot shows his inked finger after casting his vote for the Congress Party's presidential election in Jaipur. (PTI Photo)
Congress leader P Chidambaram casts his vote for the party's Presidential elections at the party headquarters in New Delhi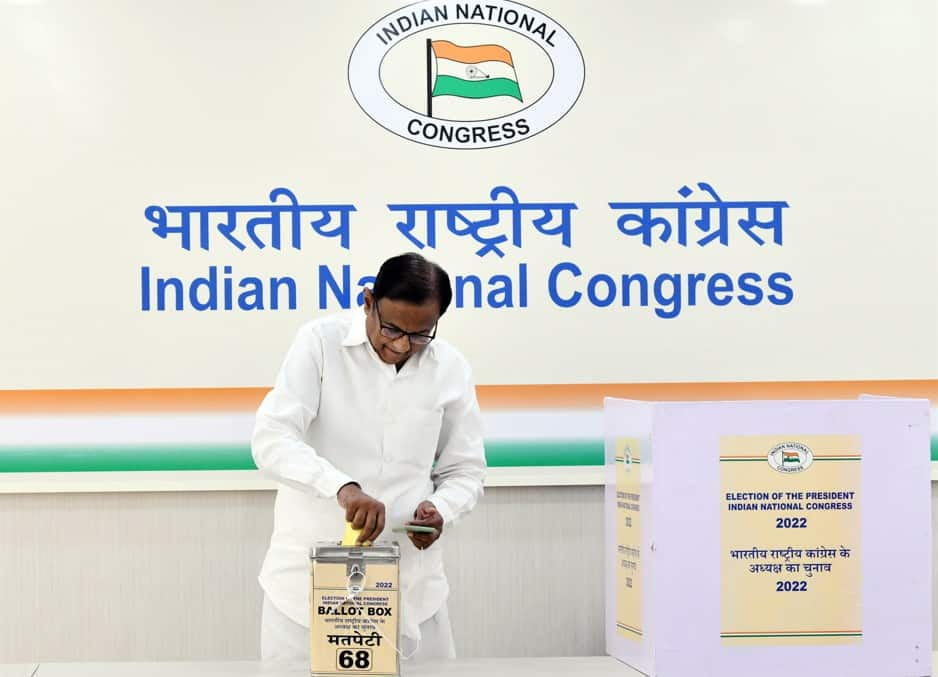 Congress leader P Chidambaram casts his vote for the party's Presidential elections, at the party headquarters, in New Delhi on Monday. (ANI Photo)
Congress leader Jairam Ramesh casts his vote for the party's presidential elections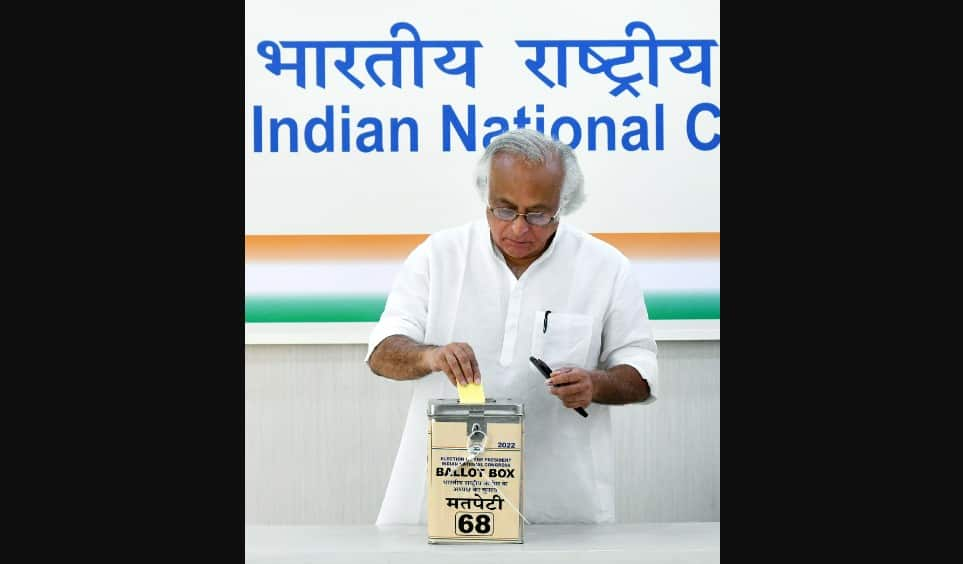 Congress leader Jairam Ramesh casts his vote for the party's presidential elections at the party headquarters in New Delhi on Monday. (ANI Photo)