India vs Japan Hockey Asia Cup 2022 Bronze medal match Highlights: India win, clinch bronze medal
Follow Live Score and match updates from India vs Japan Asia Cup 2022 Bronze medal match on our LIVE blog here.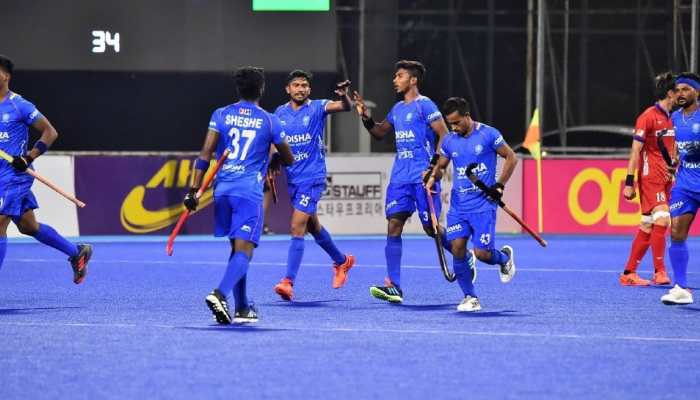 LIVE Blog
Indian hockey team take on Japan in the bronze medal match of Asia Cup 2022 tournament in Jakarta on Wednesday (June 1). Defending champions India failed to book their place in the final after a thrilling 4-4 draw against South Korea on Tuesday.
India needed to win their last Super 4 match against South Korea after Malaysia had thrashed Japan 5-0 in their last match to book their berth in the final. With Korea and Malaysia leading on goal difference in the Super 4s Pool Table, India needed to win the match to reach the Final. The contest went right down to the wire with India giving a tough fight till the final whistle.
Nilam Sanjeep Xess (9`), Maninder Singh (21`), Sheshe Gowda BM (37`), and Mareeswaran Shakthivel (37`) scored the goals for India, while Jang Jonghyun (13`), Ji Woo Cheon (18`), Kim Jung Hoo (28`), and Jung Manjae (44`) scored the goals for Korea in the tight contest. India will now take on Japan in the Bronze-medal match on Wednesday.
The match started with an attacking move from India as Dipsan Tirkey came from the left flanks to pass the ball to Pawan Rajbhar inside the circle. But the Korean defence was quick to avert the danger.
The top three teams from the Asia Cup 2022 will book their berth for FIH Hockey World Cup 2023 in India. Check all the live updates from India vs Japan bronze medal match here.
16:14 PM
That's that from us as well!
India started off the tournament shakily with a big loss vs Japan but since then they have beaten them twice, also pulling off that 16-0 win vs Indonesia to qualify for Super 4s. Had not been the goal difference, they would be in the final but it was not to be and India will have to go back with a bronze. 
Good result knowing this is a young Indian side with many senior players missing. Sardar Singh will be a proud of this unit. 
Keep tuned it to Zee News English for all latest updates from around the world in sports.  
16:04 PM
India win!
The last five minutes were thrilling as India went down to 10 man twice, first with Rajbhar getting green card and then Manjeet getting a Yellow. But they held on to the 1-0 lead till the end, brilliant hockey on display by both teams and just a goal making the whole difference. 
India take the bronze medal home, win 1-0. 
16:03 PM
India 1: 0 Japan!
India will be down to 10 man. Manjeet gets a yellow and out for 5 minutes means the rest of the match. 
16:01 PM
India 1: 0 Japan!
Rajbhar back on the field with under 2 minutes left in the match!
15:58 PM
India 1: 0 Japan
India down to 10 man as Pawan Rajbhar gets a green card and a 2-minute suspenson, with just over 4 minutes left.
15:50 PM
India 1: 0 Japan
India looking to up the ante as Japan under pressure to score the equaliser in the dying minutes of the game. 
Uttam almost got a goal but held on to the ball for far too long and ended up making a mess of it in the end. 
15:44 PM
India 1: 0 Japan
PC for Japan as they counter-attack! Three back to back PCs and they fail to convert. Manjeet is down as he was hit by the ball as he rushed to defend. 
15:43 PM
India still hold lead - end of Q3
Fifteen minutes to go for India and if they are still ahead by even one goal, they will wear the bronze medals around the necks. India have had more possession so far while circle penetrations have been the same. 
15:16 PM
India 1: 0 Japan
Japan pressing high as India happy to let them dominate and have the ball possession. Japan very close to scoring the equaliser, India need to up the game. 
15:09 PM
India 1-0 Japan: HT
India still dominate the play but just in terms of scoreline and second quarter belonged to Japan, they made many inroads, several circle penetrations but could not finish even once. India were under the pump. Half time will give them time to reflect on their game and come back better. 
14:58 PM
India 1: 0 Japan
With little over 6 minutes to go, Japan have been on the attack in the second quarter, with 8 circle penetrations. Manjeet was gone for 2 minutes due to green card. 
14:54 PM
India 1:0 Japan - end of Q1!
The quarter 1 belonged to India who could have got more goals than what they got. Brilliant hockey but a few missed chances. Japan needs to regroup and come backs stronger with a different gameplan.
14:47 PM
India 1:0 Japan
India got two back to back PCs but Japan dealt with the safely and India still only 1-0 ahead in the scoreline, could have been 3-0 easily. India on the attack with several circle penetrations in the first nine minutes of the match!
14:46 PM
GOAL!
First goal for India early on, Uttam with a brilliant stick work on the right and took it close to goal and then passed to Raj Kumar who beautifully hit it into the nets to take India 1-0 up. 
India 1: 0 Japan
14:39 PM
Japan on the attack!
The Japanese are making early inroads right from the start and there as a chance right in front of the goal post but they failed to make an impact!
India 0-0 Japan
14:36 PM
Two teams begin the bronze-medal match after singing their respective national anthems!
14:33 PM
Here's a quick look at the teams' tournament performance. Credit: Hotstar!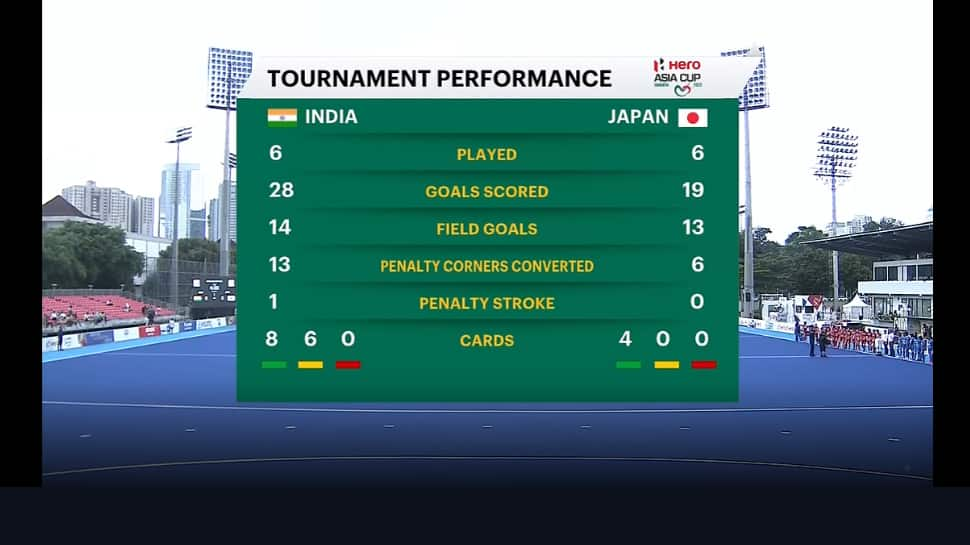 14:30 PM
This is the third time two sides are meeting each other in Asia Cup 2022
In first league game, Japan beat India 5-2
But in the second won 2-1. 
Let's see who comes on the top in the bronze-medal match!
14:18 PM
Hello and welcome to our coverage of India vs Japan Asia Cup 2022 bronze medal match.