Tripura Election 2023: TMC Promises 2 Lakh Jobs, Rs 1,000 Monthly for School Students-Unemployed Youths
The Trinamool Congress, in its manifesto for the Tripura Assembly Elections, promised a slew of social welfare schemes packaged as the 'Bengal mode of development'.
TMC released its manifesto for the Tripura Assembly Elections on Sunday
TMC chief Mamata Banerjee is set to visit the state on Feb 6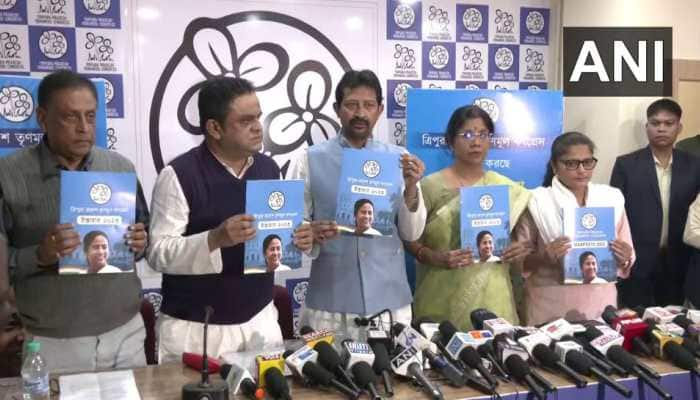 Agartala: The Trinamool Congress released its manifesto for the Tripura assembly elections on Sunday, promising 2 lakh new jobs, Rs 1,000 per month for school students in classes 4 to 8 and unemployed youths, and social welfare schemes on the lines of those in West Bengal. The manifesto was launched a day ahead of party chief Mamata Banerjee's visit to the state. The TMC is fighting 28 assembly seats in the February 16 election.
Mamata Banerjee to visit Tripura on Feb 6
Addressing a press conference, West Bengal education minister Bratya Basu said that if the party is voted to power in the state, it will create 2 lakh jobs in five years with 50,000 new jobs in the first year itself.
Agartala | Trinamool Congress releases its election manifesto for upcoming Tripura elections, in the presence of TMC Tripura incharge, Rajib Banerjee, State TMC President, Pijush Kanti Biswas and party MP Sushmita Dev pic.twitter.com/PmABddClkJ — ANI (@ANI) February 5, 2023
"All vacant posts in the government departments will be filled up on mission mode," he said.
Also Read: Tripura Assembly Elections 2023: In BJP vs Left Battle, Will Newly Formed Tipra Motha Emerge as Kingmaker?
"The TMC will provide assistance of Rs 1,000 per month to jobless youths, and 10,323 retrenched teachers will also get the benefit until their legal matter is resolved," he said.
The TMC promised a skill university, student credit cards and easy loans for those who want to pursue higher education.
"Rs 1,000 annual stipend will be given to the students in classes 4 to 8," he said.
West Bengal Industries Minister Shashi Panja said the Trinamool Congress is committed to implement welfare schemes such as Kanyashri and Lakkhir Bhandar, among others, in the Northeastern state.
TMC's state in-charge Rajib Banerjee said the promises made in the manifesto will be implemented in true spirit if the party is voted to power.
"Our leaders Mamata Banerjee and Abhishek Banerjee do what they promise unlike others," he said.
TMC promises 'Bengal mode of development'
Claiming that no other state in the country has seen as much growth as West Bengal in the last 11 years, he said the manifesto has been formulated in accordance with the "Bengal model of development".
The West Bengal chief minister will reach Tripura on Monday to lead the party's election campaign, state TMC president Pijush Kanti Biswas said, adding that during her visit, she will hold a roadshow and address a rally.
Live Tv