On Holi, 2 Minor Boys Get Married In This Rajasthan Village Every Year, But It Isn't What You Think
Barodiya village in Rajasthan's Banswara district celebrates Holi festival in a unique way.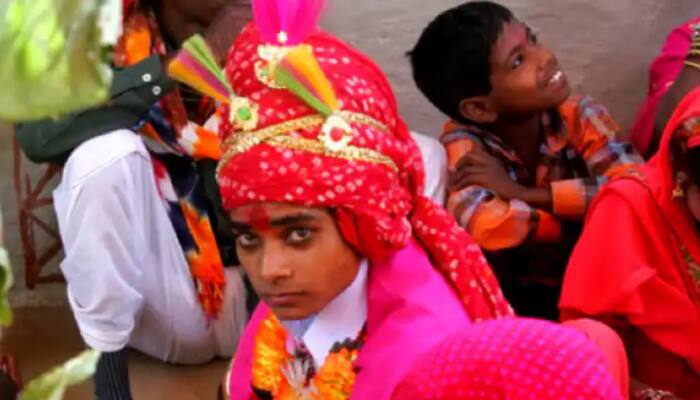 Festival of colours Holi is celebrated in different ways around the country. Every state has its own customs, ranging from weddings to festivals. Holi is celebrated differently in Mathura than in Barsana and Vrindavan. Similarly, there is a unique Holi festival celebration practised in a village of Banswara district of Rajasthan. Two young boys from the village marry each other on Holi. This marriage is not a real marriage but only a tradition. For years, the ritual has been practised with the same enthusiam in the district's Barodiya village. The bride and groom are both little boys. The entire community comes together to celebrate this marriage.
The chief of the community picks two lads for this marriage who have not undergone the Janeu ritual on the night of Chaturdasi, according to this custom. The party that selects the bride and husband is known as 'Geria' in the Wagdi dialect.
Also Read: Happy Holi 2023: Best Wishes, WhatsApp Statuses, Facebook Greetings To Share With Your Loved Ones
At night, a party of Geria roams the entire town, singing and dancing to the beat of the drum in search of two marriageable boys. During the hunt, the first boy found is declared the groom, and the second boy found is designated the bride.
The villagers sing and dance throughout the night after all the wedding rituals are over. Then in the morning, both the boys are made to sit in a bullock cart and taken around the whole village. Local people call it the procession of the bride and groom. The whole village also gives blessings and gifts to the newly married couple. People say that many years ago there was a drain in Barodia, which used to divide the village into two parts.
The young boys who became bride and groom enjoy the tradition without opposing it. Even the villagers bound by social bonds do not oppose it because of the rules of society.