India-China Standoff: S Jaishankar Slams Rahul Gandhi, Says it was PM Modi who Sent Army to LAC
Referring to Congress and other opposition parties outraging over the Chinese building a bridge on the Pangong Lake last year, EAM S Jaishankar said the area had been under illegal occupation of China since the 1962 war.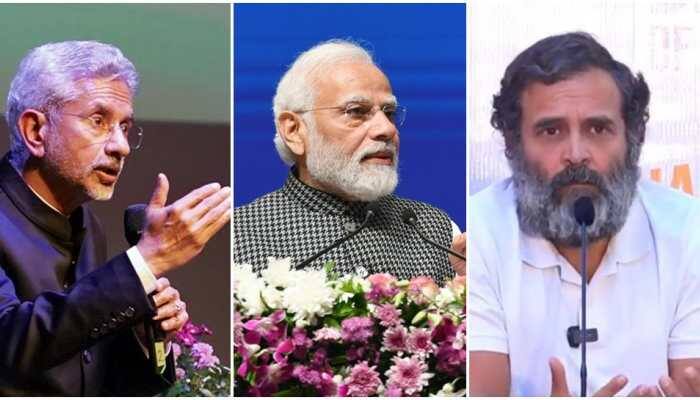 NEW DELHI: Hitting back at Rahul Gandhi who has been targeting the government over China's aggression on the LAC in eastern Ladakh, External Affairs Minister S Jaishankar on Tuesday said that it is not the Congress leader but Prime Minister Narendra Modi who sent the Army to the Line of Actual Control as a countermeasure to troop deployment by China and the opposition party should have honesty to look at what happened in 1962.In an interview with ANI, Jaishankar said the Modi government had increased the budget by five times to ramp up border infrastructure.
Referring to Congress and other opposition parties outraging over the Chinese building a bridge on the Pangong Lake last year, the Minister said the area had been under illegal occupation of China since the 1962 war. In a strong rebuttal to Congress over allegations pertaining to China, he said its leaders must have some problem understanding words beginning with 'C'.
"When did that area actually come under Chinese control? They (Congress) must have some problem understanding words beginning with 'C'. I think they are deliberately misrepresenting the situation. The Chinese first came there in 1958 and the Chinese captured it in October 1962. Now you are going to blame the Modi government in 2023 for a bridge which the Chinese captured in 1962 and you don't have the honesty to say that it is where it happened," said Dr Jaishankar.
#WATCH | The narrative that the Indian govt is on defensive, being accommodative…Who sent Indian Army to LAC? Rahul Gandhi didn't send them. Narendra Modi sent them: EAM Dr S Jaishankar to ANI pic.twitter.com/SXDSryPN3h — ANI (@ANI) February 21, 2023
"Rajiv Gandhi went to Beijing in 1988...signed agreements in 1993 and 1996. I do not think signing those agreements was wrong. This is not a political point I am making. I think those agreements were signed at that time because we needed to stabilise the border. And they did, stabilise the border," he said.
Also Read: UPI's Popularity to Help Digital Transactions Exceed Cash Soon in India: PM Narendra Modi
"If I would have to sum up this China thing, please do not buy this narrative that somewhere the government is on the defensive...somewhere we are being accommodative. I ask people if we were being accommodative who sent the Indian Army to the LAC (Line of Actual Control). Rahul Gandhi did not send them. Narendra Modi sent them. We have today the largest peacetime deployment in our history on the China border. We are keeping troops there at a huge cost with great effort. We have increased our infrastructure spending on the border five times in this government. Now tell me who is the defensive and accommodative person? Who is actually telling the truth? Who is depicting things accurately? Who is playing footsie with history?"," added Jaishankar in an interview to ANI.
Asked about Congress leader Rahul Gandhi's remarks that S Jaishankar did not know much about foreign policy and needed to learn a little bit more, the External Affairs Minister took a veiled dig and said he is willing to listen to the Wayanad MP if he has "superior knowledge and wisdom" on China. "I think he said this somewhere in a public meeting. It is probably in the context of China. All I can say in my defence is I have been the longest-serving ambassador in China. I have been dealing with a lot of these border issues for a very long time. I am not suggesting that I am necessarily the most knowledgeable person but I would have a fairly good self-opinion of my understanding of what is up there. If he has superior knowledge and wisdom for China, I am always willing to listen. As I said, for me life is a learning process. If that is a possibility, I have never closed my mind to anything however improbable that may be," Jaishankar added.
Referring to Congress criticism concerning border villages coming up on the Chinese side of LAC, he said the opposition party should remember what happened in 1962. "What happens you do this smoke and mirror, oh there is something happening here it is almost like 1962 never happened," he said.
"We should be building border infrastructure. Why did you (Congress-led governments) not build up infrastructure? Look at the border infrastructure budget during the Modi period, the budget has gone up five times. Till 2014, it was roughly Rs 3000-4000 crore, today it is Rs 14,000 crore. If you look at the roads that are built, the bridges, they have doubled or tripled, look at the tunnels this government is serious about border infrastructure... where as we know the underlining thinking earlier was let us leave it like that till the Chinese cannot come inside which meant you have no intention of contesting them when they came in," he said.
#WATCH | "If he has superior knowledge, wisdom, I am always willing to listen," says EAM Dr S Jaishankar to ANI on Rahul Gandhi's statement that EAM doesn't know much about foreign policy matters & needs to learn more pic.twitter.com/4lHpXQMTON — ANI (@ANI) February 21, 2023
He said it was important to call out Congress blunders as it was targeting the government. "Personally, I can get into a blame game what happened in 1962, it happened, but now if you whitewash all that everything happened only in 2023... I have to call you (Congress) out," Jaishankar said.
He added that steps to improve border infrastructure should have been taken at least over two decades back. "N,o first of all I am not using the word we are fortifying it, I think we are legitimately building our border infrastructure because they have built a robust border infrastructure. In my view, we should have done it 25 years ago. He said China was a bigger economy and India was responding to the situation that China has created along the LAC in Ladakh by violating border agreements....They are the bigger economy what I am going to do? I am a smaller economy. Am I going to sort of pick up a fight with a bigger economy? It is not a question of reacting. It is a question of common sense. We had in agreement that we are not supposed to bring to the borders in large numbers...because it is in our interest to stabilize our borders or a situation it is not out of love affection or sentiment. It is a core calculation," he said.
Jaishankar said border agreements had helped stabilise the situation till these were violated by China. There had been a standoff at the LAC in Ladakh following the aggressive actions of the Chinese Army. The two countries held several rounds of military and diplomatic talks for disengagement from some friction points. The high level of troop deployment by China continues for which India has taken counter steps.