Diabetic kids should use insulin pumps instead of injections: Experts
The study also looked at one measure of blood sugar known as glycated hemoglobin, which assesses average blood sugar levels over the previous several months.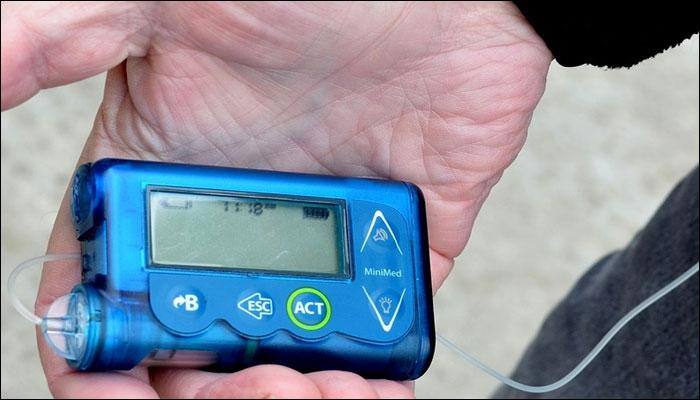 New Delhi: With diabetes among children and teenagers on the rise, a study has suggested that the use of insulin pumps could help them regulate blood sugar better and result in fewer complications in comparison to insulin injections.
Type 1 diabetes is a lifelong condition that develops when the pancreas produces little or no insulin, a hormone needed to allow blood sugar to enter cells and produce energy.
People with the condition usually have to test their own blood sugar level throughout the day and inject insulin to manage it; otherwise they risk complications like heart disease and kidney damage.
Researchers examined data on 14,460 diabetes patients under 20-years-old who used insulin pumps and another 16,460 patients who injected insulin. With pumps, patients were less likely to develop dangerously low blood sugar or a life-threatening accumulation of acids in the blood that happens when sugar levels get too high.
"The study adds to the growing evidence of the benefits of insulin pump therapy, when applied appropriately, in the young," said Dr. Roman Hovorka of the University of Cambridge Metabolic Research Laboratories in the UK
Previous research has suggested pumps may help young patients get better blood sugar control than they can achieve by giving themselves multiple daily insulin injections, Hovorka, who wasn't involved in the study, said by email. But research to date on how well pumps work to prevent dangerously low blood sugar has yielded mixed results, he said.
All of the patients in the current study had been using either injected or pumped insulin for at least one year.
Overall, dangerously low blood sugar known as hypoglycemia happened at a yearly rate of 9.55 out of every 100 kids treated with insulin pumps, compared with almost 14 children out of every 100 treated with injections, researchers report in JAMA.
Rates of ketoacidosis, a life-threatening buildup of acid in the blood, were 3.64 patients out of every 100 treated each year with insulin pumps, compared with 4.26 kids out of every 100 per year treated with injections.
The study also looked at one measure of blood sugar known as glycated hemoglobin, which assesses average blood sugar levels over the previous several months. Higher numbers indicate poorer blood sugar control over time.
Glycated hemoglobin was 8.04 percent for kids who used pumps and 8.22 percent for children who injected insulin, the study found.
Total daily insulin doses were also lower with a pump than with injections.
The study wasn't a controlled experiment designed to prove that insulin pumps are better than injections, however.
Another limitation is that researchers lacked data on the type and amount of diabetes education on using insulin that children and parents received, Dr. Beate Karges, of RWTH Aachen University in Germany and colleagues write. Karges didn't respond to requests for comment.
Patients tend to get more intensive training on managing their blood sugar with pumps than they do with injections, and some doctors have questioned whether better patient education might be the reason pumps get better results.
Pumps may deliver insulin more consistently than injections by infusing it slowly, and pumps can also be easier to adjust, said Dr. Simon Heller, a diabetes researcher at the University of Sheffield in the UK who wasn't involved in the study.
"They are not always more comfortable or convenient," Heller said by email. The best option may depend in part on children's age.
"I think pumps should be offered widely to young children and people who experience hypoglycemia on insulin therapy," Heller said. "For adolescents, particularly those who find it difficult to do all the complicated things in managing diabetes, pumps may not be the best option, particularly if insulin is missed."
However it's delivered, the effectiveness of insulin depends on how well patients work to get the right dose at the right time, said Edwin Gale, an emeritus professor at the University of Bristol in the UK.
"Pumps work very well in selected people with proper support, but they are not for everyone," Gale, who wasn't involved in the study, said by email. "There is nothing in this study to say that parents should feel obligated to opt for pump therapy."
(With inputs from Reuters)
Live Tv