Rishabh Pant Walking on Crutches These Days, Gives Recovery Update - see Pics
Rishabh Pant, who had met with a horrible car accident in December 2022, posted pictures from his evening walk with the help of crutches on his terrace and the photos are going viral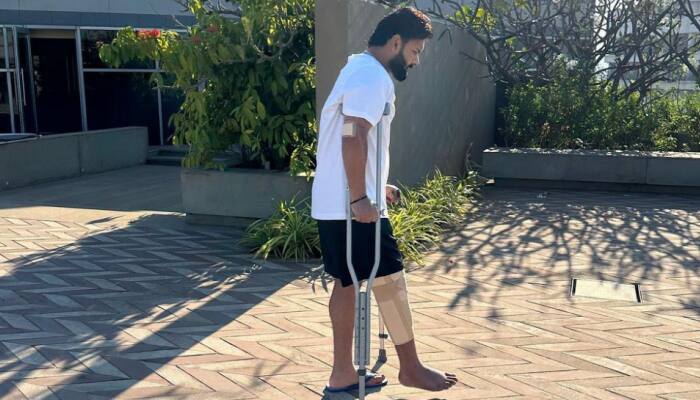 Indian cricketer Rishabh Pant dropped two pics on his Instagram handle on Friday, February 10, revealing his current medical condition. The wicketkeeper and batter can be see walking on the terrace of his house on crutches as his right knee is still recovering from the injury sustained after the horrible car accident in December 2022. Pant wrote in the caption: "One step forward, One step stronger, One step better." His caption revealed his mental condition, which seems very positive by the choice of words. Pant is racing against time to get fit for big tournaments scheduled this year, including the ICC Men's T20 World Cup 2023.
Also Read | 'I Will Slap You Hard, Rishabh Pant': Kapil Dev Angry at Wicketkeeper-Batter for THIS Reason
Check out Pant's pictures below:
Pant had met with car accident when he was on his way from Delhi to Roorkee in Uttarakhand on December 30. Reports stated that Pant felt sleepy during the early morning hours and lost control of the wheels. The car struck a road divider and flipped many times before getting totally burnt. By the time it caught fire, Pant somehow managed to escape and with help of two truck drivers was taken to a nearby hospital where initial scans for his injuries were done. Pant was later shifted to Max Hospital in Dehradun and later taken to Mumbai for knee operation.
The 25-year-old cricketer from Delhi is currently recovering at his home. Three weeks ago, Pant had informed fans about his medical condition. He wrote that he was grateful for all the support that came his way after the near-death experience. He also informed that his surgery was successful and that he was on the path to recovery.
A few days ago, while taking sunbath on his house's terrace, he had posted a Instagram Story in which he wrote how blessed he feels to enjoy the little things in life, like the sunshine. That post revealed how the accident has provided Pant a different perspective to view life.
His comeback will have to wait for some time as Pant could be out of action for at least six months. Getting physically fit and regaining match fitness are two different things. Once Pant is walking without crutches and has no pain in the body, his rehabilitation period will begin. Only then can his comeback date could be ascertained.