IndiGo Expansion Plan: Budget Airline Awaiting 500 Plane Delivery, Eyes European Market
IndiGo currently operates 300 aircraft and 1800 flights a day with only 10 percent of them operating on international routes with the order of 500 aircraft the operations will expand.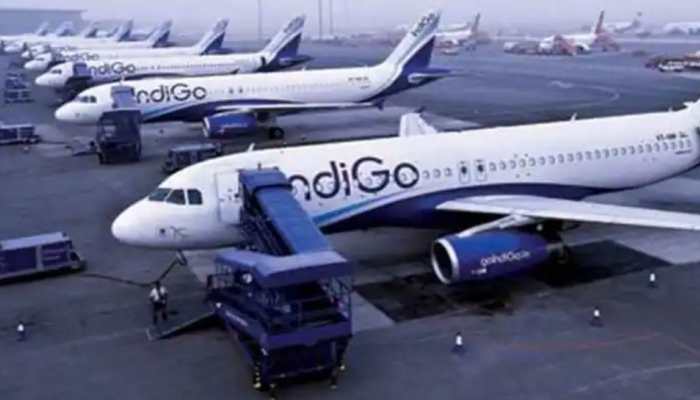 IndiGo has partnered with Turkish Airlines to increase its presence in Europe and has ordered nearly 500 more aircraft as part of its expansion plan. Malhotra also added that this will enhance passenger services from India to Istanbul and Europe. According to airline executives, IndiGo has placed orders for both American Boeing and the massive European Airbus.
Speaking to ANI, Malhotra said the airline is currently flying 1,800 flights a day and 10 percent of them on international routes."IndiGo has ordered 500 more aircraft for the expansion plan. Currently flying 1,800 flights a day and 10 percent of them on international routes. Our current international flights are concentrated around the Indian sub-continent and some other countries around. The farthest we travel is to Turkey and Istanbul. We have been very keen to fly further and that`s why a partnership with Turkish airlines. This is a code share partnership which allows us to penetrate Europe like never before," he said.
Also read: Air India Deal: Tata-Owned Airline Placed 840 Aircraft Order Including 370 Options
Malhotra said that as a codeshare agreement with the Turkish airlines, the IndGo will be able to carry passengers from India to Istanbul and from Istanbul to beyond. "We are having 27 points precise in Europe which covers the UK, France, Italy, Ireland, Austria, Switzerland, and so many more points. These points have multiple frequencies with Turkish airlines and with our partnership with them as a codeshare we are able to carry passengers from India to Istanbul and from Istanbul to beyond. Within India too with our 76 online points, we are able to funnel people from all over India into Delhi and Mumbai further to Istanbul and then beyond to Europe," he said.
Talking about the competition without naming Air India, which recently bought 470 planes, he said, "Competition is always welcomed. India has currently approximately 7.3 percent more than 100 million people who have a passport. As Indian people get a passport the first thing they want to do is fly overseas. There is huge potential for travellers who are aspiring to travel within India or overseas. So we are in the right place at the right time to take people beyond the borders of India."
Further talking about the expansion plan and requirement of multiple aircraft, he said, "We are currently flying a little over 300 aircraft and we are whopping nearly 500 more on order. Off course, the expansion depends a lot on the frequency and the timing of when we get an aircraft. But as and when the aircraft is coming, they will be deployed in some into the domestic market and some overseas." He further said that in near future IndiGo will launch two new points one would be Nairobi in Kenya and Jakarta in Indonesia.
When asked why people should choose IndiGo to go to Europe and no other airlines "We are offering the best connectivity to Europe and IndiGo assures people of hassle-free carrier service, on-time performance, and affordable fares." Recently, Air India ordered 840 aircraft from Airbus and Boeing, the firm`s order is for 470 planes and the remaining 370 are options.
Nipun Aggrawal, chief commercial, and transformation officer (CCTO), of Air Indof ia, in a LinkedIn post, mentioned that "The order comprises of 470 firm aircraft, 370 options, and purchase rights to be procured from Airbus and Boeing over the next decade."
The Airbus firm order comprises 210 A-320/321 Neo/XLR and 40 A350-900/1000. The Boeing firm order shall consist of 190 737-Max, 20 787s, and 10, 777s. Boeing said Air India would purchase 290 aircraft from the company to scale up its fleet and achieve sustainable growth.
In a statement, Boeing said Air India plans to invest in 190 737 MAX, 20 787 Dreamliner and 10, 777X aeroplanes. The agreement between Boeing and Air India includes options for 50 additional 737 MAXs and 20 787-9s.
When finalised, this will be the most significant Boeing order in South Asia and a historic milestone in the aerospace company`s nearly 90-year partnership with the carrier.
CTTO Aggarwal said in the post: "It is indeed a landmark moment in the history of Air India and Indian aviation. This order of 840 aircraft has been a culmination of a fascinating journey that began almost two years ago starting with the Air India privatisation process."
He also added, "This order demonstrates the vision and aspiration of the Tata Group to transform Air India into a world-class airline and connect India "non-stop" to every major city in the world. This order is also a testament to the tremendous economic potential unleashed by the Air India privatisation."
(With ANI Inputs)