Mahindra Thar SUV rescues bus stuck in Kashmir amid snowfall: Watch viral video
The viral video shows Mahindra Thar pulling out a bus stuck in a ditch amid snowfall, demonstrating its pulling capabilities on a slippery incline road.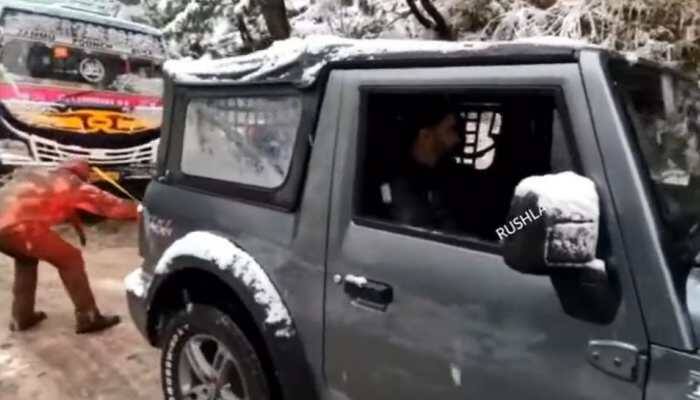 Mahindra Thar is one of the popular off-roader SUVs in India known for its capacity to traverse tough terrain. The car has been designed with a butch look, hardcore off-roading DNA and is often roughly used by the owners. The "rough use" that we mentioned sometimes even includes crossing flowing rivers. However, doing something like that is not advised and seems to be the wrong use of the car's capabilities. Furthermore, videos of such instances often go viral. Changing the pattern, the video of Mahindra Thar's capabilities being put to good use is going viral on the internet.
Mahindra Thar 4x4 pulling out a bus stuck in the snow certainly seems to be a good use of the capabilities of the SUV in its raw form. And the video of the incident from Sawaijan village, Poonch district in Jammu and Kashmir, demonstrates the prowess of a Thar's engine in a very crude form.
Also read: '25 year ago today...': Ratan Tata shares how Indica gave birth to India's indigenous car industry
The video shows a bus stuck in snow on the side of a road, unable to get itself out of the wedge. Probably, the bus got in a jam because of a loss of traction resulting from the piles of snow. This is when the Thar owner comes to help the bus. The SUV managed to pull the bus out of the ditch on a snow-covered road and saved the day for everyone present on the bus.
Watch: Viral video of Mahindra Thar pulling bus
Mahindra Thar 4x4 helps a bus out on a snowy road , somewhere in Poonch district, J&K pic.twitter.com/qWqB7gVJYc — RushLane (@rushlane) January 15, 2023
In this rescue mission, Mahindra Thar's powertrain had a major role in providing sufficient torque. All credit to the engine of the SUV. Before the most recent launch of the more affordable variant missing 4x4, Mahindra Thar used to have a 2.0L petrol engine giving it 152 PS of power and 300 Nm of peak torque or a 2.2L diesel with 132 PS and 300 Nm. These, combined with 4x4, are what provide the SUV with such capabilities.