Russia-Ukraine war: Moscow targets critical infrastructure in drone attacks, say officials
Kyiv Governor Oleksiy said that Russia launched several waves of (Iranian-made) Shahed drones and targeted critical infrastructure facilities in the city.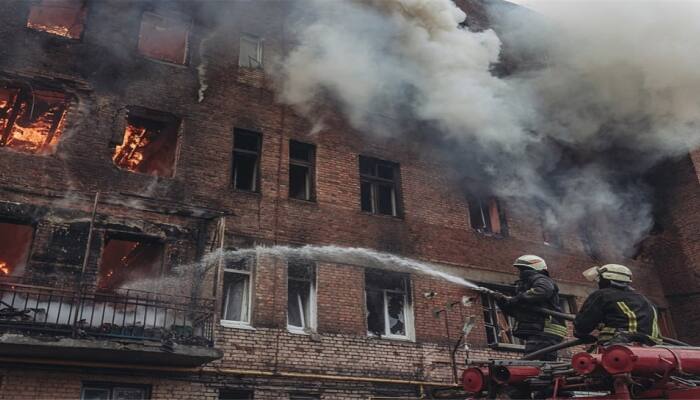 Kyiv: Russia has been targeting Ukraine's critical infrastructure in a series of drone attacks early on Monday (January 2) on Kyiv and the region surrounding it, officials said. Russia kept pounding Kyiv for the second night in a row, after firing a barrage of missiles over the capital on New Year's Eve night and earlier in the day.
"It is loud in the region and in the capital: night drone attacks," Kyiv Governor Oleksiy Kuleba said on the Telegram messaging app.
"Russians launched several waves of (Iranian-made) Shahed drones. Targeting critical infrastructure facilities. Air defence is at work."
By 3 am local time (0100 GMT), Ukraine's air defence systems destroyed 16 air objects above Kyiv, the city's military administration said. Air raid sirens were wailing by that time for more than three hours.
Earlier in the night, debris from a destroyed drone over Kyiv hit the capital's northeastern district, wounding one, the city's Mayor Vitali Klitschko said.
A 19-year-old man was taken to a hospital in Kyiv's Desnianskiy district, Klitschko said on the Telegram messaging app, after drone debris hit a road there and damaged a building. Reuters was not able to independently verify the information.
Kyrylo Tymoshenko, Ukrainian presidential aide, said drone debris hit a road in the Desnianskiy district, in Kyiv's northeast, damaging a building next to it.
The district, located on the left bank of the Dnipro River, is chiefly a residential area and the capital's most populous district.
Ukraine's regional military command in the country's east said air defence systems destroyed nine Iranian-made Shahed drones over the Dnipropetrovsk and Zaporizhzhia regions by early hours of Monday.