Bigg Boss 16: Salman Khan blasts Tina Datta for scandalous claims about Shalin Bhanot, latter breaks down
Bigg Bos 16 show Salman Khan will be seen taking on Tina Datta in 'Weekend Ka Vaar' episod for her scandalous claims about Shalin Bhanot. Tina is left in tears after Salman exposes her in front of the housemates, and pleads him to make voluntary exit from the show.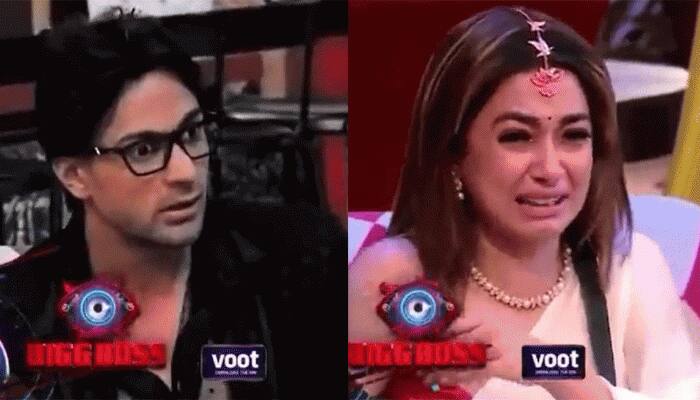 NEW DELHI: Actor and 'Bigg Boss 16' host Salman Khan will be seen confronting Tina Datta for talking ill about Shalin Bhanot with Priyanka Chahar Choudhary. In a recent episode, Tina had a massive heated argument with Shalin after which she speaks to Priyanka and says that he had demanded something very cheap from her and she wouldn't be able to say it on camera. Now, in the latest promo of 'Weekend Ka Vaar' episode, host Salman will be seen taking on Tina for her scandalous remarks about Shalin on the national television.
Salman also reprimands Tina for staying silent about the alleged 'cheap thing' that she claimed Shalin had demanded from her, and accused her of making such revelations after things turned sour between them. Salman is heard saying in Hindi, "Shalin had demanded cheap stuff from me before entering the house. You kept all this in your heart for 15 weeks till things were good with Shalin, now you are revealing all this because things are not right with him?"
Tina tries to defend herself, saying, "Aisa nahi tha sir."
However, Salman says, "Aur koi limit rakhi, koi limit rakhi aapne?"
#WeekendKaVaar promo:

Salman bashes #TinaDatta

Talks about what Tina said about #ShalinBhanot to #PriyankaChaharChoudhary #BiggBoss    #BB16    #BiggBoss16 pic.twitter.com/l9ndM7BVex — (@daffodil_im) January 20, 2023
Tina gets completely shockd and breaks into tears after Salman blasts her. She is seen cries inconsolably and pleads before Salman to take a voluntary exit from the show. "I am tired, I want to go home sir. Har cheez ka mere upar blame aa raha hai. I am done giving justifications and clarifications to everyone from the past three weeks. Icannot take all this anymore," Tina says.
it really really saddens seeing #TinaDatta breaking down like this. 15 weeks n NO grilling has ever happened of Shiv Nimmo Stan etc!! Also HATS OFF to #PriyankaChaharChoudhary: the wayyyy she is consoling Tina; I m so fuckin proud of supporting THE BEST #BB16 #BiggBoss16 pic.twitter.com/8Ay8H2e9V4 — Rachit (@rachitmehra_2) January 20, 2023
Earlier, while interacting with Priyanka, Tina hd said, "Do you know the funny part, why Shalin tries to silence me? When he got to know that I am a part of the show and got to know we have a common friends. Shalin called one of my mutual friends before coming here and asked him to set a meeting with me. Shalin said he wants to be a team. He can never back out, there are proofs. He also met Gautam outside. How do you think they became so thick and were calling each other brothers from day one. He has also taken Sajid Sir's name. He said we will play as a team. I refused to meet him because I wanted to be here with a clean slate. He was desperate to meet me. I didn't know anyone apart from Sreejita. He was planning from outside, so how am I the one using him, moron?"
Nahi bolungi bolungi bolke bahat kuch bol diya.
.
Tina and Priyanka think we are fools here and that we are not understanding what they meant in their conversation.
.
Very very cheap comment on #ShalinBhanot
.#Biggboss16 #Biggboss#BB16 pic.twitter.com/xybl9SpGJl — Tekchand (@worldoftekchand) January 19, 2023
It is to be noted that both Tina and Priyanka are not on talking terms with Shalin in the show.