Prabhas fever! Fans can't control excitement as they trend 'Saal nahi Salaar hai' on first day of 2023
Prabhas' fans took to Twitter and trended 'Saal nahi Salaar Hai' as they can't wait for his much-anticipated film Salaar.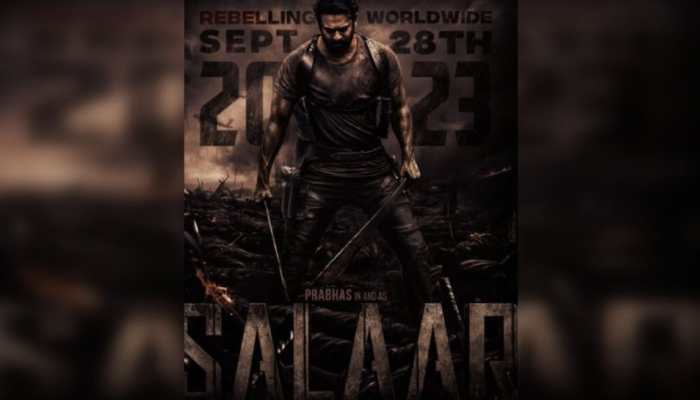 New Delhi: 2023's highly anticipated film Salaar and one of the biggest collaborations in the industry of Prabhas and Prashanth Neel has opened up to a very exciting start for the new year. The film got trended on the very first day of 2023, with fans hailing 'Saal Nahi Salaar Hoga' on social media by the hashtag #SaalNahiSalaarHai. Fans have announced and claimed 2023 to be Salaar's year.
Taking to social media, fans hailed Salaar and showed their excitement towards the film.
Just look at the tweets
2023 Waiting #SaalNahiSalaarHai #Prabhas #Salaar pic.twitter.com/gGkcYqnP4q

— Pravallika Narra (@IamPravallika) January 2, 2023
#SaalNahiSalaarHai pic.twitter.com/otz7YoxfA9 — Nanda Kishore (@Kishore18760207) January 2, 2023
#SaalNahiSalaarHai #Prabhas pic.twitter.com/zTKgczmnC5 — Janpasha Prabhas SALAAR (@JanpashaTweetz) January 1, 2023
#SaalNahiSalaarHai pic.twitter.com/TVzKRefIqF — vinay prabhas (@vinay_silarapu) January 1, 2023
#SaalNahiSalaarHai - The Biggie Salaar Era Begins pic.twitter.com/7JNmzwhzfr

— Sandeep kishore (@sandeepkishore_) January 1, 2023
Hombale's 'Salaar' marks the first collaboration of Prabhas and Prashanth Neel, and the film is expected to be a game changer for the cinema industry. Salaar is a dream combination of India's two biggest franchises Bahubali and KGF as this is for the first time the Hombale Films, producers of KGF, the director of KGF, the technicians of KGF, and the hero of Bahubali will be coming together to serve India yet another blockbuster in 2023. Hombale Films, which has blockbusters like KGF, KGF 2 and their latest Kantara, to their credit, is gearing up for the release of Salaar in 2023. The fans surely can't miss the dynamic collaboration of director, producer and technicians of KGF and the hero of Bahubali!
Meanwhile, it is being learnt that Hombale Films' Salaar has been mounted on a very huge scale and has been budgeted at a whopping 400+ crores. While the dynamic team and technicians of KGF are also a part of Salaar, we can certainly now say that the era of Salaar has begun!