Mumbai-Gandhinagar Vande Bharat Express travel time revised from TODAY, check new schedule
Indian Railways revises Mumbai-Gandhinagar Vande Bharat Express travel time from TODAY, Check new schedule of train here, reports PTI.
Mumbai-Gandhinagar Vande Bharat Express travel time revised from Oct 5
Indian Railways has further reduced the travel time of newly inaugurated Vande Bharat train
Check the revised timings of Mumbai-Gandhinagar Vande Bharat express train HERE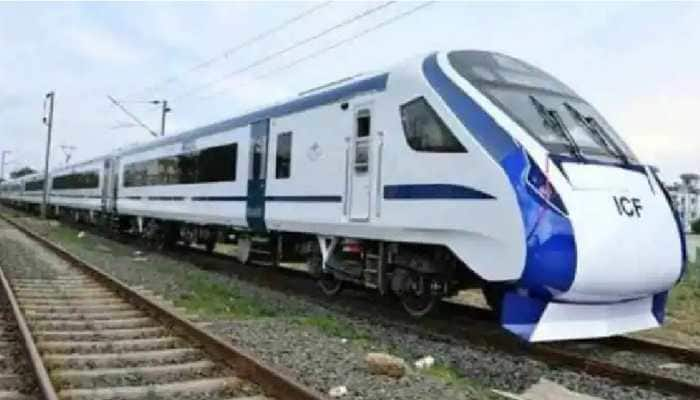 The Indian Railways has revised timings of the newly-inaugurated Vande Bharat Express at Mumbai-Gandhinagar route. The Indian Railways' Western Railway has further reduced the travelling time of the newly-introduced Vande Bharat superfast express train from today. According to a release issued by the Western Railway, the Vande Bharat Superfast Express will take five minutes less to cover Mumbai Central to Gandhinagar distance and it will arrive 20 minutes early at Mumbai Central from Gandhinagar. The Wstern Railway stated that the revised timetable will kick in from October 5. The train started its commercial run on October 1, a day after it was flagged off by Prime Minister Narendra Modi in Gandhinagar.
Here's the revised timing of Mumbai-Gandhinagar Vande Bharat Express train:
There is no change in the departure timing of the train at 6:10pm from Mumbai Central and at 2:05pm from Gandhinagar. But the arrival timetable of the train at all the enroute stations and destinations is changed.
As per the revised timetable, the Gandhinagar-bound Vande Bharat express will reach its destination at 12.25pm, instead of the current 12:30pm. It will reach Mumbai Central at 8:15pm instead of the current timing at 8:35pm.
Also read: Dussehra 2022: IRCTC cancels over 190 trains on October 5, Check full list HERE
Prime Minister Narendra Modi inaugurated the Mumbai-Gandhinagar Vande Bharat Express on September 30 that runs between the state capitals of Maharashtra and Gujarat. The Mumbai-Gandhinagar Vande Bharat Express is the third one for the country. Developed under the "Make in India'' campaign, the Vande Bharat Express will connect every section of the nation, as the government plans to have a total of 75 such trains, confirmed PM Modi during his Independence Day speech last year. The Vande Bharat Express is a high-speed train with a top speed of up to 160 kmph, and it can attain a speed of 100 kmph from a standstill in just 52 seconds.
Live Tv