SHOCKING video of Ram Gopal Varma with actress Ashu Reddy goes viral on internet
Filmmaker Ram Gopal Varma, who is gearing up for the release of his next film 'Dangerous', left his fans shocked after he kissed actress Ashu Reddy's feet during an interview session.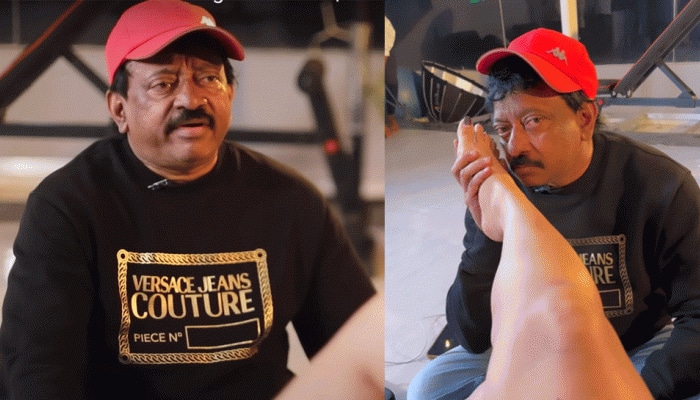 New Delhi: Filmmaker Ram Gopal Varma, known for delivering films like 'Rangeela', 'Satya' and 'Bhoot', is regarded as one of the pioneers of new age Indian cinema and has been credited for his work on experimental films. However, the noted director-producer has been lately been hogging limelight for all the wrong reasons and is now simple controversy's favourite child.
RGV, as he is popularly known, is once again in the news after a video of him sitting on the floor and caressing actress Ashu Reddy's feet surfaced on social media. Teasing the timing of his full interview, RGV captioned the video, writing, "The DANGEROUS me with the DOUBLE DANGEROUS ASHU REDDY." RGV then shared the full video on his YouTube channel where he is being interviewed by the actress for his upcoming directional 'DANGEROUS'.
The bold interview shows RGV sitting on the floor and even licking her toes, after taking her permission. The veteran director reveals that he was sitting on the floor to remind everyone how women should be treated.
As expected, netizens were shocked to see the maverick filmmaker's latest tactics to promote his film and bashed him brutally for stooping so low. A user commented, "Omg..what has happened to you?? Have you started making adult movies!!"
"Shameless for a Reason... why this society will go wrong...bcoz of dis type of activities only."
"Sometimes i really feel bad for RGV, once he was one of the top director of Indian cinema... All industry top heroes wanted to work with him.......& now"
Ram Gopal Varma was recently in the news when he dropped a controversial post on Shraddha Walker murder case and wrote, "Instead of resting in PEACE, she should come back as a spirit and cut him into 70 pieces."
Earlier, RGV courted a controversy when he tweeted that Sridevi reached stardom not because of her acting skills but because of her thunder thighs. "I respect Srideviji for her thighs, her smile, her acting talent, her sensitivity, her persona and above all I respect her for her love for Boney (sic). If only acting talent is a measure for stardom why wasn't Smita Patil bigger than Srideviji. The thunder thighs made the difference," he tweeted.
Live Tv