Protesting wrestlers write LETTER to IOA: 'Look into sexual harassment allegations against WFI President by forming probe panel'
Protesting wrestlers have written a strongly-worded letter to IOA president PT Usha, asking her to form a probe panel to investigate sexual harassment allegations on WFI president Brij Bhushan Sharan Singh while also listing down their other 3 demands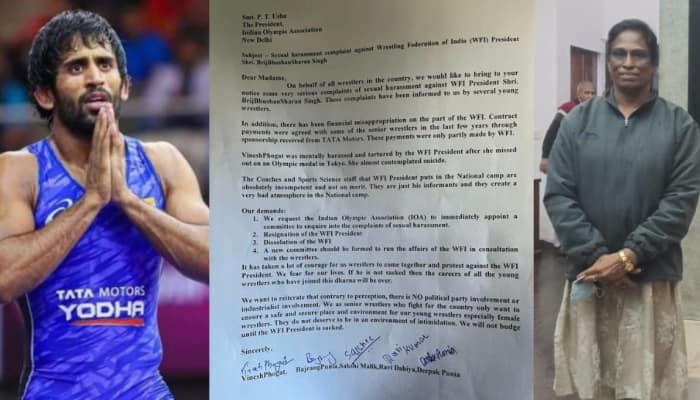 Wrestlers who are protesting at Jantar Mantar in Delhi have written a letter to Indian Olympic Association, asking its president PT Usha to form a probe panel to look into the sexual harassment allegations made on Wrestling Federation of India (WFI) Brij Bhushan Sharan Singh. Star India wretlers Bajrang Punia, Vinesh Phogat and Sakshi Malik are leading the protest against the WFI and its president as they are frustrated by many wrongdoings by the federation. Wrestlers accused the WFI presiden for running the federation like a dictator. They said that wrestlers are frustrated by the management.
Also Read | Who is Brij Bhushan Sharan Singh? The WFI president accused of sexual harassment of female wrestlers by Vinesh Phogat, Read here
In the letter addressed to IOA President PT Usha, the wrestlers said they have been informed by several of their younger colleagues about the sexual harassment they faced at the hands of Brij Bhushan Sharan Singh. The letter has been signed by five wrestlers including Tokyo Olympics medallists Ravi Dahiya and Bajrang Punia. Rio Games bronze winner Sakshi Malik and World Championship medallists Vinesh Phogat and Deepak Punia have also signed.
@PMOIndia @AmitShah @ianuragthakur @PTUshaOfficial pic.twitter.com/yayk3uqjs3 — Bajrang Punia __ (@BajrangPunia) January 20, 2023
The wrestlers reiterated their demand that WFI be disbanded and its President be sacked. They also demanded that a new committee is formed, in consultation with the wrestlers, to run the affairs of the national federation.
"Vinesh Phogat was mentally harassed and tortured by the WFI president after she missed out on an Olympic medal in Tokyo. She almost contemplated suicide. The coaches and sports science staff that WFI president puts in the National camp are absolutely incompetent and not on merit. They are just his informants and they create a very atmosphere in the camp."
Wrestlers listed down 3 demands. They are as follow:
First, We request the IOA to immediately appoint a committee to enquire into the complaints of sexual harassment.
Second, Resignation of the WFI president
Thirdly, Dissolution of WFI president.