Highlights | India Vs South Africa Classification Match, Men's FIH Hockey World Cup 2023: India Beat South Africa 5-2
Follow LIVE Updates and Scorecard from India vs South Africa FIH Men's Hockey World Cup Classification Match to be played at Rourkela on Saturday, January 28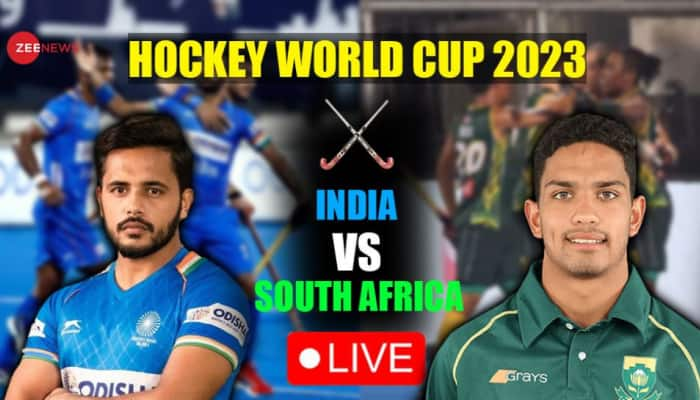 LIVE Blog
India will take on South Africa in the Hockey World Cup clash on Saturday, January 28 at Birsa Munda stadium in Rourkela, Odisha. This is India's last match in the World Cup, a 9-10 place classification match. India beat Japan 8-0 in the last match, two days ago, at the same venue. The Harmanpreet Singh-led side will be aiming to finish the tournament on a high after they got knocked out of the tournament with the loss vs New Zealand in the Crossover match. India had to play the Crossover match as they could not qualify to quarter-finals from the Pool as the table topper.
Needing a 8-goal difference win vs Wales in their last match of the Pool stage, India beat the European nation 4-2. In the Crossover match vs Blacksticks, they went down in the penalty shootout. India's World Cup hopes ended there and while the review will happen by Hockey India soon, it is important for Graham Reid and his side to win the last match of the tournament.
South Africa will be a tough opponent but India should be favourites to win the contest. What they need to ensure is that they play fiery hockey throughout the 60 minuntes of the match.
20:48 PM
LIVE Hockey World Cup 2023 South Africa vs India: Full-time
India beat South Africa 5-2 in the Classification match. Good solid performance by the Hosts as they were leading in all four quarters.
GOALSCORERS:
Mvimbi Samkelo
48' (FG)
Cassiem Mustaphaa
59' (PS)
Abhishek
4' (FG)
Singh Harmanpreet
11' (PC)
Singh Shamsher
44' (FG)
Singh Akashdeep
48' (FG)
Singh Sukhjeet
58' (FG)
20:31 PM
LIVE India vs South Africa Hockey World Cup 2023: Akashdeep scores!
Another goal for India, Akashdeep Singh (48) and Shamsher (44) score within five minutes to keep India ahead by three goals. South Africa reply with a strike from Samkelo.
India 4 - 1 South Africa
19:57 PM
LIVE Hockey World Cup 2023 India vs South Africa: India lead at half
India lead with a two-goal advantage at half time against South Africa. Harmanpreet and Abhishek's goal are the difference maker for the hosts before heading into the third quarter.
India 2 - 0 South Africa
19:32 PM
LIVE India vs South Africa Hockey World Cup 2023: Quarter 2 begins
India with a two-goal advantage as Singh Harmanpreet scored from the penalty corner in the 11th minute of the game. South Africa struggling at the moment to find a way back into this match.
India 2 - 0 South Africa
19:19 PM
LIVE Hockey World Cup 2023 IND vs SA: GOAL!
Abhishek scores from the penalty corner! India take the early lead in the contest against South Africa. SA's Spooner Nicholas has been shown a green card from the official.
India 1 - 0 South Africa
17:54 PM
LIVE Argentina vs Wales Hockey World Cup 2023
Argentina all over Wales as they score four past the Wales goalkeeper. Surely, no way back for the Wales Hockey team in this contest.
Argentina 4 - 0 Wales
17:26 PM
LIVE Hockey World Cup 2023: Argentina lead 2-0 vs Wales
Argentina are leading the match against 2-0 Wales at half time. First, Lucas scored in the 15th minute of the match followed up by Martin's strike in the 28th minutes. Wales will look to counter-attack in the second half.
GOALSCORERS: Toscani Lucas, Ferreiro Martin
15:51 PM
Hockey World Cup LIVE 2023: France beat Chile 4-2
France have defeated Chile after a hard fighting match with the score 4-2.
Goalscorer for Belgium: Becerra Franco, Pizarro Andres
Goalscorers for France: Curty Eliot, Charlet Victor, Xavier Gaspard
15:11 PM
LIVE Hockey World Cup 2023: France lead by 2 goals
We are into the last moment of Quarter 3 and France are leading by two goals at the moment. Charlet Victor has scored twice for the French with Curty Eliot also getting his name on the scoresheet.
France 3 - 1 Chile
14:50 PM
Hockey World Cup LIVE Updates: Chile score
Chile open their account in the 20th minute of the match as Becerra Franco converts a penalty. Brilliant from him as Chile reduced lead to 2 goals. France still in lead. 
CHILE 1-3 FRANCE
14:39 PM
LIVE Updates World Cup Hockey: France take thick lead
France have taken a 3-0 lead over Chile in just the first two quarters and looks like we will have goal fest in this match. Curty Eliot opened account in the 13th minute, was a field goal which was followed by two penalty conversions by Charlet Victor. 
CHILE 0-3 FRANCE
14:16 PM
Hockey World Cup LIVE Updates: Chile vs France
Two low-ranked teams Chile and France take on each other in the classification for 13-16th places. The first quarter is on and both sides are yet to open their account. 
Chile 0-0 France 
13:22 PM
Hockey World Cup LIVE Updates: Malaysia beat Japan 
Malaysia finish their FIH Men's Hockey World Cup 2023 with a win over Japan. Brilliant hockey from both sides but Malaysia clearly the betterside. Silverius Shello scores a brace and takes the Malaysian side to a win. 
MAS 3-2 JAP
12:56 PM
Hockey World Cup LIVE Updates: Malaysia takes lead again
Silverius Shello scores his second goal in the match but Japan captain Tanaka Seren scored the equaliser before Malaysia took the lead again with Shahmie Irfan Suhaimi scoring the third goal. It was a Field Goal. 
MAS 3-2 JAP
12:31 PM
Hockey World Cup Live Updates: Japan draw level 
Tanaka Kaito makes a field goal to make it 1-1 vs Malaysia in this exciting clash in the Hockey World Cup. At half time, both sides have scored a goal each and thirty minutes still remaining in the match.
MAS 1-1 JAP
12:14 PM
Hockey World Cup Live: Malaysia take lead over Japan
In the 13-16 place classification match today, Malaysia take on Japan. Silverius Shello has provided the first goal for the Malaysians. They lead 1-0 as the second quarter game is on at Rourkela.
11:41 AM
Hockey World Cup IND vs SA LIVE: Reid explains why India failed to win WC
"Having seen this World Cup and being in a home World Cup, does bring extra pressure. Sometimes that's difficult to process. So, that was my thought process," Reid said at the post-match press conference. "It (requirement of a mental conditioning coach) has come up (for discussion) before but I did not really think it was needed at that point. I thought, I had enough experience to be able to impart the sort of stuff we have been talking about."
11:03 AM
Hockey World Cup LIVE Updates: India take on South Africa at 7 pm today
Hello and welcome to live coverage of Hockey World Cup 2023 matches today. India will take on South Africa in the Classification match today to ensure they finish at either 9th or 10th spot in the World Cup. The match will telecast on Star Sports Network while the live streaming will be on Hotstar.