India vs Malaysia Hockey Asia Cup 2022 Super 4s Highlights: India settle for 3-3 draw against Malaysia
Follow Live Score and match updates from India vs Malaysia Asia Cup 2022 Hockey Super 4 clash on our LIVE blog here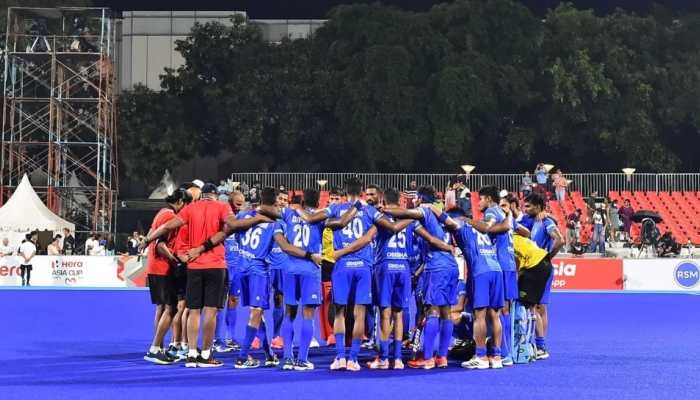 LIVE Blog
The Indian men's hockey team scored two fantastic field goals to beat Japan 2-1 in its first Super 4 league match and avenge its loss in the pool stage of the Asia Cup 2022 in Jakarta on Saturday (May 28). The defending champions, who lost 2-5 against Japan in the pool stage, scored two eye-catching field goals through Manjeet (8th minute) and Pawan Rajbhar (35th) to register a narrow win. India are now in top position on the Super 4 points table with Malaysia in second spot after their draw against South Korea on Saturday.
18:55 PM
India settle for draw
India vs Malaysia done with fourth and final quarter as both teams fighted their hearts out. The Malaysian players were disappointed as they were leading most of the game. 
IND 3 - 3 MAS 
18:40 PM
Malaysia EQUALISE
Malaysia comeback from a penalty corner, hattrick for Razie Rahim for his team's equaliser. India were leading the game first time after their third goal but Malaysia comeback with another one.  
IND 3 - 3 MAS
18:35 PM
GOAL!
Penalty corner converted by Nilam Sanjeep, India get the upper hand now after a brilliant equaliser, they lead the proceedings now in the game for the first time.
IND 3 - 2 MAS
18:20 PM
COME BACK!
India level the score as SV Sunil strikes for India after a waves of attacks from the Men in Blue. Malaysia cannot believe what's happening them as India make a statement with levelling the score.
IND 2 - 2 MAS
18:18 PM
End of 3rd quarter
The third quarter is finished and India have cut down the lead to one goal now. Better display from India after the half as come in with a better performance in the third quarter.
IND 1 - 2 MAS
18:08 PM
India asking QUESTIONS
India are asking questions as they put pressure on Malaysia with another penalty corner. Malaysia hold on to their lead somehow as India throw waves of attacks.
IND 1 - 2 MAS
17:56 PM
GOAL!
India get one back as Vishnukant Singh scores after a rebound comes in from the penalty corner taken by the Men in Blue. Malaysia look nervous now as India look to make a comeback in the match.
IND 1 - 2 MAS
17:52 PM
End of 1st Half
India would be disappointed with their first half performance but credit Malaysia as they display some great composure in defence and attack with great urge and confidence to score. India are 2 goals down after the first half and will look to change plans and get themselves going.
IND 0 - 2 MAS
17:43 PM
India keen on COMEBACK
Indian players are keen on making a comeback in the game as Malaysia lead the proceedings with 2 goals up.
IND 0 - 2 MAS
17:37 PM
GOAL!
Malaysia lead with another one as India go 2-0 down. Razie Rahim scores another one from the penalty corner his team got.
IND 0 - 2 MAS
17:27 PM
Malaysia lead in 1st quarter
Malaysia lead with one goal against India after the first quarter. Malaysia kept things tight as India got down to ten men in the end as Manjeet picked a card.
IND 0 - 1 MAS (First Quarter done)
17:18 PM
Malaysia score FIRST!
GOAL! Malaysia get the lead first as Razie Rahim places it to the left bottom corner of the post. India will look to bounce back from goal they have conceded.
IND 0 - 1 MAS
17:13 PM
Both sides keen on SCORING
Both India and Malaysia are keen on getting the first goal as both display some good attacking form. The right flank of both sides are attacking with urge.
IND 0 - 0 MAS
16:30 PM
Let the play begin! 
India will be playing in the traditional Blue kit while Malaysia are playing in white jersey. The players and officials are walking out in the middle. We are getting ready with the pre-match rituals. India attacking from left to right. 
15:50 PM
Hello and welcome to our live blog for India vs Malaysia Hockey Asia Cup 2022 Super 4s match. For live updates stay tuned.