CWG 2022 Day 4 Highlights: Shushila Devi, Vijay Kumar claim medals in Judo; India's Lawn bowl team storms in final
Check Live Scores and Updates from Day 4 of the Commonwealth Games in Birmingham on Monday (August 1).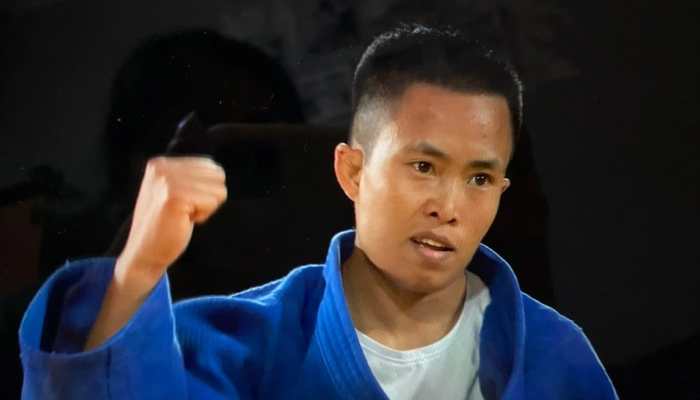 LIVE Blog
After an action-filled third day of the Commonwealth Games 2022, the Indian contingent will be looking forward to progress further in sports like squash, lawn bowls, boxing and hockey and seal some more medals in weightlifting, badminton and table tennis. The action will start from 1 PM onwards with lawn bowls semifinals in Women's Fours category.
The team of Rupa Rani Tirkey, Nayanmoni Saikia, Lovely Choubey and Pinki Singh will take on Team New Zealand. They have progressed to the semis after a win over Norfolk Island in QFs. Team India had finished 2nd in their group D.
Day 4 at CWG @birminghamcg22

Take a at #B2022 events scheduled for 1st August

Catch #TeamIndia in action on @ddsportschannel & @SonyLIV and don't forget to send in your #Cheer4India messages below#IndiaTaiyaarHai #India4CWG2022 pic.twitter.com/UDwvKOXJI9 — SAI Media (@Media_SAI) August 1, 2022
In Men's 81 kg weightlifting, Ajay Singh will be in action from 2PM onwards, with an aim to seal another medal for his country that has dominated the sport in the 2022 edition of CWG so far with five medals. Joshna Chinappa will take on Canada`s Hollie Naughton in QFs of Women`s singles in squash from 6:00 PM onwards.
Sushila Devi will take on Harriet Bonface of Malawi in the Women's 48 kg QFs while Suchika Tariyal will take on Rita Rabinda of Zambia in Women's 57 kg round of 16 match. Men's Table Tennis team will play their semifinal clash against Nigeria from 11:30 PM onwards with an aim to confirm a medal for their country.
At 3:30 PM, Indian fans will get to see the mixed badminton team in action in semis where the team will be eyeing a medal.
23:39 PM
Badminton
PV Sindhu gives India the 2-0 lead as she beats Yeo Jia Min 21-11, 21-12 showing her best game in the mixed team semifinal.
22:54 PM
Badminton
India get the 1-0 lead in the mixed team semifinal as Satwik-Chirag hand their country a convincing victory as expected. The Singapore opponents fought hard but failed infront the Indian duo.
22:24 PM
Judo
Vijay Kumar wins Bronze for India by defeating Petros of Cyprus with two Waza-ari. India's 8th medal of the Games won!
22:09 PM
Hockey 
India 4 - 4 England, the action has finally come to an end after a serious contest between two high quality sides. India would be disappointing after taking a 3-0 lead but at the same time would be happy that they completely didn't let it slip out of their hands. full-time!
22:08 PM
Judo
Shushila Devi wins silver in the Judo 49kg women's event at Birmingham.
22:06 PM
England on FIRE
England are back in the contest as India's lead of 3 goals has been taken to a spin. It is getting very intense as the hosts look in no mood to lose tonight.
IND 4 - 3 ENG
21:42 PM
Q3 DONE!
India still leading with 3 goals but England are still pressing hard for a reply. India is fine form tonight just like yesterday showing no margin of errors at the moment.
IND 3 - 0 ENG
21:04 PM
Squash: India's Saurav Ghosal enter's semi-final with win over Greg Lobban of Scotland. He defeated Lobban 11-5, 8-11, 11-7, 11-3 in semi-final. 
21:04 PM
Squash: India's Saurav Ghosal enter's semi-final with win over Greg Lobban of Scotland. He defeated Lobban 11-5, 8-11, 11-7, 11-3 in semi-final. 
20:50 PM
India 3:0 England
Own goal by England in the second quarter of the match. England in deep trouble. India take the lead with 10 men on the field. 
20:46 PM
India 2: England 0
Mandeep Singh doubles India's lead with a field goal. England challenged it but the decision goes in India's favour
20:35 PM
Squash - India's Saurav Ghosal faces defeat in Men's Singles Quarter-final against Greg Lobban of Scotland
20:34 PM
Disappointment for India in Men's 1000m Time Trial Final Cycling as Ronaldo Laitonjam clock 1:02.500 finish 12th 
20:31 PM
India take early lead in 3rd minute of the match 
India 1-0 England
20:30 PM
India vs England Head to head 
India - 10
England - 7
Last four games
India - 4
England - 3
20:28 PM
Indian men's hockey team defender Jarmanpreet Singh had said in an exclusive interview with Zee - 'England will be a team to beat in CWG 2022'
20:25 PM
The stage is all set

It's MatchDay 

After yesterday's mind-boggling game, we can't wait to see #MenInBlue again on the field today at 8:30 PM (IST). 
Catch the action LIVE on Sony Ten 3, Sony Six, and Sony LIV app. pic.twitter.com/ofXEVb5Yna

— Hockey India (@TheHockeyIndia) August 1, 2022
19:47 PM
Squash Women's QF
Joshna Chinappa loses out to Canada's Hollie Naughton. They fought hard until the end but Chinappa was left frustrated with the referee.
19:04 PM
Artistic Gymnastics
Pranati Nayak is currently second in the rankings with a score of 12.699, four atheletes up next before the final three would be decided.
18:59 PM
Swimming
Sajan Prakash finishes 19th in overall rankings in the men's 100m butterfly
18:58 PM
Artistic Gymnastics
Pranati Nayak is in the final as she gets the first part of her routine right on both occasions. Her score is 12.699 in total.
18:14 PM
Judo: 
Gold medal fight: Shushila Devi Likmabam will fight for 48kg
Bronze medal fights: Jasleen Singh Saini in 67kg, Suchika Tariyal in 57kg, Vijay Kumar Yadav in 60kg
18:09 PM
Boxing
Mohammed Hussamuddin of India reaches the quarterfinal after beating Salim Hossain of Bangladesh 5-0 in the 57kgs category.
18:03 PM
A day of great results in sports where India doesn't have much to show historically. After women's lawn bowls team enters final, Shushila Likmabam enters #judo final. Will take on Michaela Whitebooi of South Africa in gold medal bout, which will take place around 9.45pm IST #CWG

— Mihir Vasavda (@mihirsv) August 1, 2022
17:59 PM
Boxing & Judo
Mohammed Hussamuddin will face Salim Hossain from Bangladesh in Men's 57kg category. and Vijay Kumar Yadav will fight for bronze now as he has beaten Dylan Munro by Waza-Ari in men's 60kg Judo.
17:43 PM
Judo semi-finals (Women 48kg)
India's Shushila Devi enters final in the Judo 48kg category, defeats Priscilla Morand of Mauritius, she will fight for gold.
17:25 PM
After the disappointment of Tokyo Olympics, Amit Panghal makes a strong start to his campaign in Birmingham. He wins by unanimous decision and advances to the 51kg quarterfinal. "That was an amateur boxing masterclass we just saw." says the commentator.#CWG2022 #Boxing pic.twitter.com/kfeM8MWsRH

— Aditya Chaturvedi (@aditya_c19) August 1, 2022
17:24 PM
Squash
India's Sunayna Sara Kuruvilla advances to semifinals with a straight win.
17:00 PM
Judo
Suchika Tariyal has lost to Donne in quarterfinals but she is still in contention to fight for bronze.
16:55 PM
Boxing
Amit Panghal beats Berri with winning both round 1 and 2 with ease in the 51kg men's category. He advances to quarterfinals after winning by unanimous decision.
16:47 PM
Boxing & Judo
Boxing men's Round of 16: Amit Panghal from India in action now taking on Namri Berri of Vanuatu in men's 51kg category.
Judo Women's: Shushila Devi Likmabam cruises into the semifinals as she beat Harriet Bonface of Malawi via Ippon.
16:08 PM
Weightlifting
Bad news for India as Ajay Singh fails to lift his third and final attempt of 180 kgs, he will go without a medal as he finishes on 319 kgs in total.
16:00 PM
Weightlifting
Ajay Singh in contention for gold, he lifts his second attempt 176 kgs in Clean and Jerk. He is on top of the table with 319 kgs in total.
15:58 PM
Weightlifting
Ajay Singh completes his first attempt with ease of 172 kgs in the Clean and Jerk, he takes the lead now.
15:48 PM
Another medal assured for India! Rupa Rani Tirkey with a clutch effort at the end and India edge out NZ in the semis. India are assured their first-ever #LawnBowls medal. They will now face SA for gold. What a match that was! Look at the emotions at the end #CWG2022 pic.twitter.com/BAGnzRQy7k

— Aditya Chaturvedi (@aditya_c19) August 1, 2022
15:30 PM
Lawn Bowls semi-final
India confirm silver entering the final of Lawn Bowls, a historic medal confirmed! India have beaten New Zealand 16-13 to enter the finals.
15:10 PM
Lawn Bowls, Women's semifinal
The match is getting intense and intense as the scores are tied at 12-12 now. India comeback again from 10 points with 2 points.
15:06 PM
Ajay Singh - Weightlifting
His third attempt of 143 kgs and he has shown great composure in his third attempt to complete his Snatch.
15:03 PM
Weightlifting - men's 81kg final
Ajay Singh goes for 140 kg and lifts it comfortably in his second Snatch attempt! 
14:56 PM
Lawn Bowls: New Zealand draw level again
New Zealand have levelled the women's pair semifinal against India at 10-10 with three points in the 11th frame. 
14:46 PM
Weightlifting: Ajay Singh in lead now!
Brilliant by India's Ajay Singh in his 2nd effort in Snatch as he lifts 140kg to take the lead away from Cameron's Guy Michel Ngongang Tchuissi.
14:45 PM
Weightlifting: Close one for Ajay Singh
India's Ajay Singh just manages to lift 137kg in his first attempt, judges give it 2-1 in his favour. Ajay will go up to 138kg in his 2nd effort in snatch.
14:43 PM
Lawn Bowls: Brilliant frame for India
India have stormed into a 3-point lead in their women's pair semifinal against New Zealand. India lead 10-7 after the 10th frame.
14:41 PM
Weightlight: Ajay Singh will attempt 137kg now
India have high hopes from Ajay Singh in 81kg category after 3 gold medals by lifters so far. Ajay Singh will attempt 137kg in his first effort in Snatch, we wait for the Indian!
14:39 PM
Weightlifting: Pakistan's Haider Ali lifts 135kg
Pakistan weightlifter Haider Ali went for 135kg in his first attempt at Snatch, same as India's Ajay Singh and completes the lift! 
14:38 PM
Lawn Bowls: New Zealand draw level
New Zealand have snapped India's run of six successive points, levelling the women's pair semifinal at 7-7 after the 9th frame.
14:21 PM
Lawn Bowls: India roar into lead
India have fought back brilliantly in the 8th frame, notching up two more points to storm into the lead at 7-6 in the women's pairs semifinal against New Zealand.
14:15 PM
Weightlifting: Ajay Singh is ready!
Indian lifter Ajay Singh is getting ready to compete in 81kg category. He will first attempt 135kg in snatch and then 165 kg in clean and jerk.
13:57 PM
Lawn Bowls: India reduce gap further
India have cut down the gap to just 1 points, with the score at 5-6 in their women's pair semifinal.
13:50 PM
Lawn Bowls: India cut the lead
India have managed to cut down New Zealand lead down to 3-6 with a couple of points.
13:44 PM
New Zealand have stormed into early lead
The Kiwis have stretched out an early lead of 6-1 in the lawn bowls women's four semifinals.
Now this is Special folks
CWG | Lawn Bowls: India quartet of Lovely Choubey, Pinki, Nayanmoni & Rupa Tirkey are through to Semis of Women's Fours event with 17-9 win over Norfolk Island
India will take on Kiwis in Semis tomorrow at 1300 hrs IST #CWG2022 #CWG2022India pic.twitter.com/UNCM59EvPz

— India_AllSports (@India_AllSports) July 31, 2022
13:42 PM
Lawn Bowls semifinals up first
India will face off against New Zealand in the women's fours semifinal. Lovely Choubey, Pinki, Nayanmoni Saikia and Rupa Rani Tirkey are in action first up.
13:40 PM
Achinta Sheuli adds third gold on Day 3
Weighlifter Achinta Sheuli added a third gold medal for Team India on Day 3 on Sunday (July 31). The 20-year-old set a new CWG record to win in 73kg category. Read all about it here.
13:39 PM
Hello and welcome to our LIVE coverage of Day 4 of Commonwealth Games 2022 in Birmingham.