Opposition calls PM Narendra Modi's Discovery TV show 'self promotion', BJP hits back
Criticising the news, Congress and RJD leaders from Bihar have said that PM Modi is biggest USP is ''self-promotion''.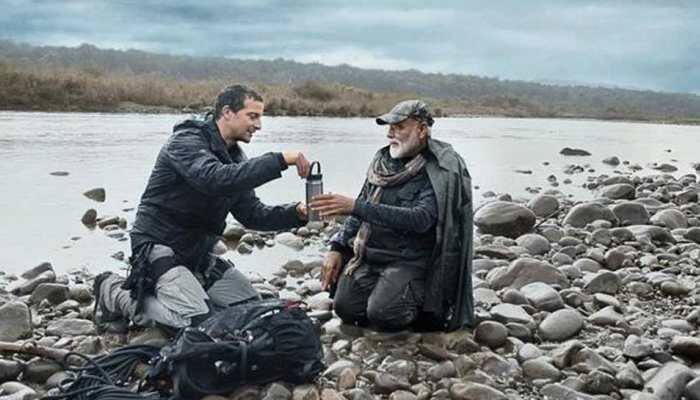 New Delhi: While millions of Indians are elated over Prime Minister Narendra Modi making an appearance on the upcoming episode of Discovery Channel's popular show 'Man Vs Wild', the Opposition leaders have dubbed it as ''self-promotion'' by the Prime Minister.
In a first, PM Modi will feature in Discovery Channel's popular television show 'Man Vs Wild,' which will be aired on August 12 at 9 PM.
Criticising the news, Congress and RJD leaders from Bihar have said that PM Modi's biggest USP is ''self-promotion''.
Congress Legislative Council member Prechand Mishra said that PM Modi is only interested in self-promotion. ''It has been his childhood dream to appear on TV. As a prime minister, Modi is using his position to fulfil this dream. It is saddening to know that PM Modi was busy shooting for his upcoming TV show on the day when Pulwama attack took place,'' he said.
Several opposition leaders from Bihar have also questioned the timing of PM Modi's foray into a national park on the day when the suicide attack on a CRPF convoy took place in J&K's Pulwama, which resulted in the death of at least 40 CRPF troopers.
Opposition leaders claim that the episode was shot on 14 February, the day of the Pulwama terror attack in Jammu and Kashmir.
Endorsing Mishra's remarks, RJD spokesperson Virendra said, ''the PM has nothing to do. He is just fooling the nation. He always does the same thing. Today, price rise has ruined all sections of the society and here we have a PM who is interested in promoting himself on TV.''
However, the ruling BJP hit back, saying that it is a matter of pride for the entire country that PM Modi has made an appearance on Discovery Channel's highly popular television show ''Man vs Wild'' in which he would be seen giving an important message on wildlife conservation.
BJP MLA Sanjeev Chaurasia said that the arguments given by Opposition are laughable. ''The Opposition has restricted itself to Twitter to keep its presence felt across the social platforms,'' the BJP leader said while attacking the Opposition for not doing enough to help the victims of worst floods in Bihar.
Chaurasia said that people of Bihar have categorically rejected the Opposition parties. The whole world will see Discovery Channel's show featuring PM Modi, which will be a matter of great pride for Indians worldwide, he added.

It all started with a tweet on July 29 by adventurer and television presenter Edward Michael Grylls, popularly known as Bear Grylls, sharing that PM Modi will be appearing in a special episode, which has been shot in the Jim Corbett National Park.
"People across 180 countries will get to see the unknown side of PM @narendramodi as he ventures into Indian wilderness to create awareness about animal conservation & environmental change. Catch Man Vs Wild with PM Modi @DiscoveryIN on August 12 @ 9 pm. #PMModionDiscovery," Bear Grylls had tweeted on July 29.
The episode will throw light on wildlife conservation, highlighting issues related to environmental change.
The episode, which has been shot in Uttarakhand's Jim Corbett National Park, reportedly features a frank and free-wheeling conversation, throwing light on wildlife conservation and highlighting issues related to environmental change.
Discovery said viewers in more than 180 countries will be able to see the pair build a raft and cross a jungle river together.
"For years, I have lived among nature, in the mountains and the forests...For me, this show presents a great opportunity to showcase to the world India's rich environmental heritage and stress on the importance of environment conservation and living in harmony with nature," PM Modi said.
However, soon after the promo hit social media, Opposition leaders attacked the Prime Minister. "I think it is incumbent upon Discovery channel to put it out in public space that on that particular date, for how many hours and from what time to what time the shooting of this particular episode took place," senior Congress leader Manish Tewari said on Monday while referring to the Pulwama attacks.
"At the risk of sounding repetitive, the PM surely is a pioneer in innovative PR (public relations) skills that seem to strike a chord with every generation," Mehbooba Mufti, former CM of Jammu and Kashmir said on Twitter.
First broadcast in 2006, Man Vs Wild is a popular survival show, where Grylls tackles extreme conditions across remote locations and comes up with innovative survival strategies.