Leopard Enters Ghaziabad District Court, 10 Including two Lawyers Injured
The leopard that entered the chief judicial magistrate court complex in Ghaziabad was caught after a four-hour operation.
New Delhi: A leopard on Wednesday (February 8, 2023) entered the premises of the Ghaziabad District Court complex and injured ten people. A joint operation of the police and the forest department was carried out at the complex, which is in Kavinagar's Raj Nagar area, to rescue the leopard. As per reports, a 12-member team of the Forest Department carrying nets and cages rushed to the spot for rescue operations, following which the big cat was tranquilized and caught after over four hours.
According to police officials, the leopard first attacked a cobbler on the ground floor of the chief judicial magistrate court complex before heading to the first floor.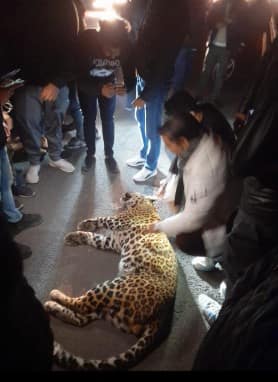 The big cat's presence in the complex triggered panic and sent people running for their lives.
Leopard in Ghaziabad: Some people locked themselves up in offices, washrooms
While some people ran towards the staircase, others reportedly locked themselves up in offices and washrooms.
The leopard was running from one end of the building to another, attacking people coming in its way, the officials said.
#WATCH | District administration and forest officials successfully rescued the leopard that entered Ghaziabad district court premises in Uttar Pradesh, earlier today pic.twitter.com/vv9ciwcBEJ — ANI (@ANI) February 8, 2023
The rescue team managed to get a hold of the situation once the animal returned to the ground floor.
"The two collapsible gates on either side of the ground floor were closed to confine the animal. Once this was done, some of our teams focused on rescuing people locked inside offices and washrooms of the building," a police officer said.
Watch: Leopard enters Ghaziabad district court
As per the police, two lawyers and a head constable were among the 10 people injured in the incident.
The injured, meanwhile, have been admitted to the hospital.
#WATCH | Several people injured as leopard enters Ghaziabad district court premises in Uttar Pradesh pic.twitter.com/ZYD0oPTtOl — ANI (@ANI) February 8, 2023
Earlier last month, a leopard was killed after being hit by a speeding vehicle on the Delhi Meerut Expressway in Ghaziabad.
The incident took place on January 17 near the Kalcheena village when the leopard, believed to be crossing the road, was hit by a vehicle and died on the spot.
The male leopard was said to be five years old.
Live Tv