Lalu Yadav's Family Biggest Exploiter of Extremely Backward Class People: Upendra Kushwaha
Upendra Kushwaha said that Lalu Yadav's family ignored the upliftment of EBC in the last 33 years.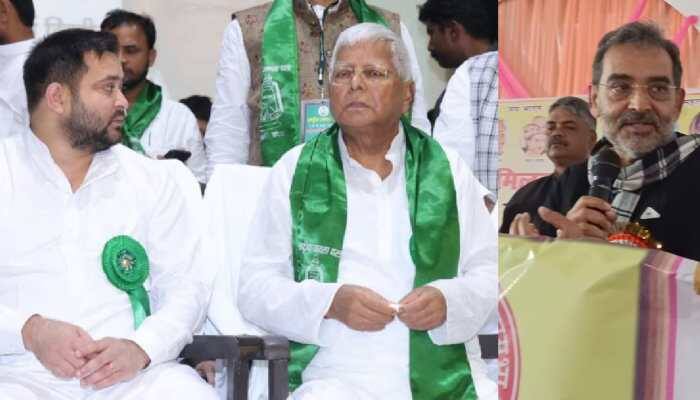 PATNA: The JD-U national parliamentary board president Upendra Kushwaha targeted Tejashwi Yadav during the celebration of Shaheed Jagdev Prasad`s birth anniversary in Patna. He said that Lalu Prasad`s family is the biggest exploiter of Extremely Backward Class (EBC) people of the state for the last 33 years.
"RJD has celebrated the birth anniversary of Jagdev Babu on Wednesday and shouted for 90:10 ratio with 90 percent belonging to EBC and OBC. I want to ask them how many people of EBC were promoted by Lalu's family in the last 33 years? Jagdev Babu dreamed that EBC people would share power in the government. The Lalu family stayed in power for 15 years and is now sharing power in Bihar," Kushwaha said during the birth anniversary celebrations organized by a non political organization Mahatma Phule Samata Parishad in Patna on Thursday.
"The RJD leaders claimed that the 10 percent people sitting in power are ruling on 90 percent. I want to ask them to stop doing drama on it," Kushwaha said.
"I am in pain as my party went with the RJD. I struggled against this party and it`s leaders my entire life. The birth of my party happened against this system. Now, leaders of my party have become dependent on them. Naturally, those leaders who gave strength to Nitish Kumar, are worried about it," Kushwaha said.
"My party has done the same thing as the RJD did before 2005. There is no participation of EBCs in our party. The leaders of our party did not allow any EBC leader to establish himself. The recent approach of Nitish Kumar is making them more fearful," Kushwaha said.
"RJD leaders keep talking about a deal between them and the JD-U. Nitish Ji should clarify the nature of the deal. People are speculating that Nitish Kumar should step down from his post and hand it to Tejashwi Yadav. Don`t put the people of Bihar in darkness. I want to ask him to clarify it," Kushwaha said.