'Lagta hai Apan bhi Modi ke baraabar...': Manish Sisodia on BJP's 'snooping' Allegation
BJP leaders have sought Delhi Deputy CM Manish Sisodia's resignation over the alleged "snooping" on politicians by AAP's Feedback Unit.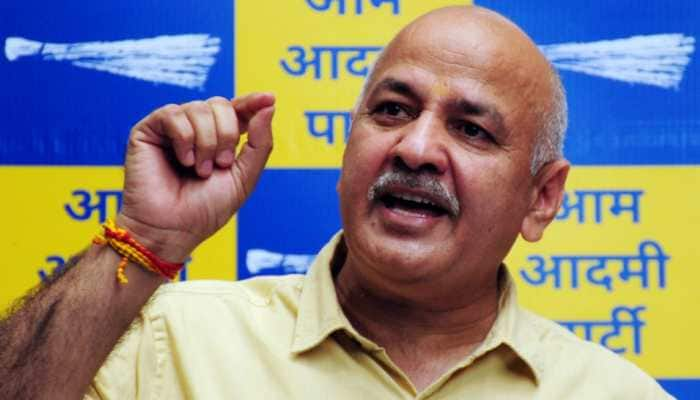 New Delhi: The Bharatiya Janata Party (BJP) leaders on Thursday (February 9, 2023) staged a protest near Delhi Secretariat demanding the removal of Deputy Chief Minister Manish Sisodia from his post over the alleged "snooping" on politicians by Aam Aadmi Party's Feedback Unit (FBU), which was created after the Arvind Kejriwal government came to power in 2015.
"No one, not even journalists, businessmen, and senior officers were untouched by the Feedback unit. The way AAP government is functioning, very soon both Chief Minister Arvind Kejriwal and Manish Sisodia will be behind the bars," Delhi BJP working president Virendra Sachdeva said.
Calling it a "very serious" matter, Sachdeva said that BJP will continue to fight till both Kejriwal and Sisodia are in jail.
दिल्ली सरकार के जासूसी कांड का पर्दाफाश होने पर नेता प्रतिपक्ष श्री रामवीर सिंह बिधूड़ी एवं भाजपा नेता गण और कार्यकर्ताओं के साथ प्रचंड प्रदर्शन किया। @ArvindKejriwal, विपक्षी पार्टियों की जासूसी करना बंद करो-बंद करो!#जासूस_केजरीवाल pic.twitter.com/ayd5ccoJZ1

— Virendra Sachdeva (@Virend_Sachdeva) February 9, 2023
After the Delhi excise policy "scam", the FBU "snooping" issue has again put Sisodia under the scanner, said Leader of Opposition Ramvir Singh Bidhuri.
जासूसी कांड में लिप्त दिल्ली के उपमुख्यमंत्री मनीष सिसोदिया को किया जाए बर्खास्त! दिल्ली सचिवालय पर भाजपा कार्यकर्ताओं ने किया जोरदार प्रदर्शन! प्रदर्शनकारियों को दिल्ली प्रदेश भाजपा के अध्यक्ष श्री @Virend_Sachdeva जी और मैंने किया संबोधित!@narendramodi @JPNadda @blsanthosh pic.twitter.com/PSVN6aNCRC — Ramvir Singh Bidhuri (@RamvirBidhuri) February 9, 2023
Replying to the allegations, Sisodia took to his official Twitter account and said, " If such big people, whose existence depends on getting CBI, ED and Pegasus to conspire against opposition leaders, are afraid of me, it seems like that I'm at the same position as (Prime Minister Narendra) Modi."
बीजेपी वाले मेरे ख़िलाफ़ नया आरोप लाए हैं कि मैं 2015 से इनकी जासूसी करवा रहा हूँ.

इतने बड़े-बड़े लोग, जिनका अस्तित्व ही CBI, ED पैगासस से विपक्षी नेताओं के ख़िलाफ़ साज़िश कराने पर टिका है,अगर इतने बड़े लोग भी मुझसे डर रहे हैं तो लगता है कि अपन भी मोदी के बराबर हो गये हैं यार..

— Manish Sisodia (@msisodia) February 9, 2023
Meanwhile, Delhi Lt Governor VK Saxena has reportedly forwarded a recommendation of CBI to the President through the Ministry of Home Affairs for registration of a case against Sisodia after an enquiry in the creation and working of the FBU.
It was claimed in a preliminary enquiry report of CBI that the FBU set up by Delhi government months after AAP came to power in Delhi in 2015 indulged in "political intelligence".
Live Tv