Karnataka: PM Narendra Modi to Inaugurate India Energy Week in Bengaluru Today
IEW is being held from February 6-8. According to Prime Minister's Office (PMO), the event will bring together leaders from the traditional and non-traditional energy industry, governments, and academia to discuss the challenges and opportunities that a responsible energy transition presents.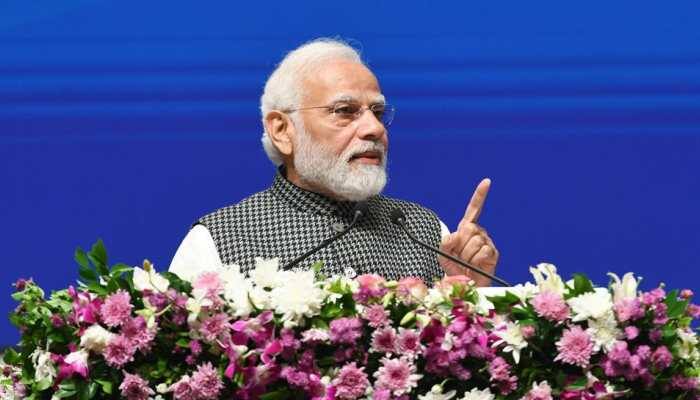 BENGALURU: With the aim to showcase India's rising prowess as an energy transition powerhouse, Prime Minister Narendra Modi will inaugurate India Energy Week (IEW) 2023 in Bengaluru today. "I am looking forward to being in Karnataka tomorrow, February 6. Upon reaching Bengaluru, I will take part in the India Energy Week 2023. Later, I will go to Tumakuru to launch key development works and lay the foundation stone of various projects," tweeted PM Modi on Sunday.
IEW will be attended by more than 30 ministers from across the world.
Over 30,000 delegates, 1,000 exhibitors and 500 speakers will gather to discuss the challenges and opportunities of India's energy future.During the programme, the Prime Minister will participate in a roundtable interaction with global oil and gas CEOs. He will also launch multiple initiatives in the field of green energy.
The ethanol blending programme has been a key focus area of the government to achieve self-reliance in the field of energy. Due to the sustained efforts of the government, ethanol production capacity has seen a six times increase since 2013-14.
The Ethanol Blending Programme and Biofuels Programme have not only augmented India's energy security but have also resulted in a host of other benefits, including a reduction of 318 lakh metric tonnes of CO2 emissions and foreign exchange savings of around Rs 54,000 crore, said the PMO in a statement.
As a result, there has been payment of around Rs 81,800 crore towards ethanol supplies from 2014 to 2022 and a transfer of more than Rs 49,000 crore to farmers.
In line with the ethanol blending roadmap, the Prime Minister will launch E20 fuel at 84 retail outlets of Oil Marketing Companies in 11 States/UTs. E20 is a blend of 20 per cent ethanol with petrol. The government aims to achieve a complete 20 per cent blending of ethanol by 2025, and oil marketing companies are setting up 2G-3G ethanol plants that will facilitate the progress.
Prime Minister will also flag off the Green Mobility Rally. The rally will witness the participation of vehicles running on green energy sources and will help create public awareness for green fuels. The Prime Minister will launch the uniforms under 'Unbottled' initiative of Indian Oil. With the aim to phase out single-use plastic, Indian Oil has adopted uniforms for retail customer attendants and LPG delivery personnel made from recycled polyester (rPET) and cotton.
Each set of uniforms of Indian Oil's customer attendants shall support the recycling of around 28 used PET bottles. IndianOil is taking this initiative further through 'Unbottled' -- a brand for sustainable garments launched for merchandise made from recycled polyester.
Under this brand, Indian Oil targets to meet the requirement of uniforms for the customer attendants of other Oil Marketing Companies, non-combat uniforms for the Army, uniforms/ dresses for Institutions and sales to retail customers. PM Modi will also dedicate the twin-cooktop model of Indian Oil's Indoor Solar Cooking System and flag off its commercial roll-out.
IndianOil had earlier developed an innovative and patented Indoor Solar Cooking System with single cooktop. On the basis of feedback received, the twin-cooktop Indoor Solar Cooking system has been designed to offer more flexibility and ease to the users. It is a revolutionary indoor solar cooking solution that works on both solar and auxiliary energy sources simultaneously, making it a reliable cooking solution for India.
Later on Monday, Prime Minister Modi will inaugurate the HAL Helicopter Factory in Tumakuru. Its foundation stone was also laid by the Prime Minister in 2016. It is a dedicated new greenfield helicopter factory which will enhance the capacity and ecosystem to build helicopters. This helicopter factory is Asia's largest helicopter manufacturing facility and will initially produce Light Utility Helicopters (LUH). LUH is an indigenously designed and developed 3-ton class, single-engine multipurpose utility helicopter with the unique feature of high manoeuvrability.
The factory will be expanded to manufacture other helicopters such as Light Combat Helicopter (LCH) and Indian Multirole Helicopter (IMRH) as well as for repair and overhaul of LCH, LUH, Civil ALH and IMRH in the future. The factory also has the potential for exporting the Civil LUHs in future. This facility will enable India to meet its entire requirement of helicopters indigenously and will attain the distinction of enabling self-reliance in helicopter design, development and manufacture in India.
The factory will have a manufacturing set-up of Industry 4.0 standards. Over the next 20 years, HAL is planning to produce more than 1000 helicopters in the class of 3-15 tonnes from Tumakuru. This will result in providing employment for around 6000 people in the region. Prime Minister will lay the foundation stone of Tumakuru Industrial Township. Under the National Industrial Corridor Development Programme, the development of the Industrial Township spread across 8,484 acres in three phases in Tumakuru has been taken up as part of the Chennai Bengaluru Industrial Corridor.
Prime Minister Modi will lay the foundation stones of two Jal Jeevan Mission projects at Tiptur and Chikkanayakanahalli in Tumakuru. The Tiptur Multi-Village Drinking Water Supply Project will be built at a cost of over Rs 430 crores. The Multi-village water supply scheme to 147 habitations of Chikkanayakanahlli taluk will be built at around Rs 115 crores. The projects will facilitate the provision of clean drinking water for the people of the region, said the PMO statement.