Tripura Election Results 2023: BJP-IPFT Alliance Wins 33 Seats; Congress Confined To Three, CHECK Constituency-Wise Full List Of Winners
Full List Of Winners, Seat-Wise Winning Candidates Of BJP, LEFT, TIPRA, CONGRESS: According to the Election Commission, the ruling BJP has won the majority with 32 seats as it crosses the halfway point of the 60-member Assembly. The CPI(M) won 11 seats, but the Congress holds the advantage in three. Following today's election results, the royal heir Pradyot Kishore's TIPRA Motha party, which won 13 seats, has established itself as the kingmaker in Tripura. Except for a "Greater Tipraland," the BJP has stated that it is willing to concede to all of Tipra Motha's demands.
Today will see the results of the 60 Tripura Assembly constituencies that held elections.
By the close of the day on March 2, the Election Commission will announce the Tripura Election Result 2023.
According to early trends, the BJP is leading in Tripura by winning 30 of the state's 60 seats.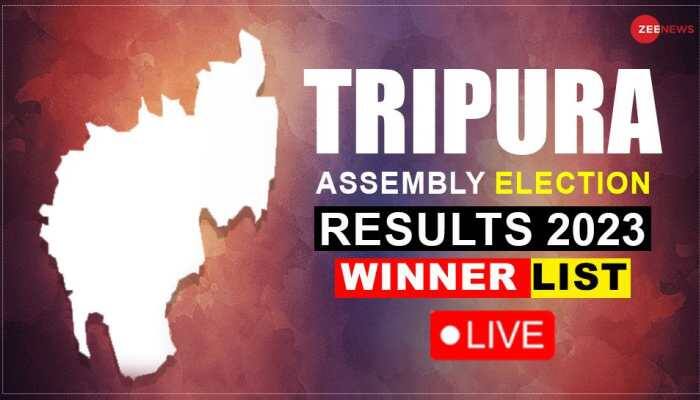 Tripura Election Results: Despite opposition from a coalition of Leftist parties and the Congress, as well as a second challenger in the shape of Pradyot Debbarma's TIPRA Motha, the BJP-IPFT succeeded in maintaining its hold on power in Tripura. Tripura was a tight race, and the BJP+ barely surpassed the majority threshold of 31. With the Tipra Motha winning 13 seats, the Left+ Congress lost ground to the BJP+, which won just 14 seats, guaranteed that the BJP took power on its own. The TIPRA Motha was still contacted by the local BJP leadership, who stated that all of their requests were welcome with the exception of the one for "Greater Tipraland."
The BJP was led to success for a second term in Tripura by Manik Saha, who was expected to be elected as chief minister of Tripura for another term. Despite critics forecasting a 'tough time' for him in the elite state, the former Congress leader who switched to the saffron party two and half years ago defeated Ashish Kumar Saha, the veteran leader of his former party, by a margin of 1,257 votes. It has been a quick but upward journey for Saha, a 69-year-old dental surgeon turned politician, from his joining the saffron party in 2016 to his appointment as chief minister in a brand renewal operation last year.
At eight in the morning today, the counting of votes for the Tripura assembly poll began. There were 21 counting sites for the Tripura Assembly, which has a total of 60 seats. The destiny of 14 assembly constituencies was decided at the Umakanta Academy, which is located in the centre of the city of Agartala. There are slightly more than 28 lakh electors overall.
Tripura Election Results 2023: Performance Of Top Contenders
Check Performance Of Top 10 Contenders:
CPI(M) state secretary Jitendra Chaudhury wins Sabroom seat.
State Congress president Birajit Sinha wins Kailashahar seat
Town Bordowali is won by Tripura's chief minister Manik Saha.
Jishnu Deb Barman, the deputy chief minister, lost the Charilam constituency.
Sanjoy Manik wins the Karbook seat by a margin of 4447 votes.
Left candidate Nirmal Biswas wins from Khowai seat.
Sushanta Deb of the BJP defeats Pratha Pratim Majumder of the CPM to capture the Bishalgarh constituency.
Education Minister Ratan Lal Nath wins Mohanpur seat
After the final round of voting, CPM candidate Nayan Sarkar defeated Krishnadhan Das, a sitting MLA for the BJP, by a majority of 1854 votes in the Bamutia constituency of Northern Agartala. Das received 17,665 ballots compared to Sarkar's 19519 votes.
Congressman Sudip Roy Barman wins from Agartala.
Election Commission
With 32 seats in the 60-member Legislature, the Election Commission reports that the BJP, which is currently in power, has secured a majority. Although the CPI(M) gained 11 seats, the Congress triumphed at 3. With 13 seats gained in today's election, the TIPRA Motha party of Pradyot Kishore, the royal heir, has become Tripura's kingmaker.
On March 22, the current Tripura Legislative Assembly sitting will come to an end. Therefore, the state's administration should be fully established before then. Here you can see all the information about which party gets how many seats in Tripura Chunav Results in 2023 out of 60 assembly constituencies. Also, the complete details of which MLAs have been elected from which constituencies can also be seen on the page below.
Full List Of Winners, Seat-Wise Winning Candidates
S.NO
Constituency Name
Winning Candidate's Name and Party Name
1
Simna (ST)
Brishaketu Debbarma (TIPRA) WON
2
Mohanpur
Ratan Lal Nath (BJP) WON
3
Bamutia (SC)
Nayan Sarkar (Left) WON
4
Barjala (SC)
Sudip Sarkar (Left) Won
5
Khayerpur
Ratan Chakraborty (BJP) WON
6
Agartala
Sudip Roy Barman (Cong) WON
7
Ramnagar
Surajit Datta (BJP) WON
8
Town Bordowali
Manik Saha ( BJP) WON
9
Banamalipur
Gopal Chandra Roy (Cong) Won
10
Majlishpur
Sushanta Chowdhury (BJP) WON
11
Mandaibazar(ST)
Swapna Debbarma (TIPRA) WON
12
Takarjala (ST)
Biswajit Kalai (TIPRA) WON
13
Pratapgarh (SC)
Ramu Das (Left) Won
14
Badharghat (SC)
Mina Rani Sarkar (BJP) WON
15
Kamalasagar
Antara Sarkar Deb (BJP) WON
16
Bishalgarh
Sushanta Deb (BJP) WON
17
Golaghati (ST)
Manab Debbarma (TIPRA) WON
18
Suryamaninagar
Ram Prasad Paul (BJP) Won
19
Charilam (ST)
Subodh Debbarma (BJP) WON
20
Boxanagar
Samsul Haque (Left) WON
21
Nalchar (SC)
Kishor Barman (BJP) Won
22
Sonamura
Shyamal Chakraborty (Left) WON
23
Dhanpur
Pratima Bhoumik (BJP) Won
24
Ramchandraghat(ST)
Ranjit Debbarma (TIPRA) WON
25
Khowai
Nirmal Biswas (Left) WON
26
Asharambari(ST)
Animesh Debbarma (TIPRA) WON
27
Kalyanpur-Pramodenagar
Pinaki Das Chowdhury (BJP) WON
28
Teliamura
Kalyani Saha Roy (BJP) WON
29
Krishnapur (ST)
Bikash Debbarma (BJP) Won
30
Bagma (ST)
Ram Pada Jamatia (BJP) WON
31
Radhakishorpur
Pranajit Singha Roy (BJP) WON
32
Matarbari
Abhishek Debroy (BJP) Won
33
Kakraban-Salgarh (SC)
Jitendra Majumder (BJP) WON
34
Rajnagar (SC)
Swapna Majumdar (BJP) Won
35
Belonia
Dipankar Sen (Left) Won
36
Santirbazar (ST)
Pramod Reang (BJP) WON
37
Hrishyamukh
Asoke Ch. Mitra (Left) WON
38
Jolaibari (ST)
Sukla Charan Noatia (IPFT) WON
39
Manu (ST)
Mailafru Mog (BJP) WON
40
Sabroom
Jitendra Chaudhury (Left) WON
41
Ampinagar (ST)
Pathan Lal Jamatia (TIPRA) WON
42
Amarpur
Ranjit Das (BJP) WON
43
Karbook (ST)
Sanjoy Manik Tripura (TIPRA) WON
44
Raima Valley(ST)
Nandita Debbarma (TIPRA) Won
45
Kamalpur
Manoj Kanti Deb (BJP) WON
46
Surma (SC)
Swapna Das Paul ( BJP) WON
47
Ambassa (ST)
Chitta Ranjan Debbarma (TIPRA) WON
48
Karmachhara(ST)
Paul Dangshu (TIPRA) WON
49
Chawmanu(ST)
Sambhu Lal Chakma (BJP) Won
50
Pabiachhara(SC)
Bhagaban Chnadra Das (BJP) WON
51
Fatikroy (SC)
Sudhangshu Das (BJP) WON
52
Chandipur
Tinku Roy (BJP) WON
53
Kailashahar
Birajit Sinha (Cong) WON
54
Kadamtala-Kurti
Islam Uddin (Left) WON
55
Bagbassa
Jadab Lal Debnath (BJP) WON
56
Dharmanagar
Biswa Bandhu Sen (BJP) WON
57
Jubarajnagar
Sailendra Chandra Nath (Left) WON
58
Panisagar
Binay Bhushan Das (BJP) WON
59
Pencharthal (ST)
Santana Chakma (BJP) Won
60
Kanchanpur (ST)
Philip Kumar Reang (TIPRA) WON
In India, there will be Lok Sabha elections in 2024. Naturally, the party that does well in the state assembly elections is thought to be far ahead in the national general elections.