'CM' Of Maharashtra Currently Stands For 'Corrupt Man': Aaditya Thackeray Slams Eknath Shinde
Shiv Sena (Uddhav Balasaheb Thackeray) leader Aaditya said the rebel MLAs led by Eknath Shinde had done the "dirty work" of toppling the MVA government.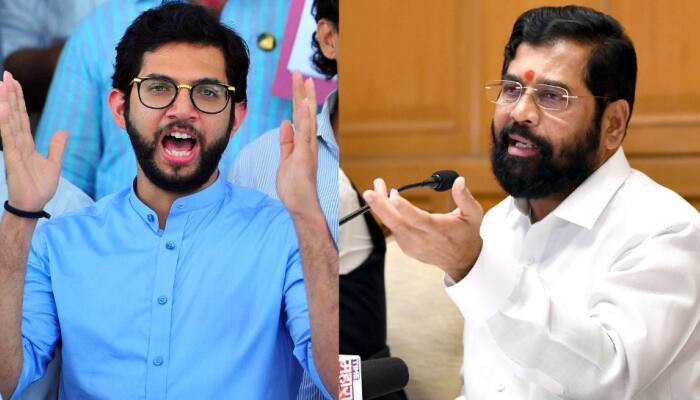 New Delhi: Launching a scathing attack on Chief Minister Eknath Shinde, Shiv Sena (Uddhav Balasaheb Thackeray) leader Aaditya Thackeray on Sunday (March 12, 2023) said the acronym "CM" of Maharashtra currently stands for a "corrupt man". Addressing a meeting of the party workers in Mumbai, Thackeray said that the "illegal and unconstitutional chief minister will surely go". He also slammed the Election Commission (EC) and alleged that it is "completely compromised". He said the poll body's decision to recognise the faction led by Eknath Shinde as the Shiv Sena and allot it the bow and arrow symbol was "dangerous for democracy".
Thackeray, the former Maharashtra minister, also said that the flaming torch (Mashaal) symbol allotted to Shiv Sena (UBT) is the only light that will brighten the darkness caused by the betrayal and back-stabbing.
He said the rebel MLAs led by Shinde had done the "dirty work" of toppling his father Uddhav-led Maha Vikas Aghadi government that had done good work of tackling the Covid-19 pandemic and alleviating hardships of farmers affected by the cyclone and unseasonably rains when in power.
"The Maha Vikas Aghadi government was leading Maharashtra to a golden period. An investment of Rs 6.5 lakh crore was made during the MVA rule of 2.5 years and 93 per cent of the investment proposals had been implemented," he said.
He said the investments attracted by Maharashtra during the MVA rule were shifted to Gujarat (under the Eknath Shinde-BJP dispensation).
आज छत्रपती संभाजी महाराज क्रीडांगण,गोरेगाव येथे विभाग क्र.३ आयोजित 'शिवगर्जना' कार्यकर्ता मेळाव्यास उपस्थित राहून शिवसैनिकांना संबोधित केले. pic.twitter.com/aCJ6P7c42e — Aaditya Thackeray (@AUThackeray) March 12, 2023
Thackeray said the Bharatiya Janata Party must be wondering whether the happening (the pulling down of the government) was right or wrong.
"Maharashtra didn't like betrayals and this is the reason the local body elections, which are overdue, are not being held," the Worli MLA said.
He exuded confidence that Shiv Sena (UBT) will win the Mumbai civic polls whenever they are held.
"You need to have a clean heart and strength to carry the bow and arrow. Merely getting the bow and arrow (symbol) is not enough," he said.
Thackeray said none of the 40 MLAs who defected to the Shinde camp has categorically stated that they haven't taken money to do so.
"The 40 MLAs betrayed Uddhav Thackeray. How can they remain true to the people and the state?" he asked.
Thackeray said their Hindutva is "inclusive and everyone's blood is red".
The Thackeray camp has alleged the exchange of money in rebel MLAs switching their loyalties to the Shinde camp and often taunts them with "50 khoke" (boxes) jibe.