Highlights | France 2-1 Denmark FIFA World Cup 2022: Kylian Mbappe scores brace as France beat Denmark
LIVE Updates | France vs Denmark FIFA World Cup 2022 in Qatar Football Match LIVE Scorecard: Check Live Scores and Updates from France vs Denmark Here.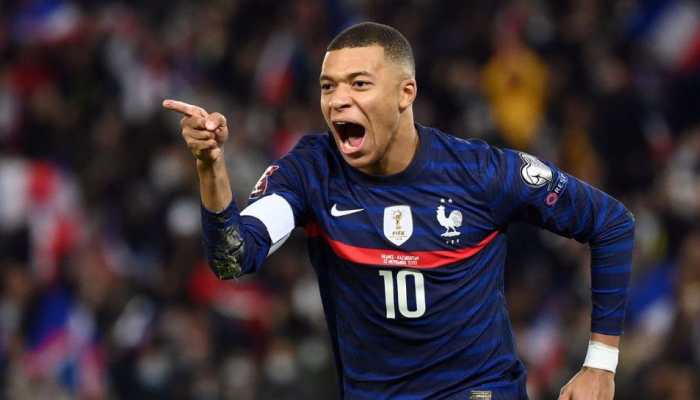 LIVE Blog
FIFA World Cup 2022 enters its seventh day with the tournament having already produced some mind blowing games. The FIFA World Cup Day 7 schedule looks like this: Tunisia will go against Australia in the first match at 3.30 pm IST. Then we will have Poland taking on Saudi Arabia in the second match at 6.30 pm IST followed by France vs Denmark at 9.30 pm IST and the last match will be a big one between Argentina and Mexico at 12.30 am IST. The most important clash will be the last one as Argentina looks for survival after having beaten 2-1 in their first clash on November 22 in hands of Saudi Arabia.
If Lionel Messi's team loses today to Mexico, they will be knocked out of the tournament. Not to forget, Australia too are on cusp of elimination. A loss to Tunisia today will end their campaign as well. Australia had started off their campaign with a 4-1 loss to France in their opening encounter. France will be hoping for their second win of the tournament as they have a good side in Denmark up next. They will certainly start as favourites in today's match.
Saudi Arabia will be pumped after their win against strong title contenders Argentina and Poland will be playing them and will be looking for their first win of the tournament.
Check LIVE Scores and Updates from Tunisia vs Australia game in FIFA World Cup 2022 here.
23:44 PM
France vs Denmark LIVE: France qualify for round of 16 with a win
As France defeated Denmark 2-1, Kylian Mbappe scored twice either side of an Andreas Christensen equaliser to secure their place in the round of 16!
France 2-1 Denmark
23:23 PM
France vs Denmark LIVE: Brace for Kylian Mbappe
86′ – GOAL! Kylian Mbappe scores once more to give France the advantage over Denmark. Mbappe deftly snuck behind an unwary Andreas Christensen to finish an Antoine Griezmann curling cross.
France 2-1 Denmark
23:21 PM
France vs Denmark LIVE: Andreas Christensen scores equaliser
68′ – GOAL! Denmark and France are tied after a poacher's goal by Andreas Christensen. Hugo Lloris was rooted to the spot as Christensen surged up to meet the ball with a thumping header after Christian Eriksen's corner was flicked on by Joachim Andersen at the near post.
France 1-1 Denmark
23:18 PM
France vs Denmark LIVE: France take lead
Theo Hernandez and Kylian Mbappe collaborated beautifully to create that goal, and the latter completed it.
France 1-0 Denmark
20:40 PM
Poland vs Saudi Arabia LIVE: Poland wins three crucial points
And after the seven minutes of stoppage time have passed, the game ended with Poland defeating Saudi Arabia 2-0.
20:20 PM
Poland vs Saudi Arabia LIVE: Poland doubles the lead
Lewandowski, finally breaking his World Cup duck. The Barcelona striker is given the opportunity due to a defensive blunder by Almalki just outside the area. He steadies himself in the face of an approaching Alowais and then easily lays the ball to the right of him. He eventually scores that coveted first goal, to thunderous applause from the Polish supporters!
19:19 PM
Poland vs Saudi Arabia LIVE: Poland breaks dreadlock
Poland is in front thanks to Zielinski! Cash is able to pass the ball to Lewandowski inside the box after getting it from a long distance. Knowing that his angle of attack is extremely tight, Lewandowski hands the ball to an advancing Zielinski, who completes the move expertly. After being second-best for the majority of the half, Poland takes the lead and Education City falls silent.
18:11 PM
Poland vs Saudi Arabia LIVE: Both teams playing XI
Poland XI: Szczesny, Bereszyński, Kiwior, Glik, Cash, Zielinski, Krychowiak, Bielik, Frankowski, Milik, Lewandowski.
Saudi Arabia XI: Alowais, Alburayk, Albulayhi, Alamri, Abdulhamid, Kanno, Almalki, Alanjei, Aldawsari, Albrikan, Alshehri.
17:26 PM
TUN vs AUS LIVE: Australia win 1-0
The game is over! Australia has persevered through the second half. Throughout the following 45 minutes, Tunisia was all over them. Australia moves up to second place in the group stage, behind France, thanks to Duke's first-half goal, which continues to be the difference between the two teams.
16:03 PM
TUN vs AUS LIVE: Goal! Australia breaks dreadlock
Australia scores a stunning goal in the 23rd minute when Duke scores with his head. Doesn't use the ball very much, uses the cross's speed to divert the ball narrowly into the far post.
15:38 PM
TUN vs AUS LIVE: Both teams starting XI
Tunisia XI: Dahmen, Drager, Talbi, Meriah, Bronn, Abdi , Skhiri, Laïdouni, Sliti, Msakni, Jebali.
Australia XI: Ryan, Karacic, Rowles, Souttar, Behich, Mooy, McGree, Irvine, Leckie, Duke, Goodwin.
15:08 PM
TUN vs AUS LIVE: What happened in Tunisia's last game?
After Andreas Cornelius, a replacement, hit the woodwork and Denmark's late request for a penalty was denied, Tunisia held Denmark to an exciting draw. The game was a scoreless draw in the end.
13:38 PM
TUN vs AUS: Australia's last match!
Australia are coming into the match on the back of a massive loss to France. They were beaten 4-1 in the their opening match of Qatar World Cup. Craig Goodwin had given them a good start vs France as Australia took 1-0 lead in first half. But France made quick redemption and won the match with a margin of 3 goals. 
12:49 PM
TUN vs AUS: All eyes on Messi
Lionel Messi was a happy chap at the training session ahead of the all-important FIFA World Cup clash between Argentina and Mexico that will define their fate in the tournament. 
— All About Argentina ___ (@AlbicelesteTalk) November 25, 2022
12:15 PM
TUN vs AUS: How Tunisia played in their last match?
Tunisia were excellent in their last match vs Denmark at the FIFA World Cup 2022. They match ended in a goalless draw but the Tunisian team ticked many boxes and will be quite upbeat about their chances vs Australians.   
11:00 AM
TUN vs AUS: Four matches today in FIFA World Cup
Hello and welcome to live coverage of FIFA World Cup today (November 26). 
We have four matches lineup today. Check the schedule below. 
Tunisia vs Australia at 3.30 pm IST
Poland vs Saudi Arabia at 6.30 pm IST
France vs Denmark at 9.30 pm IST
Argentina vs Mexico at 12.30 am IST