Viral: Pakistani man's Energetic Dance on Jai Jai Shivshankar at Wedding Takes Internet by Storm, Watch Video
A fresh video from Pakistan has surfaced where a man is shaking his legs to popular songs of Bollywood at a wedding. The video is no less than a treat for netizens.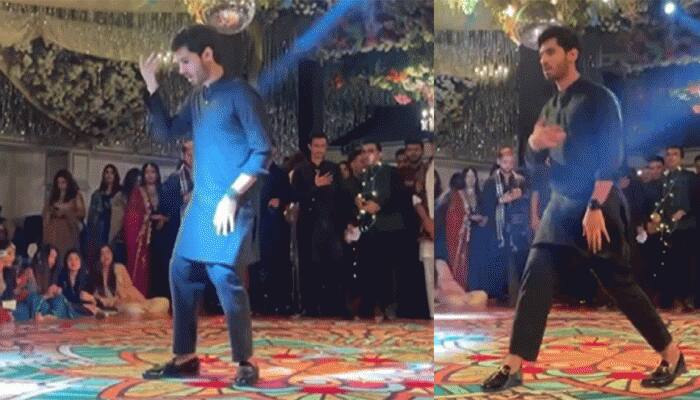 NEW DELHI: Even though the wedding season is almost coming to an end, the viral dance video from Pakistan is a complete LIT. We recently saw a beautiful girl seizing the internet with her mesmerizing moves on popular Bollywood number 'Ang Lada De' at her sister wedding. And now, we have another video from a wedding in Pakistan that will keep you glued to your screen for sometime.
In a clip that has gone viral on the internet, a man is seen shaking his legs to some famous chartbusters from Bollywood. The video, which appears to have been shot at a wedding, has taken the internet by storm. The man, who is dressed in a traditional black kurta pyjama, energetically dances his heart out to Hrithik Roshan's songs 'Bang Bang' and 'Jai Jai Shivshankar'. As soon as he dances at the wedding, the guests present there start cheering for him. The video has gone viral on the internet and made him an internet star.
Soon after the video surfaced on the internet, netizens started showering their love on the man. Check out some of the comments below:
"Amazing all the love to you."
"Favourite person.Nice steps."
"Lovely choreography and song choice, we love that you perform with your facial expressions as well this is engaging for the audienceYou put your heart and soul into the dance. Very gifted, well done"
"Ap sahi ja rhy ho Pura mulk pareshan ha or ap apni moj masti main .. .. Allah ap ko khush rakhy .."
"Art has no religion"

Take a look at some of her previous dance performances:
Earlier, Pakistani girl Ayesha Omar's performance on 'Mera Dil ye Pukare' and another girl's dance on 'Ang Laga De' had gone viral on the internet.