New Income Tax Slabs 2023-24: No Income Tax Till Rs 7 lakh, Check New vs Old Tax Slab Rates Here
New Income Tax Slab 2023-24: New income tax slab is out now. The tax rebate has been increased under the new system from Rs 5 lakh to Rs 7 lakh, scroll down to check the new rates here.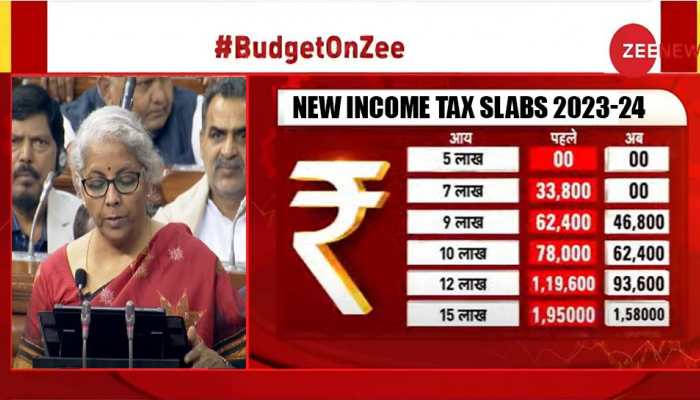 New Income Tax Slab 2023-24: Finance Minister Nirmala Sitharaman is currently presenting Union Budget 2023 in Parliament. This is the last full-fledged Budget for this government ahead of the Lok Sabha elections in early 2024. Sitharaman began by calling this the 'first Budget of Amrit Kaal' and a blueprint for India @ 100. This includes new updates regarding digital currencies like cryptocurrency, new IT laws, and subsidy-related announcements to boost manufacturing in India. Taxpayers are having an eye on the budget. Will the taxpayers be exempt from paying income tax? Individual taxpayers' hopes rise as they anticipate some positive tax-related news from the budget announcements.
The tax rebate has been increased under the new system from Rs 5 lakh to Rs 7 lakh. The Finance Minister stated during the Budget presentation that "those with an income of Rs 5 lakhs do not pay any income tax" and "I proposed to increase the rebate limit to Rs 7 lakhs in the new tax regime,"
Various types of tax slabs in India
India uses a slab system for calculating the income tax that individuals must pay. Different tax rates are established for various income brackets under a slab structure. It implies that as tax payer income increases, tax rates also do so. The nation can have progressive and equitable tax systems thanks to this kind of taxation. With each budget, these income tax slabs may alter. Varying taxpayer types are subject to different slab rates.
Income tax has three categories of "individual" taxpayers, including:
Individuals (aged less than 60 years) including residents and non-residents
Resident Senior citizens (60 to 80 years of age)
Resident Super senior citizens (aged more than 80 years)
Income Tax Slab rates announced in the Union Budget 2023-24
Personal IncomeTax rebate limit increased to Rs 7 lakh, from earlier Rs 5 lakh in the new tax regime. People earning up to Rs 7 lakh, do not pay any income tax.
Annual Income New Tax Regime 2023-24
0-3 lacs 0%
3-6 lacs 5%
6-9 lacs 10%
9-12 lacs 15%
Previous Income Tax Slab rates
Up to Rs 2,50,000 income - NIL tax rate
Rs 2,50,001 - Rs 5,00,000 income - 5% tax rate
Rs 5,00,001 - Rs 10,00,000 income - 20% tax rate
Above Rs 10,00,000 income - 30% tax rate
In the previous Budget, the FM made no changes to the income tax slabs. The salaried class is currently anticipating the income tax rebate because the present income slab and the tax rates under the regular tax system have not altered since FY 2017–18.
In the 2020–21 Budget, the government instituted an optional income tax system under which individuals and Hindu Undivided Families would be subject to higher rates of taxation if they chose not to take advantage of certain exemptions and deductions, including Section 80C investments and the house rent allowance. Up to Rs 2.5 lakh in total income will be exempt from taxation under this.

Live Tv