Yuzvendra Chahal And Dhanashree Verma's Special Reunion With AB de Villiers Creates Buzz Among Cricket Fans
It is well-known that de Villiers and Chahal share a fantastic camaraderie both on and off the field.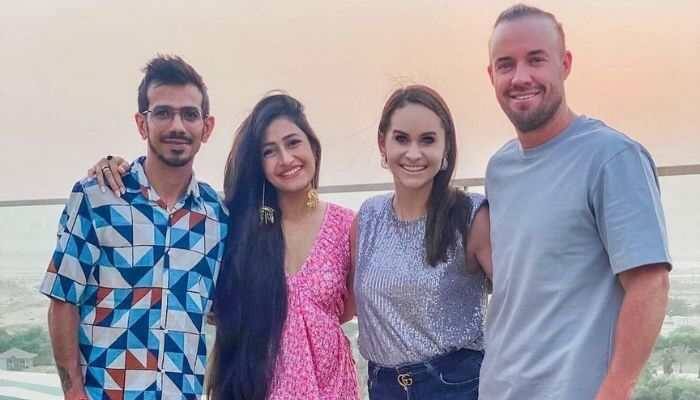 Yuzvendra Chahal, the renowned leg spinner from India and a vital member of the Rajasthan Royals, had yet another remarkable season in the Indian Premier League. In 14 matches, he claimed an impressive tally of 21 wickets, maintaining an economy rate of 8.18. Prior to joining the Rajasthan camp, the 32-year-old leggie had played for Royal Challengers Bangalore (RCB), which allowed him to establish strong bonds with several players. Recently, Chahal caught up with AB de Villiers, the former South Africa international and an RCB legend, and shared a delightful picture of their meeting on Twitter.
It is well-known that de Villiers and Chahal share a fantastic camaraderie both on and off the field. Having spent eight long years together at Royal Challengers Bangalore, Chahal has often expressed his admiration for the guidance he received from de Villiers. Taking to Twitter, the former RCB spinner posted a picture with the veteran AB de Villiers and accompanied it with an intriguing caption.
This is not the first instance where the Indian leg spinner has shown his gratitude towards de Villiers. During the time of de Villiers' retirement, Chahal had also tweeted a heartfelt message for the South African legend. Chahal and de Villiers played a significant role in the overall success of the RCB franchise during their stint together.
Yuzvendra Chahal had a phenomenal IPL 2023 season, finishing with a total of 21 wickets. His outstanding performance not only contributed to the success of Rajasthan Royals but also propelled him to become the leading wicket-taker in the history of the IPL, surpassing Dwayne Bravo's tally of 183 wickets. Currently, the 32-year-old boasts an impressive record of 187 wickets in 145 matches. Chahal was also the leading wicket-taker for Rajasthan Royals in the IPL 2023 and proved to be one of their key players throughout the tournament.