'What A Husband': Mitchell Starc Cheers For Wife Alyssa Healy From Stands In UP Warriorz Jersey; Twitter Reacts
Alyssa Healy was leading UP Warriorz in WPL 2023 Eliminator clash vs Mumbai Indians on Friday and had her husband Mitchell Starc in attendance in the stands at DY Patil Stadium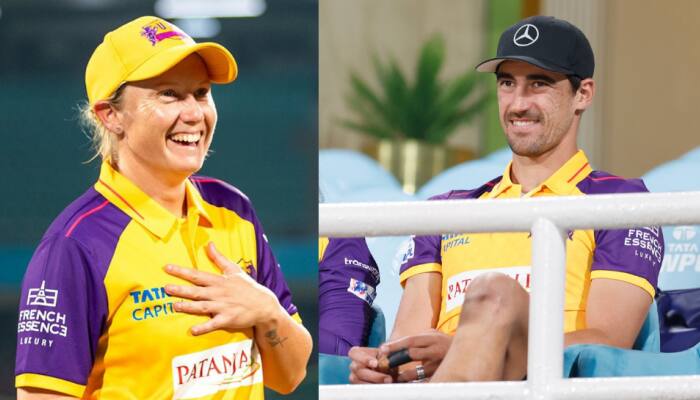 UP Warriorz captain Alyssa Healy must have felt really special when she came out for the toss ahead of the WPL 2023 Eliminator clash against Harmanpreet Kaur's Mumbai Indians on Friday (March 24). The special feeling was because of a special guest in the stands at the Dr DY Patil Stadium in Navi Mumbai. He was none other than Alyssa's cricketer husband Mitchell Starc. The Aussie men's team pacer just concluded his stint with the Australian team with a 2-1 series win over Rohit Sharma and Co and has extended his stay in India to be there in the ground for his wife as she plays for the WPL trophy.
Starc took the seats in the stands and was seen wearing the Warriorz jersey as well.
This is not the first time Starc has attended his beautiful wife's cricket match. He was there at the T20 World Cup final in 2020 as well as other marquee games that Australian women's cricket team has played in the past.
Twitter was buzzing with many heartwarming tweets related to Starc and Alyssa. Many fans praised Starc for being a 'good husband' and supporting women's cricket too.
Take a look at Starc's photos at the stadium and best reactions on Twitter to the pic below:
A husband who supports like Mitchell Starc >>> pic.twitter.com/bZYngeYwUC — Dhruvi Mendpara (@_dhruvirat718_) March 24, 2023
Mitchell Starc wearing UP Warriorz Jersey for supporting Alyssa Healy.#WomensPremierLeague #WPL #WPL2023 #TATAWPL #TATAWPL2023 #MitchelStarc #AlyssaHealy #UPWarriorz pic.twitter.com/2OSXYnMPU2 — TATA WPL #WPL2023 (@WomenCricLive) March 24, 2023
Mitchell Starc joined the UP Warriorz camp today and celebrating wife Alyssa Healy's birthday. pic.twitter.com/k4JHJMJB4u

— CricketMAN2 (@ImTanujSingh) March 24, 2023
Mitchell starc wearing UP warriorz jersey, supporting his Wife Alyssa Healy#TATAWPL #WPL #UPWvMI pic.twitter.com/RJpuc5MAWy — Pandu Raj #WPL (@CricketPanduRaj) March 24, 2023
Warriorz won the toss and opted field first in the all-important Eliminator clash. Grace Harris was back in the playing 11 for Warriorz. in place of Shabman Ismail. Defending her decision to field first, Healy said, "Wicket looks a belter, don't think it'll change much. Hope dew comes in later. Last few teams batting first have lost the game. Few changes from the last match." On the other hand, Mumbai Indians remain unchanged. MI Captain Harmanpreet said, "When we played last time it was a very good wicket to bat on. Chasing is something everything prefers, would've done the same. But we have a decent side. When we started we were looking positive. But those two games turned the tables. But we want to be positive. Going with the same team."