WATCH: Virat Kohli's Reaction After Suryakumar Yadav's Golden Duck In 2nd ODI Goes Viral
Suryakumar Yadav has been dismissed for back-to-back golden ducks by Mitchell Starc in ODI series.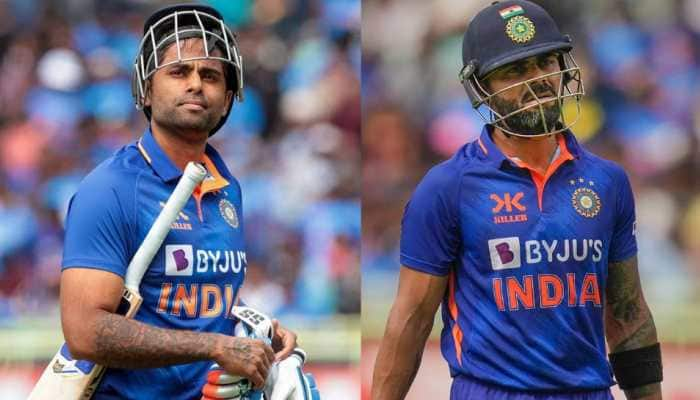 Former India captain Virat Kohli looked on in horror as Mitchell Starc managed to rip through India's top order in the second ODI at Visakhapatnam on Sunday (March 19). Starc took India's first wickets to fall to set up a dramatic collapse for Rohit Sharma's side as India crumbled to a 10-wicket defeat in the second ODI to help the visitors level the three-match ODI series at 1-1.
One of Starc's four wickets was world No. 1 T20I batter Suryakumar Yadav, who once again fell for a golden duck – his second in succession, leg-before to Australian left-arm pacer. Kohli, who top-scored for India with 31 as they were bundled out for 117, was left shocked as Starc managed to catch 'SKY' plumb lbw.
WATCH Virat Kohli reaction at Suryakumar Yadav's golden duck HERE…
— Main Dheet Hoon (@MainDheetHoon69) March 19, 2023
After the match skipper Rohit Sharma came out in defence of Mumbai Indians teammate Suryakumar Yadav. 'SKY' has struggled to live up to his high standards of T20I in ODI cricket. In his last 10 innings in ODI, the Mumbai middle-order batter has managed a top-score of just 34.
Suryakumar had walked out at No. 4, a spot vacated by Shreyas Iyer, who is out due to a back injury with no set timeline for return. "We don't know about (Shreyas) Iyer's return. At this time there is a spot available so we have to play him (Suryakumar). He has obviously shown a lot of potential with white ball and I have said it many times before (that) guys with potential will be given some run," Rohit told the media after India's 10-wicket defeat to Australia in the second ODI.
"Of course, he knows that he needs to do while in a slightly longer format of the game as well. I think things are there in his mind as well. Like I said, guys with potential will have enough run where you know they should not feel that 'Okay, You know I wasn't given enough chances in that particular slot'," he added.
The Indian captain said that Suryakumar would be given a 'consistent run' so that he feels comfortable with the format. "Yes he got out in the last two games and the series before that as well, but he needs that consistent run, like back-to-back games, 7-8 or 10 games like that so that, you know, he feels more comfortable.
"Right now, he has got in the place when someone's been injured or someone's not available. As management we can look into the performance when you give that consistent run and then you feel that okay, the runs are not coming and (he's) not looking comfortable. Then, we will start thinking about it. Right now, we have not gone that route," Rohit explained.
(with PTI inputs)