Suryakumar Yadav Can Pull Off Shots I Never Did, Says 'Mr 360' AB de Villiers
Former South Africa batter AB de Villiers revealed that he sees a lot of himself in Indian batter Suryakumar Yadav.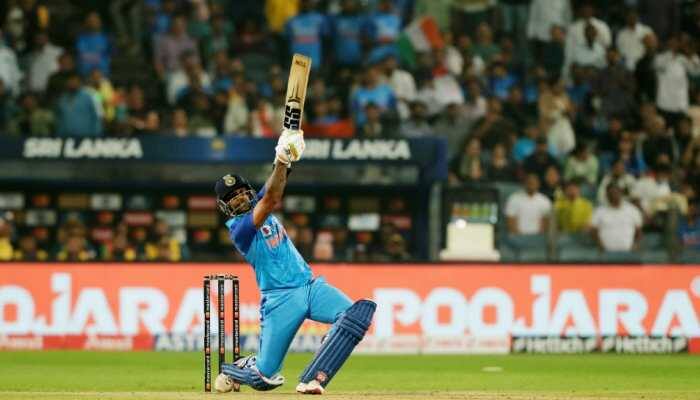 Team India batter and world No. 1 T20 batsman Suryakumar Yadav got the ultimate praise from the original 'Mr 360' AB de Villiers. The former South Africa captain admitted that the Mumbai Indians batter can pull off shots he never could.
Speaking on JioCinema's 'Home of Heroes' show, AB de Villiers said that he sees a lot of similarities between himself and 'SKY'. "I think it's incredible. I think he's pulling off shots that I never did. I really do, when it gets going, it's lovely to watch. I think he's got a long way to go still. I think there's more to come. I think there's even a better player in the future, so that's very exciting. I think is his biggest concern or not concern. His biggest challenge will be to be consistent in all the formats and to figure out his game in Test cricket, in ODIs and in T20 and understand how it works for him," De Villiers was quoted as saying by JioCinema.
"I think he should actually just realize it's all exactly the same. I do see a lot of similarities. He's just going to be able to shift through the gears and I mean, it's incredible to watch. He can score all around the ground. And when he's confident, he moves so slowly and he sets it so beautifully upright. He gets the ball nice and late. And once you snap that as a batter, once you realize that the faster the bowler gets, the more you've got to let it come and that is really starting to click and I think he has clicked that. So, the sky's the limit. Excuse the pun," De Villiers said about Suryakumar Yadav.
Prithvi Shaw & Suryakumar Yadav on the way to the Duleep Trophy Semis. pic.twitter.com/v3PNrxKJFS — Johns. (@CricCrazyJohns) July 2, 2023
AB de Villiers regrets not winning the World Cup
In a ODI World Cup year, one of De Villiers's biggest regret is not winning the trophy. The former Royal Challengers Bangalore (RCB) batter revealed that he cried himself to sleep after the Proteas crashed out from the 1999 World Cup semifinal.
"It's big time, you know, the minute I got into the Proteas side, that's all I wanted to do. It's always been the thing spoken about in the press. I watch the '99 World Cup. They got run out. I remember crying and crying myself to bed. I was 15 years and I was devastated. So that was obviously a big goal," De Villiers revealed about his desire to win the World Cup.
"And to our downfall, I think that was the mindset of all of our players. I think to win a World Cup, it shouldn't be like that at all. You must go and play the game and see it as another tournament, easier said than done. Like a real big thing for us and that's all I wanted to achieve. So as captain 2015, I felt like we were incredibly prepared. Nothing was going to stop us. We had the numbers of the Aussies in that final because we just beat them. And I knew we were going to we were going to take them down in the final and unfortunately, we slipped up against New Zealand in that same year and it was heart-breaking. It was a big knock for me in my career here. There are no regrets. I mean, it's not going to keep me awake at night, but at the time it hit me very hard," he added.
India are set to host the ODI World Cup 2023 this year with South Africa ensuring a direct qualification into the event.
Asked about the toughest bowler he has ever faced, AB de Villiers said, "Oh, I think Shane Warne in 2006 the first time I travelled to Australia, not so much because of skill and technique and also just the presence of the man and the aura he carried. And obviously I was quite inexperienced. I knew from the get-go he was going to get out. When I faced, the first ball went like, it's nothing to this. I mean, it's pretty simple. But when I looked up, he was looking at me like, what now? And Gilly was talking about my bat lift beyond the stumps. And it was just I got 60. That game felt easy, but he was just a smart, incredible player, and it worked out pretty quickly."