Who Has Hit Most Sixes In International Cricket Since 2013? He Is Not Chris Gayle, Virat Kohli, AB de Villiers, Ben Stokes
India ODI and Test captain Rohit Sharma occupies the top spot in the list of batsmen with most sixes since 2013. He is followed by England skipper Jos Buttler, who is also known for his mad six-hitting skills.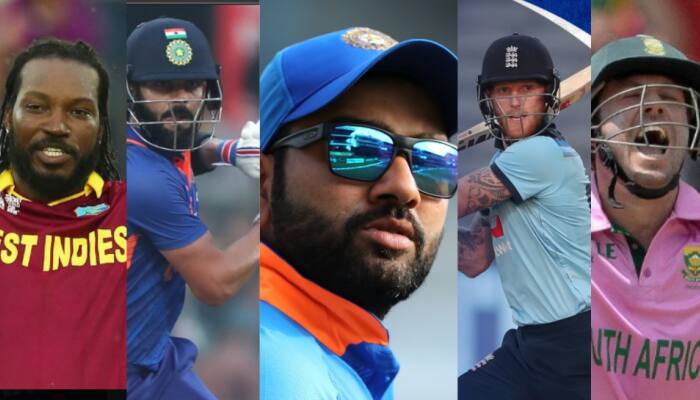 In international cricket, we have seen many power-hitters over the years. From the likes of Andrew Symonds to Yusuf Pathan, from Chris Gayle to Adam Gilchrist and Sanath Jayasuriya to Shahid Afridi, the fans have been blessed with plenty of swashbucklers. But since 2013, none among them has hit more sixes than an Indian batter whose name may surprise you. In the top 5 list of batters with most sixes in 2013, there is one India and he is right on top of the list. He is none other than Indian captain Rohit Sharma, who has hit a total of 486 sixes in the last ten years, the most by any batter.
Rohit's name is a big surprise as he is not known as a power-hitter in world cricket. Rohit is a class player, but not really someone like Gayle or Andre Russell, who are known all over the world for their six-hitting abilities.
Job done _
Time to carry this momentum to the next one. pic.twitter.com/1rgcp9MZr7— Rohit Sharma (@ImRo45) July 15, 2023
The second in the list is England ODI and T20I captain Jos Buttler, which is not a big surprise. Buttler, who also plays for Rajasthan Royals in the Indian Premier League, is a world class batter and someone who is known for scoring at a quick rate. Buttler, since 2013, has smashed 297 sixes in international cricket across formats. But he is as many as 189 sixes behind leader Rohit.
New Zealand's fiery opening batter Martin Guptill occupies the third spot. The NZ batter has smashed 282 sixes in internationals since 2013. In the last couple of years, Guptill has not had a consistent run with the Black Caps or he would have surely surpassed Buttler. Guptill is at twilight of his career and does not feature in NZ's limited-overs or Test sides regularly.
England's World Cup-winning skipper Eoin Morgan is fourth in the list with 264 maximums. Morgan enjoyed batting against spin during his prime days. Aaron Finch, former Australia captain, is also in the list at the fifth spot with a total of 253 sixes.