Mumbai vs Madhya Pradesh Ranji Trophy Final Highlights: Mumbai finish 248/5 on Day 1
Mumbai vs Madhya Pradesh Ranji Trophy Final Live Cricket Score Streaming Online Day 1 Match Updates: Mumbai take on Madhya Pradesh at M. Chinnasway Stadium in Bengaluru.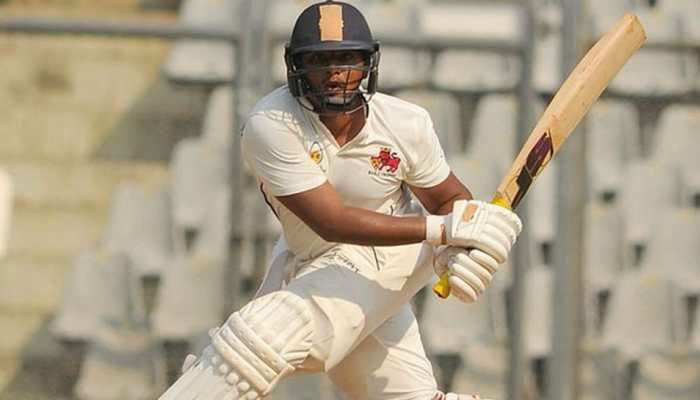 LIVE Blog
Ahead of his team's Ranji Trophy 2022 final against Madhya Pradesh, Mumbai head coach Amol Muzumdar has said that the occasion is all about the players. Mumbai, who are 41-time champions have reached their 47th Ranji Trophy final overall and their first since 2016-17. Their semi-final tie against Uttar Pradesh was a draw, with Mumbai advancing on basis of their first-innings lead.
Muzumdar is clear that it is not about him. He has already won the competition as a captain and has been part of many title-winning teams. His counterpart and Madhya Pradesh head coach Chandrakant Pandit has won titles with Mumbai and Vidharbha in the past. "It is all about the players. Of course, every team has its own engine room, but at the same time, the main focus has to be the players. He (Pandit) is a proven customer. This is my first season (as coach); his must be the umpteenth season. I would not like to compare. He has been there, done that," ESPNCricinfo quoted Muzumdar as saying.
While Mumbai will be looking to extend their #RanjiTrophy legacy, MP are keen to win their first #Final

Which team do you think will take home the ?#IndiaKaCricket | #MUMvMP | 22 - 26 Jun | 9:30 AM | Star Sports 2/2HD & Disney+Hotstar pic.twitter.com/kKwnQd4dx6 — Star Sports (@StarSportsIndia) June 22, 2022
The head coach feels that his side has done extremely well in the red-ball cricket and is certain that the newer talent will serve Mumbai for a long time. "When I took up this job, all the entire association asked about was getting back in red-ball cricket. That was our main focus. Coming so far, we have slightly tried to achieve that. Credit to the boys, they are on track. Red-ball cricket was a concern for everyone from Mumbai," he said.
Check the live score and updates from Day 1 of Ranji Trophy Final between Mumbai and Madhya Pradesh HERE.
16:13 PM
MUM finish at 248/5 on Day 1
Mumbai finish with 248 runs after Day 1 as Sarfaraz Khan and Shams Mulani build a partnership of 20 runs off 91 balls for the sixth wicket. MP bowlers were on song in this Ranji Trophy 2022 final as they dismissed half of Mumbai's side on Day 1 itself. Yashasvi Jaiswal has been the stand-out performer for Mumbai today scoring 78 (163) followed by Prithvi Shaw 47 (79), Armaan Jaffer 26 (56), Suved Parkar 18 (30) and Hardik Tamore 24 (44).
15:59 PM
Sarfaraz & Mulani going STRONG!
Sarfaraz Khan and Shams Mulani going strong for Mumbai as MP bowlers look to break the deadlock. Mumbai need to buildup a strong partnership to put a commanding first innings total on board.
MUM- 241/5 (82.2 Overs), Sarfaraz 36 (106) & Mulani 9 (16)
15:41 PM
GONE!
Hardik Tamore 24 (44) caught by Rajat Patidar bowled by Saransh Jain. MP get another breakthrough as Tamore departs, Mumbai struggle build up a strong partnership yet again. 
MUM- 228/5 (75 Overs), Sarfaraz 32 (77)
15:14 PM
MUM rebuild
Mumbai rebuild with Sarfaraz Khan and Hardik Tamore in the middle as both the batters display some smart batting skills. Madhya Pradesh looking to find another breakthrough with Anubhav Agarwal and Kumar Kartikeya attacking the stumps.
MUM- 218/4 (70 Overs), Sarfaraz 26 (62) & Hardik 20 (30)
14:40 PM
Mumbai cross 200-mark
Mumbai cross the 200 runs mark with Sarfaraz Khan and Hardik Tamore in the middle. Gaurav Yadav and Kumar Kartikeya brought back into the attack from Madhya Pradesh.
MUM- 201/4 (64 Overs), Sarfaraz 16 (37) & Tamore 13 (19)
13:59 PM
BIG WICKET!
Yashasvi Jaiswal 78 (163) GONE! Caught by Yash Dubey bowled by Anubhav Agarwal. Mumbai lose a big wicket as Jaiswal misses out on his century in the Ranji Trophy 2022 final. MP fnally get the dangerman Jaiswal out.
MUM- 185/4 (59.4 Overs), Sarfaraz 13 (30)
13:55 PM
Jasiwal & Sarfaraz looking good
Yashasvi Jaiswal and Sarfaraz Khan are looking comfortable at the moment for Mumbai as their team needs a good partnership desperately after losing two wickets in quick succession. Madhya Pradesh are in hunt for wickets as they display some tight fielding efforts and bowling.
MUM- 165/3 (54 Overs), Jaiswal 68 (147) & Sarfaraz 3 (13)
13:41 PM
OUT!
Another one for Madhya Pradesh as Suved Parkar 18 (30) caught by Shrivastava bowled by Sarash Jain. Another simple catch at mid-wicket for MP as Mumbai lose another wicket at a crucial time.
MUM- 150/3 (51 Overs), Jaiswal 54 (137) & Sarfaraz 2 (4)
13:20 PM
Jaiswal completes FIFTY
Yashasvi Jaiswal completes his half-century in the Ranji Trophy 2022 final as Mumbai look to build up to strong total in their first innings. The left-hander has brilliantly so far punching 3 boundaries and 1 six on his way to the fifty.
MUM- 130/2 (47 Overs), Jaiswal 51 (130) & Suved Parkar 4 (17)
12:48 PM
GONE!
Mumbai lose their second wicket as Armaan Jaffer departs for 26 (55), caught by Y Dubey bowled by Kumar Kartikeya. The right-hander was playing brilliantly but loses focus in the end as he tries to play a cover-drive and nicks to short mid-wicket. Brilliant fielding by Dubey to dismiss the right-hander and get Kartikeya his first wicket of the day.
MUM- 120/2 (41 Overs), Jaiswal 45 (112)
12:42 PM
AND WE'RE BACK!
Left-arm spinner Kumar Kartikeya and pacer Gaurav Yadav into the attack for Madhya Pradesh after lunch as Yashasvi Jaiswal and Armaan Jaffer look to stay strong on the crease.
MUM- 109/1 (38 Overs), Jaiswal 45 (111) & Jaffer 16 (39)
11:57 AM
Mumbai are 105/1 at lunch
Mumbai head to lunch on Day 1 at 105/1 after 36 overs. Opener Yashasvi Jaiswal is on 43 and Armaan Jaffer unbeaten on 14. 
11:41 AM
Mumbai cross 100-run mark
Mumbai notch up their 100 before lunch. Mumbai are 105/1 in 35 overs with Yashasvi Jaiswal on 43 and Armaan Jaffer on 14. 
11:39 AM
Armaan Jaffer gets first boundary
Armaan Jaffer, coming in at No. 3, hits Anubhav Agarwal down the ground past mid-on for first boundary. Mumbai are 95/1 in 31 overs with Yashasvi Jaiswal on 40 and Armaan Jaffer on 7.
10:50 AM
Prithvi Shaw falls for 47
Prithvi Shaw smashes his fifth four to move along to 47 but was dismissed soon after with Anubhav Agarwal bowling him soon after. Mumbai are 87/1 in 28 overs.
10:11 AM
Prithvi Shaw, Yashasvi Jaiswal take Mumbai past 50
Mumbai openers Prithvi Shaw and Yashasvi Jaiswal have brought up 50-run partnership for the opening wicket. Jaiswal is on 32 and Shaw on 21 as Mumbai reach 54/0 in 18 overs.
09:58 AM
Couple of fours for Prithvi Shaw
Prithvi Shaw hits Gaurav Yadav for a couple of fours to move along to 16 off 25 balls. Mumbai are 37/0 in 10 overs with Yashasvi Jaiswal on 20.
09:56 AM
Yashasvi Jaiswal gets first SIX
Yashasvi Jaiswal has broken the shackles, smashes left-arm spinner Kumar Kartikeya over long-on for six and follows it up with a 4 to move to 18 off 24 balls. Mumbai are 24/0 in 7 overs.
09:38 AM
Yashasvi Jaiswal SURVIVES
There is complete miscommunication between Yashasvi Jaiswal and Prithvi Shaw with the former halfway down the wicket. However, fielder throws wide and MP keeper fails to collect as Jaiswal survies on 6. Mumbai are 12/0 in 4 overs.
09:26 AM
Prithvi Shaw gets first boundary
Mumbai captain gets first boundary of the match in the second over off Anubhav Agarwal. Mumbai are 9/0 after 2 overs with Shaw on 5.
09:21 AM
Livesteam and TV details HERE
You can catch the Live action from Mumbai vs MP Ranji Trophy final on livestream and on TV as well. Check all the details HERE. 
09:18 AM
Here are the Mumbai vs Madhya Pradesh Playing XI...
Mumbai: Prithvi Shaw (capt), Yashasvi Jaiswal, Armaan Jaffer, Suved Parkar, Sarfaraz Khan, Hardik Tamore (wk), Shams Mulani, Tanush Kotian, Dhawal Kulkarni, Tushar Deshpande, Mohit Awasthi
MP: Yash Dubey, Himanshu Mantri (wk), Shubham Sharma, Rajat Patidar, Aditya Shrivastava (capt), Akshat Raghuwanshi, Saransh Jain, Kumar Kartikeya, Anubhav Agarwal, Gourav Yadav, Parth Sahani
09:17 AM
Mumbai captain Prithvi Shaw wins toss
Mumbai skipper Prithvi Shaw has won the toss and decided to BAT first. 
09:17 AM
Hello and welcome to our Live coverage of Mumbai vs Madhya Pradesh Ranji Trophy 2022 final.