India Maharajas vs World Giants Legends League Cricket 2022 Highlights: Yusuf Pathan, Pankaj Singh shine as India Maharajas beat World Giants by 6 wickets
Follow LIVE score and updates of the India Maharajas Vs World Giants Legends League Cricket 2022 on Sunday.
LIVE Blog
The Legends League Cricket (LLC) carnival is all set to take off in Kolkata from September 16 as cricketing legends descended in the City of Joy on Thursday. A special benefit match between India Maharajas and Team World Giants will kick-start the much-awaited season of the league in India for the first time in Kolkata on September 16.
From King Khan to the Legends of #LLCT20!

Thank you @iamsrk for your warm wishes for #LegendsLeagueCricket!#BossLogonKaGame https://t.co/TqgnpBGrb6 — Legends League Cricket (@llct20) September 16, 2022
Former Sri Lankan spin wizard Muralitharan, who will be representing Manipal Tigers, said in a press interaction in Kolkata on Thursday that he will be aiming to roll back the years when he takes the field for his team. "After a long time, we are going to play and the feeling of coming back to a tournament is pulsating for us. As former cricketers, we miss cricket and miss the feeling of playing amidst the hooting and cheering. I hope it becomes an annual event for everyone so that the younger lot not only enjoys watching contemporary cricketers but also gets to watch the former cricketers and legends entertain them," the once-dreaded off-spinner said. With 90 cricketing greats in action the league will take part in 16 matches including the benefit match. Some of the top names who would be gracing the tournament with their presence are Virender Sehwag, Gautam Gambhir, Harbhajan Singh, Muttiah Muralitharan, Jacques Kallis, Chris Gayle, and Brett Lee among others. For former India speedster S Sreesanth, who turned 39 earlier this year, he said age is just a number. Sreesanth will play for LNJ Bhilwara Kings.
23:23 PM
WGS 170/8 (20)
IMR 175/4 (18.4)
India Maharajas won by 6 wkts
Yusuf Pathan, Irfan Pathan finish things off for India Maharajas as they beat World Giants by six wickets.
21:43 PM
India Maharajas vs World Giants, Special Match - Live Cricket Score, Commentary
WGS 170/8 (20)
IMR 100/3 (12)  CRR: 8.25  REQ: 9
India Maharajas need 71 runs in 48 balls
Both India Maharajas openers Virendra Sehwag and Parthiv Patel failed to get going while M Kaif was also dismissed for 11. All eyes are on Tanmay Srivastava and Yusuf Pathan who are batting at a high strike rates.
21:31 PM
India Maharajas vs World Giants, Special Match - Live Cricket Score, Commentary
WGS 170/8 (20)  CRR: 8.5
Innings Break
Fifty at the top by Kevin O Brien and Denesh Ramdin's 42 in the middle helped World Giants post 170/8 in 20 overs against India Maharajas. For the home side Pankaj Singh picked five-wicket haul.
21:15 PM
India Maharajas vs World Giants, Special Match - Live Cricket Score, Commentary
WGS 147/5 (17.5)  CRR: 8.24
Pankaj Singh takes two wickets, Harbhajan Singh, Joginder Sharma and M Kaif picks two wickets each. Denesh Ramdin and Romesh Kaluwitharana are at the crease.
20:29 PM
India Maharajas vs World Giants, Special Match - Live Cricket Score, Commentary
WGS 87/2 (10)  CRR: 8.7
Joginder Sharma provides a breakthrough as Kevin O Biren gets out after scoring 52 runs in 31 balls with the help of nine boundaries and a six. He batted with a strike rate of 167.
20:00 PM
Playing XI World Giants vs India Maharajas
World Giants: Hamilton Masakadza, Jacques Kallis(c), Thisara Perera, Daniel Vettori, Kevin O Brien, Denesh Ramdin(w), Tim Bresnan, Fidel Edwards, Muttiah Muralitharan, Monty Panesar, Tatenda Taibu
India Maharajas: Virender Sehwag, Tanmay Srivastava, Parthiv Patel(w), Mohammad Kaif, Manvinder Bisla, Irfan Pathan, Yusuf Pathan, Harbhajan Singh(c), Joginder Sharma, Pankaj Singh, S Sreesanth
19:13 PM
India Maharajas vs World Giants, Special Match - Live Cricket Score, Commentary
WGS 46/0 (5)  CRR: 9.2 - World Giants opt to bat
Hamilton Masakadza and Kevin O'Brien take World Giants off to a great start. S Sreesanth and Irfan Pathan along with Pankaj Singh are in action.
19:11 PM
Toss Update
World Giants won the toss and opted to bat first against India Maharajas here at the Eden Gardens, Kolkata on Sunday. Harbhajan Singh is leading the Indian side while Eoin Morgan is captaining the World Giants side.
18:02 PM
Hello and welcome to Zee News' Live coverage of Legends League Cricket 2022. Today's match is between India Maharajas vs World Giants. This is your host Akash Kharade and I will be taking you through all the important updates in the match. Stay Tuned!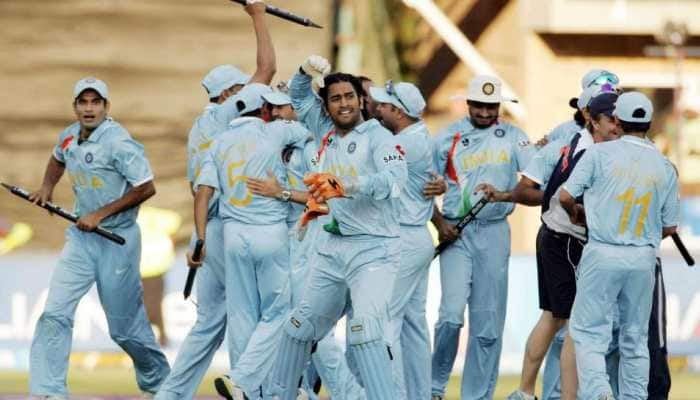 Indian cricket team jersey - 2007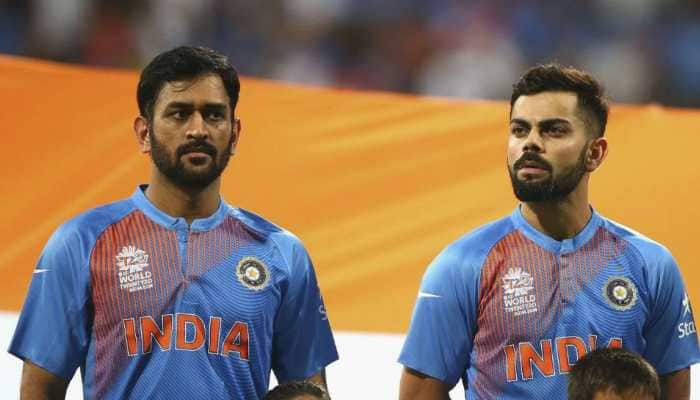 Indian cricket team jersey - 2016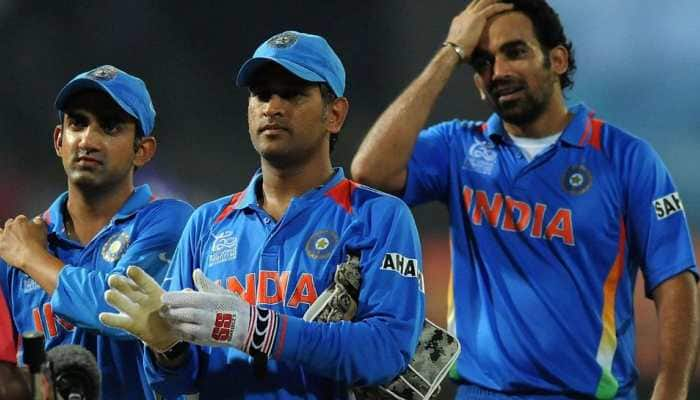 Indian cricket team jersey - 2012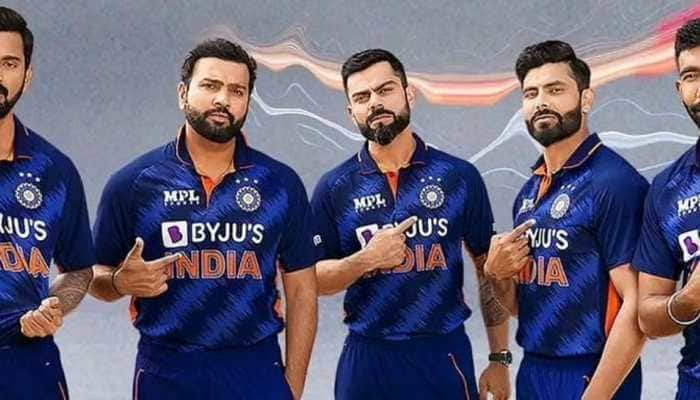 Indian cricket team jersey - 2021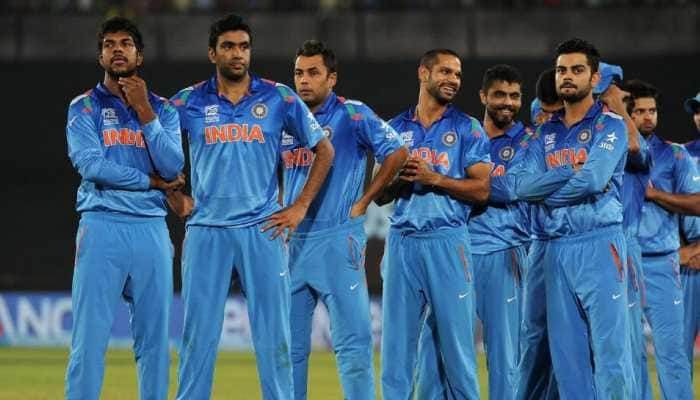 Indian cricket team jersey - 2014