IPL 2023: 'Kohli More Relaxed After Giving Away Captaincy,' Believes AB de Villiers
Being relieved of leadership duties has made Kohli relax way more than he had done in last few years, felt the former Proteas skipper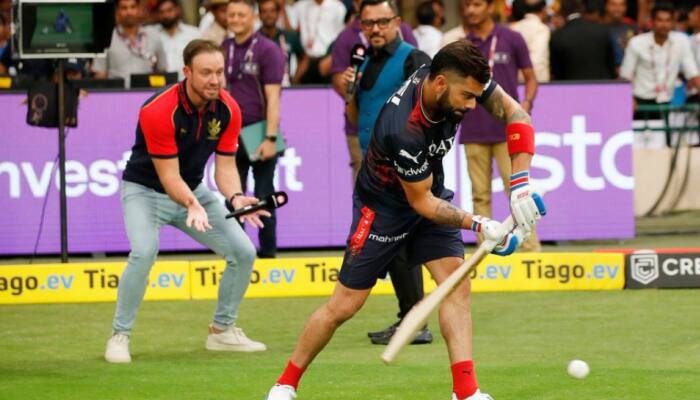 The disarming smile was back and he looked more relaxed once Virat Kohli gave up national and IPL captaincy, feels South African legend AB de Villiers. Kohli, who scored an unbeaten 82 to power his IPL side to an eight-wicket win against Mumbai Indians in their season-opener, stepped down from the RCB captaincy after the 2021 season just after he gave up national T20 captaincy. Within some time, he lost his ODI captaincy and subsequently resigned from Test leadership.
Asked what are visible changes that De Villiers notice in his longtime RCB teammate, he said: "I have not seen much change, everything is similar. The technique looks solid; he has got good balance at the crease. He is still that 'busy' player with a lot of energy at the wicket."
"I just feel, this season he has come in looking really fresh. I have seen some of his interviews where he is laughing more than ever?," De Villiers told the media when asked what change he has noticed in Kohli's batting in recent years.
Being relieved of leadership duties has made Kohli relax way more than he had done in last few years, felt the former Proteas skipper.
"I think letting the captaincy go last season played a big role in him relaxing. He was a fantastic captain but he did it for a long period of time both internationally and also at the IPL which can be daunting."
"You never get time off to chill or spend with family or have a laugh with some friends. I think that is his mantra for this season, just to go out and have fun, keep smiling," De Villiers, who is an IPL expert with Jio Cinema, added.
It is important to have fun and that's when optimum performance level is achieved.
"When he is having fun that natural talent takes over and he scores runs at ease which he did in that first innings. I think the best is yet to come and we are going to see some fireworks," De Villiers said.
De Villiers backed India and Mumbai Indians' batter Suryakumar Yadav, who has witnessed a sudden dip in form, advising him to focus on what has worked in the past.
"He (Surya) is probably in that phase now where he needs to do something. But the secret of it all is not to panic and not to change your game plan. He has got to stick to what has been working for him over the years."
"Yes, maybe, he can try and remember 'what are my basics' or 'what did I do very well when I was just consistently scoring runs' and because obviously he took his game to a completely different level," De Villiers said.
De Villiers said Suryakumar will have to forget the expectations on him.
"It is not a bad thing just to come a level down and spend a little time in there before you pop out again. You cannot always score 100 off 40 balls ? it is not always going to happen."
Expectations can bog a player down and he had learnt it from his own experiences and especially the kind of performances that RCB supporters always wanted from him.
"That is something I had to learn the hard way with the Chinnaswamy crowd going, expecting me to score a hundred in every game. I sometimes had to tell myself, you know what AB let's be honest here, you are not reading the ball very."
"Just make sure you go run-a-ball and give Virat the strike or just get someone else on'. And then slowly and surely I get one good shot and then I am back in the game," he said.
"There will always be a sign when you get into good form; there will be a bad delivery from the bowler or you will hit a good straight drive and then you can be say hold on, I am back in form and let's hurt the bowlers".
Batting is pretty similar to driving a car and De Villiers explained why.
"You just have to manage the gears ? I call them gears between first and the fifth gear, ?where I am at the moment". He is probably in the second gear at the moment. Respect the fact that you are in second gear, find a way to get to the third and you can push from there," concluded De Villiers.