Jagga Jasoos movie review: Ranbir Kapoor-Katrina Kaif shine in this wobbly escapade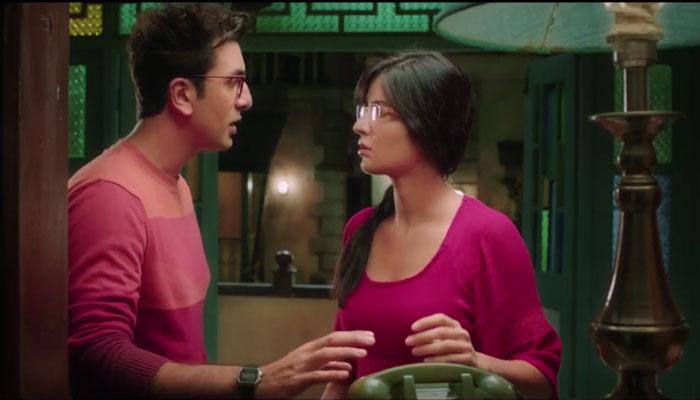 Filmmaker Anurag Basu and his much-delayed adventure saga 'Jagga Jasoos' finally saw the light of the day with its release today! And whether or not the 2 hour 45-minute ride was joyful, let's find out.
First things first, 'Jagga Jasoos' from the very first scene will get you a taste of the entire dish waiting to be served. The film is a musical, a genre which has never really been experimented in the same lines in mainstream Bollywood.
So, full marks to Basu for attempting to actually try something 'different'. But, not everyone can digest it alike, therefore, there might be a section of the audience who really like it but others might feel it as too much happening too soon with little time to sync in.
The story of little boy Jagga aka Ranbir Kapoor entices you as we are taken into his world where he can single-handedly do almost everything ( as a child, I mean).
The boy, who stays in a hospital meets Saswata Chatterjee, who builds a strong bond with him and becomes his father. Jagga stammers and stumbles upon words but it's the pep talk with this father-like man which makes him 'Jagga Jasoos'.
Saswata is a brilliant Bengali actor and his act will make you enjoy the kind of rapport he builds with Jagga. The relationship they share keeps the first half alive.
Basu has stitched his story around 1995 Purulia arms dropping incident and there's a lot of North East explored. We get to see Manipur and how militant groups smuggle arms into the territory. The real tale unfolds after Jagga's daddy goes away from him ( no, we are not telling why) and is later believed to be dead.
Jagga meets Shruti Sengupta aka Katrina Kaif and there is hope in his life. The hope of meeting his father again as he finds some striking similarity between the two (they are both bad-lucky in the film).
You will be smitten by the picturesque landscape and cinematography by Ravi Varman in 'Jagga Jasoos'. But VFX could have been way better as we can clearly see when it's not real.
Shruti is a journalist and Jagga is a jasoos, we all know it by now because he does solve a mysterious case in his hostel. He likes reading and has a knack for looking beyond the obvious. You will be reminded of Tintin's famous hairstyle and adventure tales, but that's just about it.
Katrina has turned the master storyteller in this film and it is her narration which takes us and the kids who are listening to her musical enactment into the Jagga land. She looks fresh and holds up her teacher act.
Then the second half is all about Jagga and Shruti trying everything possible to find his father, who's called Badal Bagchi. Ranbir and Katrina both have performed to the best of their abilities but there are loopholes in the screenplay which make it lethargic for the viewer to sit through this fantasy ride.
This film heavily drives on Pritam's composition and he has done a great job. Songs like 'Galti Se Mistake', 'Khaana Khake', 'Ullu Ka Patha' are catchy and will stay with you. Also, choreography by Shiamak Davar is unusual and brings in a kind of quirk required in this film.
Once you manage to sit through the first half, there is a sense of predictability in the script and the audience can guess what's gonna come up next. Also, why wasn't Sayani Gupta's character explained and established properly? She is a fine actor and could have added more to the film.
The climax has an interesting surprise in store which certainly gives a window to the sequel of 'Jagga Jasoos'.
Are you ready for it?
(Ratings: 2.5)
Live Tv