Narendra Modi's foot-in-mouth ministers should measure their words
Two Union ministers made statements that directly undermine the rule of law. This could have dangerous repercussions.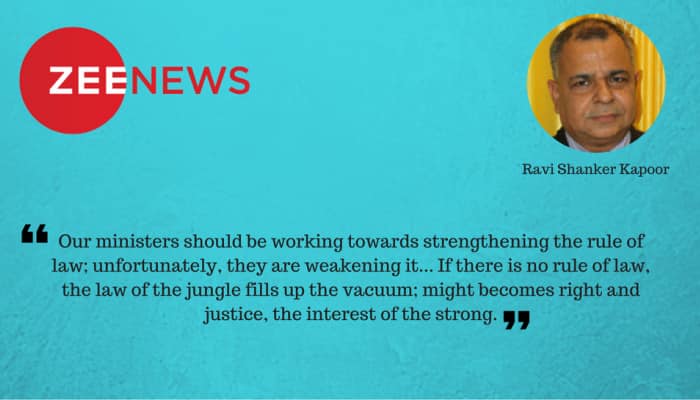 Union Ministers seem to have weird ideas about poverty alleviation, economic development, and banking. One of them tries to force executives of public sector banks (PSBs); another one wants the poor to emulate the fugitive defaulter Vijay Mallya. Weirdness seems to pervade governance.
"Stop the annual salary increment of managers at state-owned banks which have failed to meet the loan target under the central government's Mudra (Pradhan Mantri Mudra Yojana) scheme," Business Standard reported (July 16). "This is what Hansraj Ahir, Union Minister of State for Home Affairs, has written in a letter to the district magistrate of his constituency."
But, Minister, whatever happened to the autonomy that your government claims to grant to PSBs? Whatever happened to the due diligence that PSB officials, like their counterparts in private banks, are expected to carry out before disbursing any loan? If PSB bankers are personally penalised to indiscriminately hand out loans - as they were during the 'loan melas' decades ago - won't the problem of non-performing assets, or NPAs, become worse? And, when it happens, who'll foot the bill? Won't it be the taxpayer who is already excessively burdened because of exorbitantly high petroleum taxation?
The PMMY, launched by Prime Minister Narendra Modi in April 2015 for providing small loans, may be a good scheme, but its implementation cannot be allowed to be bad and gauche; and incumbent ministers certainly should not be promoting improprieties and illegalities. But they are.
Ahir wrote a letter to the District Collector of Chandrapur in Maharashtra on June 6. He wrote, "Send a recommendation to senior [management] to stop the salary hike of those branch managers whose branches have had poor implementation."
Everything is wrong with this letter. To begin with, banking is not within the jurisdiction of the Union Minister of State for Home Affairs. Secondly, if any orders are to be issued to PSB officers, these ought to pertain to the officers everywhere, not just in a particular area - the Minister's constituency in this case.
Thirdly, the directive issued should be in tune with the existing norms governing the functioning of PSBs. BS quoted a public sector banker saying that all banks have their Officers' Service Regulations, which have rules pertaining to penalisation of officers for non-performance. The officers of PSBs - in fact, even the officers of the Central and state governments - are supposed to follow the laid-out rules and regulations, not the whimsical and arbitrary directives of politicians occupying high offices.
So, the then DM of Chandrapur, Ashutosh Salil, refused to carry out the Minister's diktat in toto. He, however, issued a letter to the chief executives of all banks in the area under his jurisdiction, asking them to effectively implement government schemes and penalise those who underperform. "We asked the banks to maintain a register and record all applications under Mudra, with its status-whether rejected or processed. This is important, as we do not have that record at present. We want banks to be more responsive to the need of entrepreneurs and poor farmers," Salil was quoted as saying.
Meanwhile trade unions have opposed the Minister's missive.
While Ahir's letter was improper, Union Minister of Tribal Welfare Jual Oram's remarks were downright preposterous. He described Mallya as "smart" and presented him to tribal people almost as a role model. Speaking at the maiden National Tribal Entrepreneurs Conclave 2018 in Hyderabad recently, he said, "We should become entrepreneurs, we should become intelligent. We should become smart. We should gain information. Information is power. Those who possess information, they control power."
So far, so good. But the Honourable Minister didn't stop here and went on to say, "You people criticise Vijay Mallya. But what is Vijay Mallya? He is smart. He employed some intelligent people. He did something here and there with bankers, politicians, government."
It is a sad commentary on the prevailing political morality that a Minister is saying such things: "He [Mallya] bought them. Who prevented you [from being smart]? Who asked Adivasis not to influence the system? Who prevented you from influencing bankers?"
Perhaps the objectives of Ahir and Oram are noble: they just want to help the poor whatever may be the means. But the ends-justify-means attitude, especially in matters related to statecraft, is fraught with dangerous repercussions. Improprieties and illegalities undermine the rule of law, something which is not just the bedrock of civilization but also the strongest prop of the poor and the weak. If there is no rule of law, the law of the jungle fills up the vacuum; might becomes right and justice, the interest of the strong.
Therefore, our ministers should be working towards strengthening the rule of law; unfortunately, they are weakening it. As a Hindi proverb says, the fence has started eating the crop.
(Ravi Shanker Kapoor is a journalist and author. He has spent around 25 years in the media. As a freelance journalist, Kapoor has written for a number of leading publications. He has written four books on Indian politics and its associated institutions.)
(Disclaimer: The opinions expressed above are the personal views of the author and do not reflect the views of ZMCL.)