Video Of 'Dancing' Mahindra Thar Goes Viral, Police Takes Action Against SUV Owner: Watch
The old-generation Mahindra Thar can be seen bouncing on a public road while people poke their heads out of the sunroof of the off-roader SUV.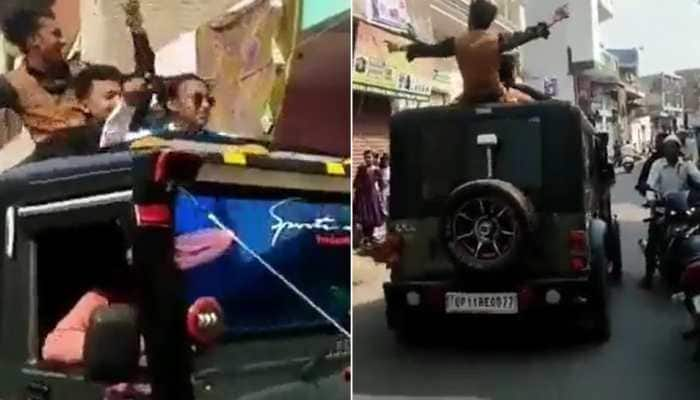 Videos of people performing stunts with their cars on public roads have become a common sight on social media platforms. Adding to the list of videos, a new video has surfaced on Twitter showing people performing stunts on an old Mahindra Thar. It is to be mentioned that this is not the first time netizens have shared a video of performing stunts on a Mahindra Car. The SUVs from the Indian manufacturer are misused quite often. As in the most recent case in what seems like a wedding procession, people can be seen poking their heads out of the off-roader SUV.
On Twitter and other social media sites, the video has been making the rounds. The video shows old generation Mahindra Thar SUV. The SUV appears to have been modified, and while driving it on a public road, the driver appears to be trying to lift the SUV's front end into the air. The aftermarket sunroof on this SUV has people standing out of it. It appears that the SUV's owner had the suspension set so that when the driver experimented with the accelerator and brakes, the front end of the vehicle bounced.
Also read: Top Hybrid Cars To Buy In India Under Rs 25 Lakh: Maruti Suzuki Grand Vitara, Honda City And More
The footage that is accessible online also features loud music. The incident took place in Ghaziabad, Uttar Pradesh, on public roads with people passing through. Without regard for the nearby residents or other road users, the driver of the SUV keeps on with his stunts and blasting loud music.
Ghaziabad: Groom's brother arrested in car stunt
pic.twitter.com/ECzB4uADmq — Ahmed Khabeer احمد خبیر (@AhmedKhabeer_) February 27, 2023
After the video went viral, Uttar Pradesh police took cognizance of the incident and swung in action. According to a report, the Mahindra Thar was impounded by the police for reckless driving and playing loud music. The alleged brother of the groom, the driver, was also detained. Three young lads can be seen in the footage standing outside the Mahindra Thar's sunroof. They will take action against the young people who participated in this incident, according to Ravi Prakash, Assistant Commissioner of Police, Wave City Police Station, Ghaziabad.