SUVs With Highest Waiting Period: Mahindra Scorpio N, Maruti Suzuki Grand Vitara & More
The list of the top 10 SUVs in India consists of names like Mahindra Thar, Mahindra Scorpio N, Maruti Suzuki Grand Vitara, Toyota Urban Cruiser Hyryder, and more; read on for more details.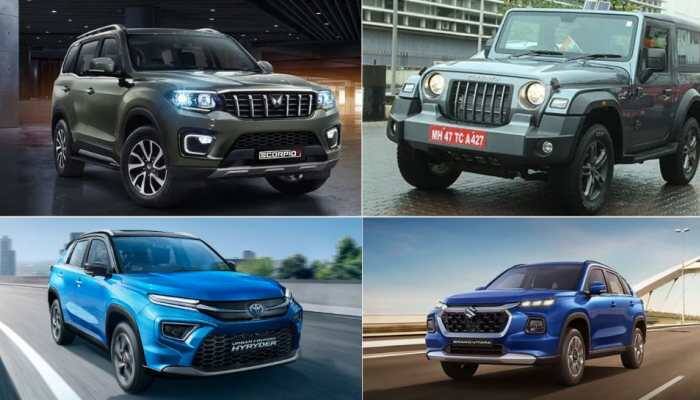 The graph of car sales in India saw growth in FY2023. However, the industry still seems to be recovering from the effects of the Covid-19 pandemic. These changes, combined with the shortage of raw materials, created a long-term impact on the auto industry. Among such effects is a low production rate and, consequently, long waiting periods for various models. Combining it with the high demand for certain models, a recipe of a waiting period as long as 1.5 years is created. Here we have compiled a list of SUVs that command the longest waiting period in India.
Starting with the list, as one might expect, Mahindra Thar takes the top spot with up to 17 months in the Indian market. The demand of the SUV peaked with the new generation update of the lifestyle SUV and has since been plagued by the longest waiting periods. Following the off-roader, the second spot is occupied by another SUV from the Indian automaker, the Mahindra Scorpio-N.
Also read: 2023 Hyundai i20 Facelift Unveiled With New Neon Colour, India Launch Soon
With the latest Scorpio-N iteration, carrying the name of the legendary vehicle in India. The demand for the car peaked at the time of the launch and hence came the waiting period of up to 15 months for some variants. Similarly, the Toyota Urban Cruiser Hyryder was a waiting period of up to 12 months, making it the mid-size SUV with the longest waiting period in India.
Taking the fourth position on the list is another Mahindra SUV, the XUV700. The feature-rich 7-seater has been in high demand since its launch in India and continues to maintain the streak. As a result of this demand, the SUV trails a waiting period of up to 12 months.
Compact SUV with the longest waiting period in India, Maruti Suzuki Brezza takes the fifth spot on the list with a waiting period of up to 10 months. However, the waiting period is completely justified as the SUV has been in demand for a long time and has consistently found its place in the best-selling SUVs in India.
In close competition with Brezza, Hyundai Creta takes the sixth spot with waiting periods of up to 7 months for similar reasons as the latter. Not to anyone's surprise, other names on the list are also SUVs. The Hyundai Venue takes the seventh spot with 7 months of waiting periods. The eighth spot is occupied by Maruti Suzuki Grand Vitara, ninth by Kia Seltos, and tenth by Tata Nexon, with waiting periods of 6, 3, and 3 months respectively.