Returning Florida evacuees stunned by Irma's wreckage as death toll climbs
The death toll from Irma, previously ranked as one of the most powerful Atlantic storms on record and the second major hurricane to strike the US mainland this season, climbed to more than five dozen. Of those, 43 were killed in the Caribbean and at least 18 in the Southeastern United States.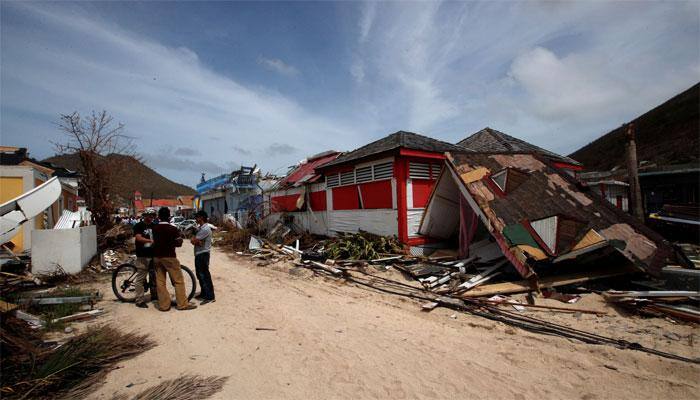 Islamorada: Hurricane Irma evacuees began returning to the storm-ravaged Florida Keys on Tuesday to find homes ripped apart and businesses coated in seaweed amid a debris-strewn landscape where an estimated 25 per cent of all dwellings were destroyed.
The death toll from Irma, previously ranked as one of the most powerful Atlantic storms on record and the second major hurricane to strike the US mainland this season, climbed to more than five dozen. Of those, 43 were killed in the Caribbean and at least 18 in the Southeastern United States.
Twelve Irma-related fatalities were confirmed by Florida emergency management officials on Tuesday, while authorities in Georgia and South Carolina each reported three deaths from the storm and its immediate aftermath.
Destruction was widespread in the Keys, a resort island chain stretching southwest from the tip of the Florida Peninsula into the Gulf of Mexico and connected by a single, narrow highway and a series of bridges and causeways along a route of nearly 100 miles.
"I don`t have a house. I don`t have a job. I have nothing," said Mercedes Lopez, 50, whose family fled north from the Florida Keys town of Marathon last Friday and rode out the storm at an Orlando hotel, only to learn their home was destroyed, along with the gasoline station where he worked.
"We came here, leaving everything at home, and we go back to nothing," Lopez said. Her and three other families from Marathon planned to venture back on Wednesday to salvage what they can.
Initial damage assessments found 25 per cent of homes in the Keys were destroyed and 65 percent with major damage, according to Federal Emergency Management Agency administrator Brock Long.
"Basically every house in the Keys was impacted," he told reporters.
The islands were largely evacuated by the time Irma barreled ashore on Sunday as a Category 4 hurricane with sustained winds of up to 130 mph.
"Sailboat In Our Yard"
Authorities began allowing re-entry to the islands of Key Largo, Tavernier and Islamorada two days later for residents and business owners only. The extent of the devastation took many by surprise.
"I expected some fence lines to be down and some debris," said Dr. Orlando Morejon, 51, a trauma surgeon from Miami as he hacked away at a tree blocking his Islamorada driveway. "We were not expecting to find someone else`s sailboat in our backyard."
The walls of nearby trailer homes were left ripped wide open, exposing insulation and the sodden interiors of bedrooms and kitchens to the elements.
At the Caloosa Cove Resort and Marina, concrete pilings meant to hold the dock in place had been knocked sideways, and three manatees lolled in the water, drinking from an outflow pump spitting water from the dockside.
Marilyn Ramos, 44, spent the morning cleaning sand and seaweed that had covered her Cuban restaurant Havanos when she arrived early Tuesday.
"I`m trying to stay calm and see how we can work through this," Ramos said. "It`s devastating."
A short distance away, the scent of decaying seaweed hung heavy in the air as Brooke Gilbert, 15, stood with her younger sister staring at the jumble of concrete and twisted metal left from the three-story condo that was their family`s getaway home.
"There`s the couch right there," she said. "I recognize the clothes in that closet. They belong to my grandmother."
At the end of Islamorada, roughly the halfway point of the Keys, police at a checkpoint turned around returning residents seeking to travel farther south and waved through utility crews, law enforcement and healthcare workers.
Authorities said they were barring re-entry to the remainder of the Keys to allow more time to restore electricity, water, fuel supplies and medical service. U.S. officials have said some 10,000 Keys residents stayed put when the storm hit and may ultimately need to be evacuated.
Lingering Outages, Flooding
Some 5.8 million homes and businesses were still without power in Florida and nearby states late on Tuesday, down from a peak of about 7.4 million on Monday. Florida`s largest utility, Florida Power & Light Co, said western parts of the state might be without electricity until Sept 22.
One of the chief hardships endured by many Floridians in the storm`s aftermath was difficulty staying cool in the absence of air conditioning, ice and even natural shade from trees knocked down or stripped bare of foliage.
"I just pour water on my head a few times a day," said Lydia Grondin, 29, of Fort Lauderdale.
Power disruptions caused more serious dilemmas for others.
Vince Napoli, 83, a retired computer sales manager, said a fallen tree knocked out electricity to the medical building near his home in Boca Raton where he undergoes kidney dialysis, forcing his wife to drive him 20 miles south to Fort Lauderdale for treatment on Tuesday.
"It was a very, very stressful trip because every other block had traffic lights out," he said.
Florida`s largest city, Jacksonville in the northeastern corner of the state, was still recovering from heavy flooding on Tuesday.
While damage across Florida was severe, it paled in scope to the devastation wrought by Irma in parts of the Caribbean, which accounted for the bulk of Irma`s fatalities.
The hurricane destroyed about one-third of the buildings on the Dutch-ruled portion of the eastern Caribbean island of St Martin en route to Florida, the Dutch Red Cross said on Tuesday.
Irma hit the United States soon after Hurricane Harvey, which plowed into Houston late last month, killing about 60 and causing some $180 billion in damage, mostly from flooding.
Several major airports in Florida that had halted passenger operations resumed with limited service on Tuesday, including Miami International, one of the busiest in the United States.
Irma was downgraded to a tropical depression late on Monday as it drifted into Alabama and was likely to dissipate further on Tuesday evening, the National Hurricane Center said.